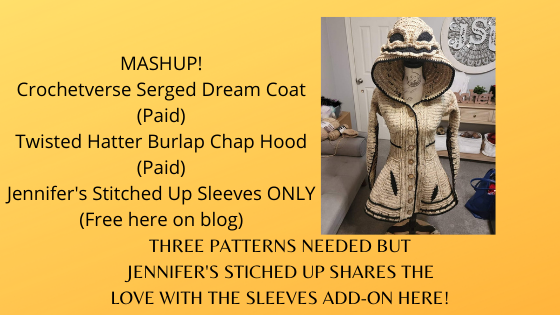 PLEASE PLEASE READ THIS. I want NO confusion PLEASE <3 THE VIRAL CHARACTER COAT YOU SEE IS A MASHUP!
THREE PATTERNS ARE NEEDED! TWO PAID AND ONE SLEEVE EDIT BELOW IN THIS BLOG POST!
This blog page is the landing page for the SLEEVE EDIT ONLY that Jennifer Borchert added to my Serged Dream Coat Pattern by me Crochetverse/Stephanie Pokorny.
The Serged Dream Coat is and always will be a paid pattern by me (My #1 seller since its 2017 release!) and a purchase I would love for you to make of course! Coat on Raverly: RAVELRY: https://www.ravelry.com/patterns/library/serged-dream-coat Coat on Etsy: ETSY: https://www.etsy.com/listing/545847329/serged-dream-sweater-coat-crochet
The hood you see on the coat is a pattern called Burlap Chap Hood by Natalie Allen Twisted Hatter and is her own purchase here: https://etsy.me/3l2tigP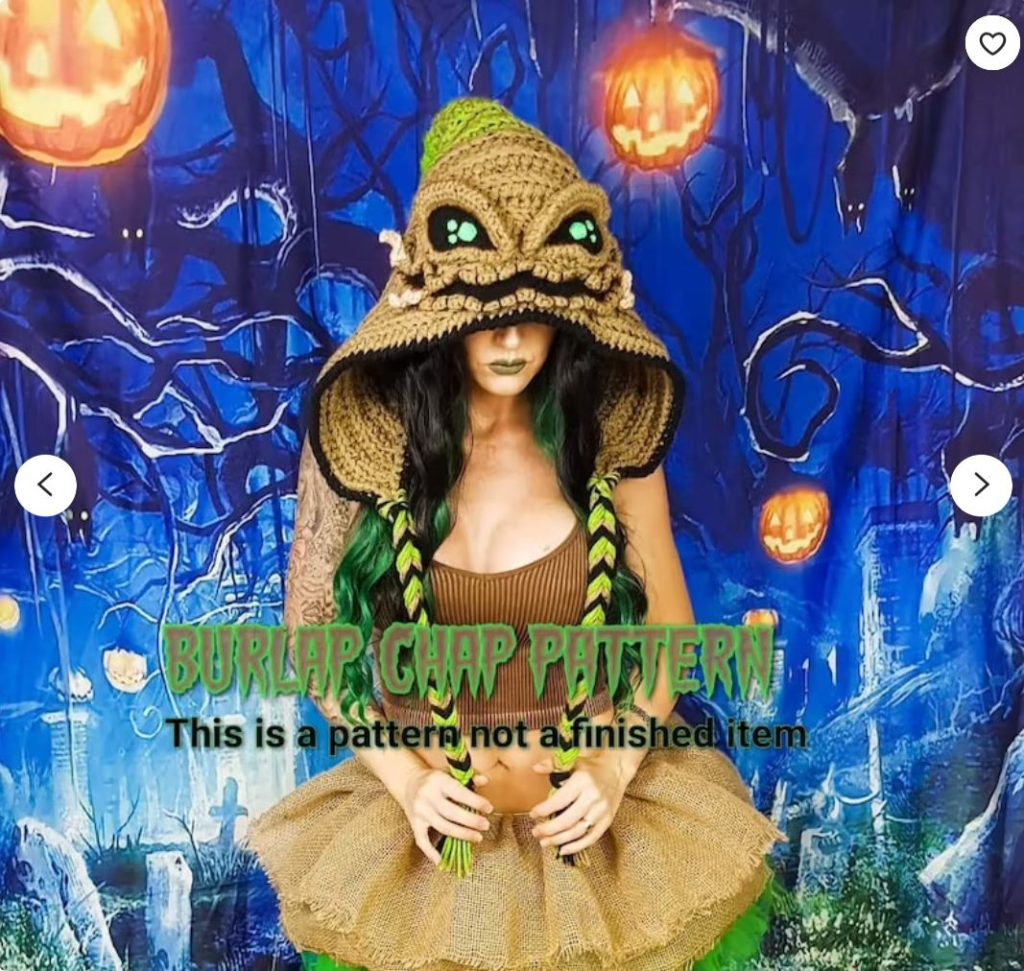 Here is the MASHUP OF ALL THREE ITEMS MENTIONED ABOVE, TWO PAID PATTERNS AND JENNIFER'S EDIT SLEEVES: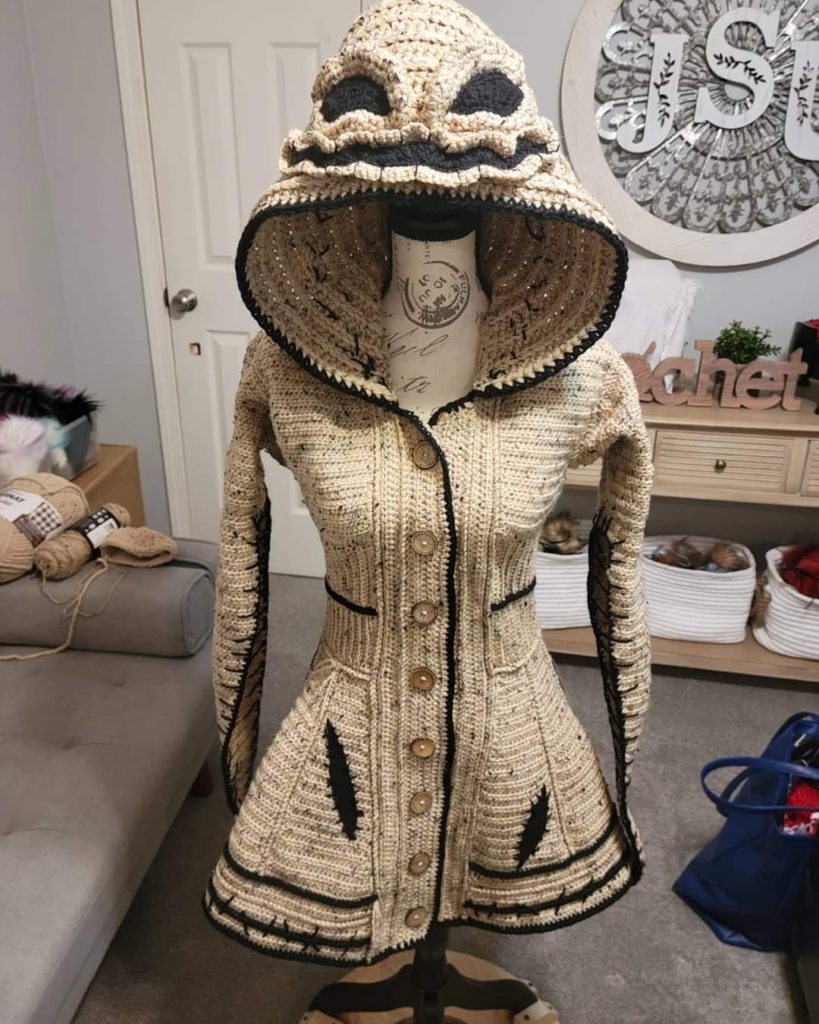 I am sure you have seen the viral version of my Serged Dream Coat by Jennifer's Stitched Up, Jennifer Borchert!
It is pure gloriousness! Marvel, my friends! Out of the kindness of her amazing heart, she has shared with me and given me permission to share with you the sleeves she added to the coat to make it that magical character we all love.
PLEASE READ ME. THIS IS THE SLEEVES EDIT ONLY. THE MAIN PATTERN SERGED DREAM COAT IS A PAID PATTERN AND MUST BE PURCHASED SEPARATELY, IT IS MY BEST SELLER AND I KNOW YOU WILL LOVE IT. You will also need the Burlap Chap Hood by the Twisted Hatter, linked above! This additional edit is just a loving gift from Jennifer to you should you desire to edit the way she did.

TO BUY THE SERGED DREAM COAT PATTERN:
RAVELRY: https://www.ravelry.com/patterns/library/serged-dream-coat
ETSY: https://www.etsy.com/listing/545847329/serged-dream-sweater-coat-crochet
To visit Jennifer Borchert's store Jennifer's Stitched Up for amazing hat patterns that will B-L-O-W your mind, go here:
https://www.etsy.com/shop/JennifersStitchedUp
The sleeves will need some of your understanding to add on, this is not a st for st addition, just a freebie to guide and share love. They are added on to the coat. There are 83 sts on the opening round of the coat for misses and plus sizes, this sleeve addition starts at 72 sts, therefore you must decrease your arm opening in just a round or two to add these on and so to avoid them being too long in the end. Please again visit Jennifer's Stitched Up on Facebook to thank her for this kindness! Much love, Stephanie Pokorny/Crochetverse
DO NOT COPY AND PASTE THIS INFORMATION ELSEWHERE. While free, I want to honor Jennifer's gift and make sure all who access this pattern have a chance to see her shop link and story. I ask that you please respect that request and most of all enjoy crocheting a masterpiece! The information below is the sole ownership of Jennifer Borchert and shared here with her express permission. Do not share the information, instead please share the blog link. <3
SLEEVES
(YOU MUST READ THE INFORMATION IN THIS POST!
THIS IS AN ADD-ON AND TWO PAID PATTERNS LINKED ABOVE ARE NEEDED TO COMPLETE THE VIRAL COAT!)
FYI: Yarn used in Red Heart Super Saver in Buff Fleck
Make 2:
Finished size 17" around x 27" long
For sizes XS-XL only
(I removed 10 sts of the original sleeve)
Ch1, turn each round and row. Slst to join when
working in the round.
R1: HDC Foundation ch (73)
R2: hdc nxt 12, hdcdec x 5, hdc nxt 3 (68)
R3: hdc (68)
R4: hdc nxt 11, hdcdec x 5, hdc nxt 3 (63)
R5-7: (63)
R8: hdc in nxt 5 sts, hdcdec x 8 (54)
R9-24: (54) R25: hdc nxt 4, hdcdec x 8 (45)
R26-27: (45)
Crochet back and forth in rows from this point on.
R28-38: (33)
Decrease on each side in first row of repeats.
R39-41: (31)
R42-44: (29)
R45-46: (27)
R47-50: (25)
R51-54: (23)
R55-58: (21)
R59-62: (19)
R63-66: (17)
R67-70: (15)
R71-74: (13)
R75-78: (11)
R79-82: (9)
R83-85: (7)
R86: (5)
R87: (3)
Edge sc around sleeve opening.
Join to coat with joining technique.
Sew stitches on after.
Much Love and Yarn,
Stephanie
The information and photos in this posting are the sole copyrighted property of Crochetverse©2018. Please do not copy and paste any of the information contained within either electronically, verbally, or written in part or in whole. Instead, please share the DIRECT LINK to this posting only, and if you do, I thank you for sharing. You of course may sell anything you make from this pattern that you have made with your own two hands, no contract labor or mass productions are permitted. I need your visits to keep me around creating! Please never screenshot or copy and paste the info within, instead share the link so I may entertain your friends as well! If you credit Crochetverse as the designer that is greatly appreciated!