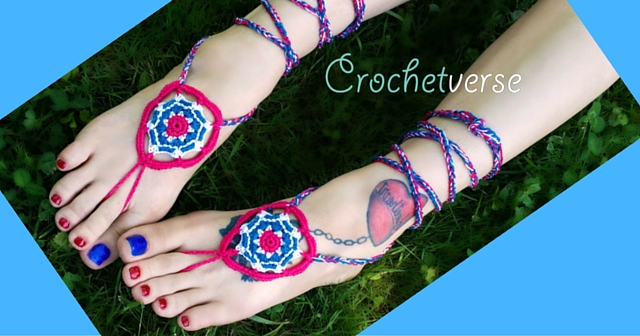 Today I am bringing you these lovely MEMORIAL MANDALA Barefoot Sandals!
(Or wear them with flip flops too!)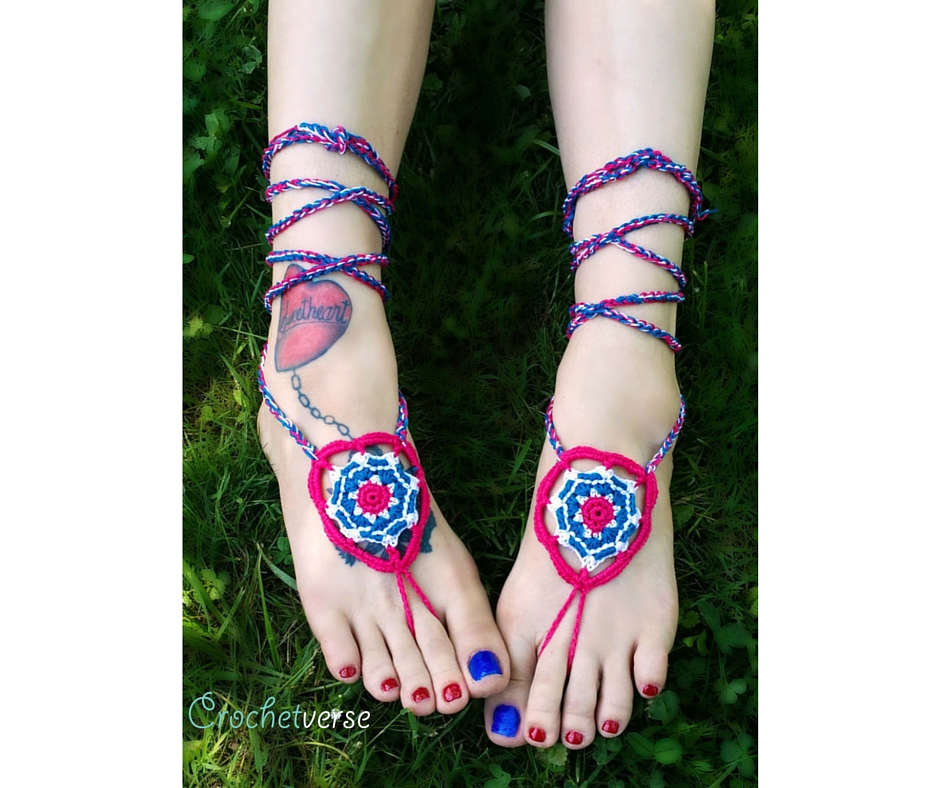 Why? It is my small attempt to honor those who made the ultimate sacrifice for my freedom. Their selflessness and the selflessness of their families ensures that I may sit in my safe warm home, free from threats, and crochet.
It seems simple, but it really is a gift 🙂 And I am thankful!
I hope you wear your sandals in happiness and health!!
Materials:
– Size B (2.25mm) crochet hook
– Size D (3.25mm) crochet hook
– Small amount of fingering weight crochet cotton, about 50 yards of each color
You could also substitute in other weights of threads such as size 3 or 5 thread (usually found even at Walmart!) or embroidery floss as well (think of the color possibilities and how cheap that would be!). I would NOT use sport or worsted as they would create a piece that is too clunky, the barefoot sandal looks best when delicate 🙂
I have used Scheepjes Catona (It is marked a sport weight, but it is on the lighter side of that to me) This is a mercerized cotton and is one of my favorite yarns because it comes in smaller balls and has a low price tag (just over a buck!) so you can REALLY get crazy with colors! You can find it here: Scheepjes Catona from deramores.com here!
I've used Scarlet, Snow White, and Petrol Blue.
– tapestry needle for weaving ends
Gauge/Finished Size:
This is one size fits most, the strands can be adjusted in length as well as the toe loop made larger or smaller.
The central mandala measures about 2 ¾" in diameter.
Design Notes:
This is worked in a continuous circle, without turning, some rounds are joined and some are not, each will specify what to do, the rounds are not turned, you may mark the 1st or last stitch of each round to keep track of your counts. This begins with the magic circle, to learn check YouTube videos, if you do not want to, this may be replaced with the traditional ch-2, working the 1st round in the 2nd ch from the hook. I prefer the look of my chains to be 2 as opposed to 3 for a dc and ch-1, hdc in same st where the ch-1 does not count, this is not an error). When a set of instructions is given with parenthesis followed by a number of repeats, only repeat the stitches within those parenthesis directly before the repeat instruction.
Instructions:
With B hook and scarlet, Make magic circle, ch 1:
Rnd 1: 8 sc in ring, pull tail gently to close. (8 sc)
Rnd 2: 2 sc in each sc around, sl st to 1st sc made tie off scarlet. (16 sc)
Rnd 3: Join white in any sc around w a sl st, ch 1, sc in the same st, ch 1, sc in the next st, (sc in nxt st, ch 1, sc in nxt st) 7 times total, sl st to 1st sc made, tie off white. (you may mark these ch-1 space so they are easier to identify in the nxt rnd) (16 sc and 8 ch-1 sps, 24 sts total)
Rnd 4: Join petrol blue in any ch-1 sp around w a sl st, ch 2 (counts as 1st dc), (dc, ch 1, 2dc) in same ch-1 sp,*sk nxt 2 sc, (2dc, ch 1, 2 dc in) in nxt ch-1 sp, repeat from *, six times more, sk last 2 sc and sl st to the top of the beg ch-2, tie off blue.  (8 v-stitches consisting of 32 dc, and 8 ch-1 sps, or 40 sts total)
Rnd 5: Join white with a sl st in any ch-1 sp, ch 1, 3 sc in the same space, *bphdc (back post half double crochet) around the nxt 4 dc, 3 sc in the nxt ch-1 space, repeat from *, six times more, bphdc around the last 4 dc, sl st to the 1st sc made, tie off white. (56 sts)
Rnd 6: Join scarlet with a sl st to the the 2nd sc of the any 3 sc group), ch 1, sc in same sc, ch 6, sk the nxt 6 sts, *sc in the nxt sc, (the 2nd sc of the nxt 3 sc group), ch 6, sk the nxt 6 sts, repeat from *, 6 times more, sl st to the 1st sc made, eliminating the final sc and sl st to the 1st sc made instead. (8 sc, and 8 ch-6 spaces)
Rnd 7: ch 1 (does not count as a st), bphdc around the same sc as the join, (this is a little fiddly, but you got this!) 8 sc in the nxt ch-6 sp, *bphdc around the nxt sc, 8 sc in the nxt ch-6 space, repeat from *, six times more, sl st to 1st bphdc made, ch 18 (chain more or less if your middle finger is larger or smaller than average), sl st back into the top of the bphdc and tie off scarlet. (72 sts)
Weave in all ends at this point.
Ties: (Make 4)
With D hook, hold all 3 strands as one, and chain until it measures about 30″, it took me 130 chains to get there. If your calves are on the thinner or fuller side, or you want more or less wrapping, feel free to adjust the length as you desire!
Use the photo for attatchment reference and attach one tie to the BPHDC on the final round at the points just left and right to the BPHDC directly opposite the toe loop.
To do so, I used a tapestry needle and pulled all three tails of one end though the BPHDC from front to back. I then tied a knot, making sure it was very close to the mandala and didn't leave a gap. Then I wove the ends up into the tie once, then back do to the wrong side of the madala and completely wove them in and trimmed the ends.
Repeat that for the other 3 ties 🙂
Slide your 2nd or 3rd toe through the loop and wrap the strands around your ankle as many or few times as you like and secure with a bow or simple knot (but not too tight so you can get it off!)
That's it! I hope you enjoy them!
Much Love and Yarn,
Stephanie
The information and photos in this posting are the sole copyrighted property of Crochetverse©2016. Please do not copy and paste any of the information contained within either electronically, verbally, or written in part or in whole. Instead, please share the DIRECT LINK to this posting only, and if you do, I thank you for sharing. You of course may sell anything you make from this pattern that you have made with your own two hands, no contract labor or mass productions are permitted. If you credit Crochetverse as the designer when you sell, that is greatly appreciated. Thank you so much for respecting the hard work that goes into patterns, so that we may all remain creative 🙂