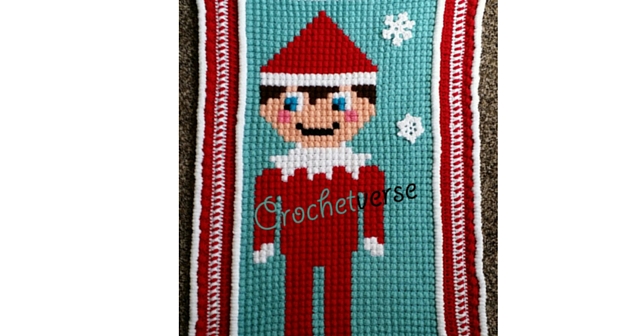 It is no secret (why would it be? that'd be just weird) graph crochet is probably my favorite thing! It is downright amazing how any picture can be transferred into a seriously one of a kind afghan. At the end of the post  there is a link to all the free graphs!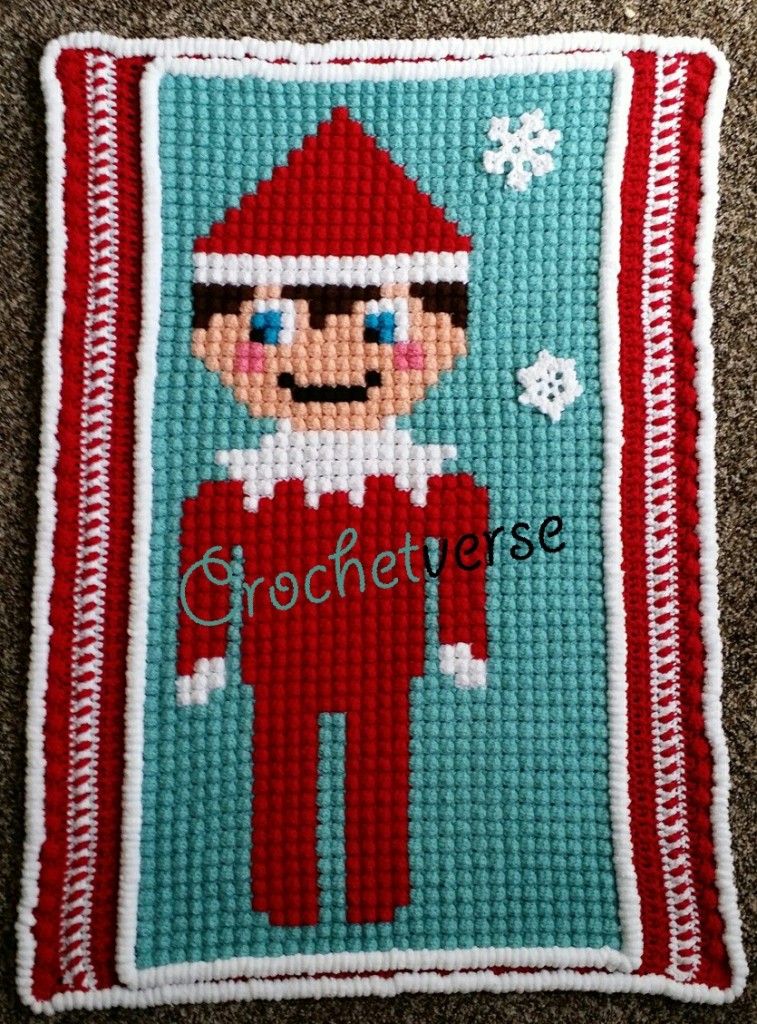 Check out this Elf I did for my son, He is obsessed with his little Elf (whom he named Noonie, no idea where that came from!)
This graph is my own design so I will just go ahead and plop it right here! It's on the My Pinterest Board as well as right here!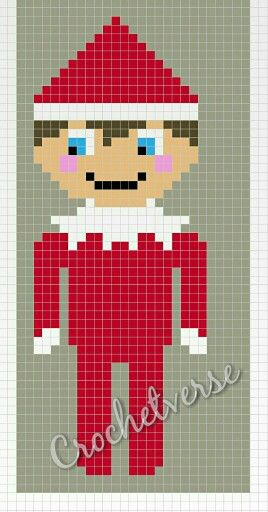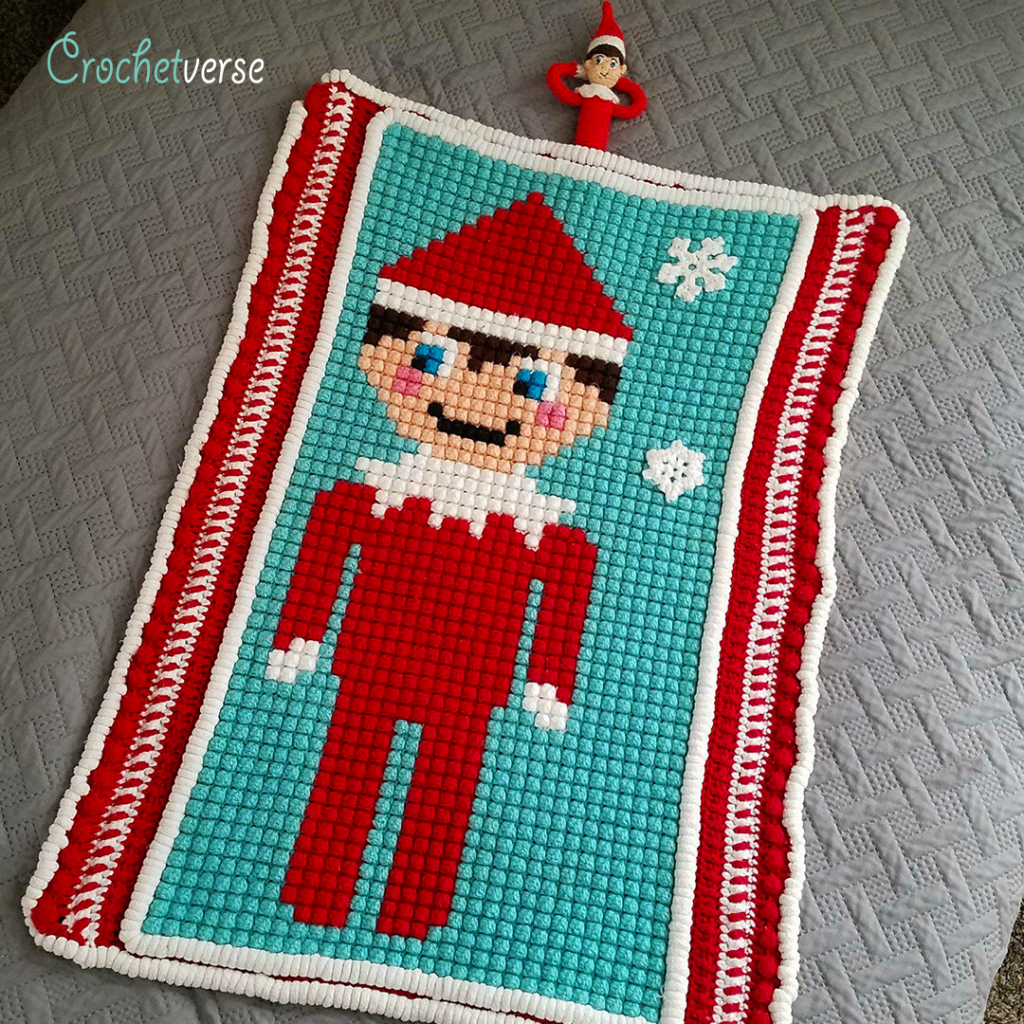 Have no idea how to do a C2C crochet graphgan, fear not…I've got a video for that!
First, I recommend "The Crochet Crowd" video on Youtube if you need to learn to do the basic C2C stitch with no image, once you've got that mastered, check out this one!
I show you everything from choosing a graph to writing it out and how to create it!
C2C TUTORIAL VIDEO CLICK HERE!
Need to understand bobbins so you can reduce those pesky ends? Watch my method here: https://www.youtube.com/watch?v=PZrl3kBeYjY
I've used a candy cane border on my Elf Bobble graphgan, you can find a tutorial from Repeat Crafter Me (direct to her channel) right here: https://www.youtube.com/watch?v=pdozmlnXvAg
Here is some color change methods, also courtesy and direct to Repeat Crafter Me: https://www.youtube.com/watch?v=wN54Y0r53yA
This video shows you how to read a graph and work it in the bobble stitch! Direct to and courtesy of West Coast Mom on Youtube! https://www.youtube.com/watch?v=4hH9ty7cUuQ
The actual Elf? I made him too using the free pattern courtesy of The Dapper Toad, here is a link right to that: http://www.dappertoad.com/2012/12/shelf-free-crochet-pattern.html
This Beatles inspired Yellow Submarine is one I did for my nephew!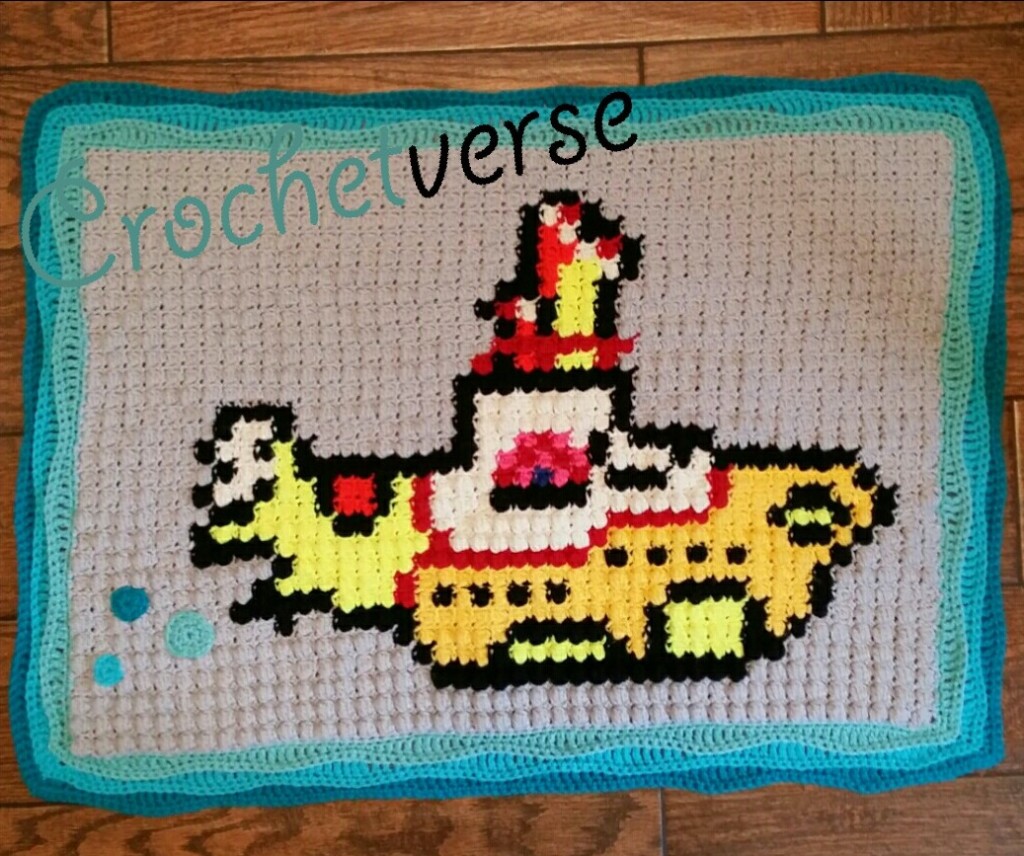 Whether you choose C2C (corner to corner), bobble stitch, single crochet, or half double crochet, I've got something for you!
I really respect and understand the work that goes into creating graphs and patterns, so I've collected over 1300 YES ONE THOUSAND THREE HUNDRED (UPDATE OVER 1800 NOW!) graphs that are suitable for crochet graphing, and pinned them to my Pinterest board. You may or may not know, but the artists who make and post these for free on their sites are doing us a huge favor, so I will NEVER post another's graph, but the Pinterest board has them all there with the links! This way the artist wins and so do you! Be sure to visit each site if you like a graph and let the artist know you appreciate their work! Keep the love flowing!
Some tips to find your own graphs? Search Pinterest for words such as perler, hama, cross stitch graph, most can be adapted to your use.
OVER 1300!, (UPDATE OVER 1800 NOW!) If you can't find it here, well darnit, it might not be out there! Be sure to follow the board as I'm constantly repinning new and trendy graphs! Remember to click through to the page of the person who so graciously offered their graph for free so they can get their due credit <3
CLICK HERE TO SEE OVER 1300 FREE GRAPHS!
Then, check my other blog posts under tutorials where I will post my videos to make graphgans enjoyable!
Comment below if you see a graph you love or have a burning question!