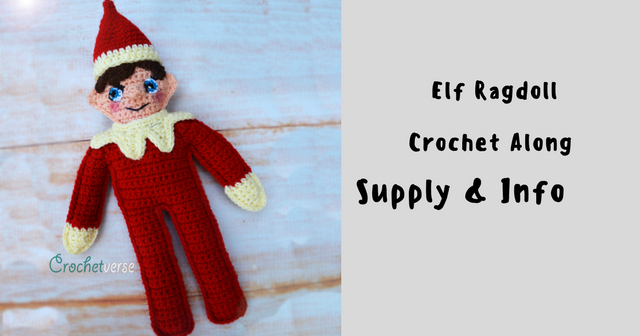 Welcome to the Info & Supply Post 
FREE ELF RAGDOLL CROCHET ALONG beginning 11/28/17
I thought it would be nice to work along for Christmas to learn and enjoy. Can't join now? No worries, it will remain free and posted once we are done so you may jump in at any time!
What is a crochet along? In short, the pattern will be released for free on the blog here in two parts.  I hope you can join us!
PART ONE FOR THE PATTERN: http://crochetverse.com/elf-ragdoll-part-one/
PART TWO FOR THE PATTERN: http://crochetverse.com/elf-ragdoll-part-two/
Ravelry ❤: https://www.ravelry.com/patterns/library/elf-christmas-ragdoll
Don't forget to join the CAL- Crochet A Long group on Facebook, our hosts for the CAL! Find that here: https://www.facebook.com/groups/668646249929007/
In addition to the Crochetverse group for all things Crochetverse at: https://www.facebook.com/groups/251695645349035/
Also follow my Facebook page at http://www.facebook.com/crochetverse where the releases will be announced! You can also click the "Events" tab on the left column on the Crochetverse FB page and you can join the event. Be sure to turn on notifications for the post so you don't miss the releases!
THIS ONE WILL BE FAST AND FUN!!
This post tells you what you need to get prepared. The list is short so I very much look forward to a fast project with you! (See Below)
I try to make my ragdolls in the fewest pieces possible with the smallest amount of sewing as possible. I strive to help you IMPRESS WITHOUT THE STRESS! Ha ha!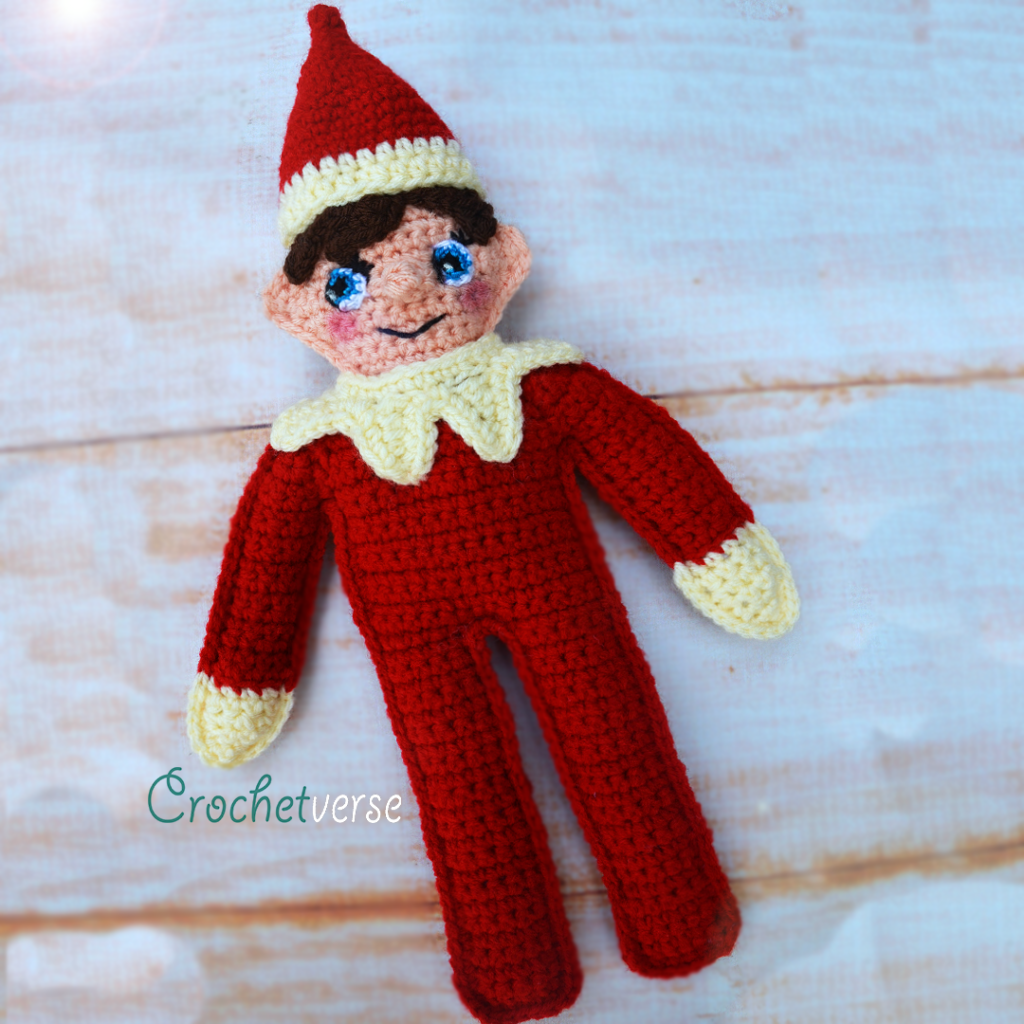 The great thing is you can make it any gender, skin tone, and eye color you wish. I know that is important to a lot of children so I love that about hand crafted gifts <3 You can use him in the tradition of Elf on the Shelf too! We use ours to do silly things, motivate for good behavior, bring small treats, and give us tasks on how we can do nice things for others! My children love love our Elf!
This baby makes the SIXTH free ragdoll I have done! I have a piggy, elephant, penguin, dinosaur, and narwhal! So much cuteness! <3
You can find them here on the blog http://www.crochetverse.com under "free patterns"!
You can store in your library and <3 them on Raverly, too at http://www.ravelry.com/designers/stephanie-pokorny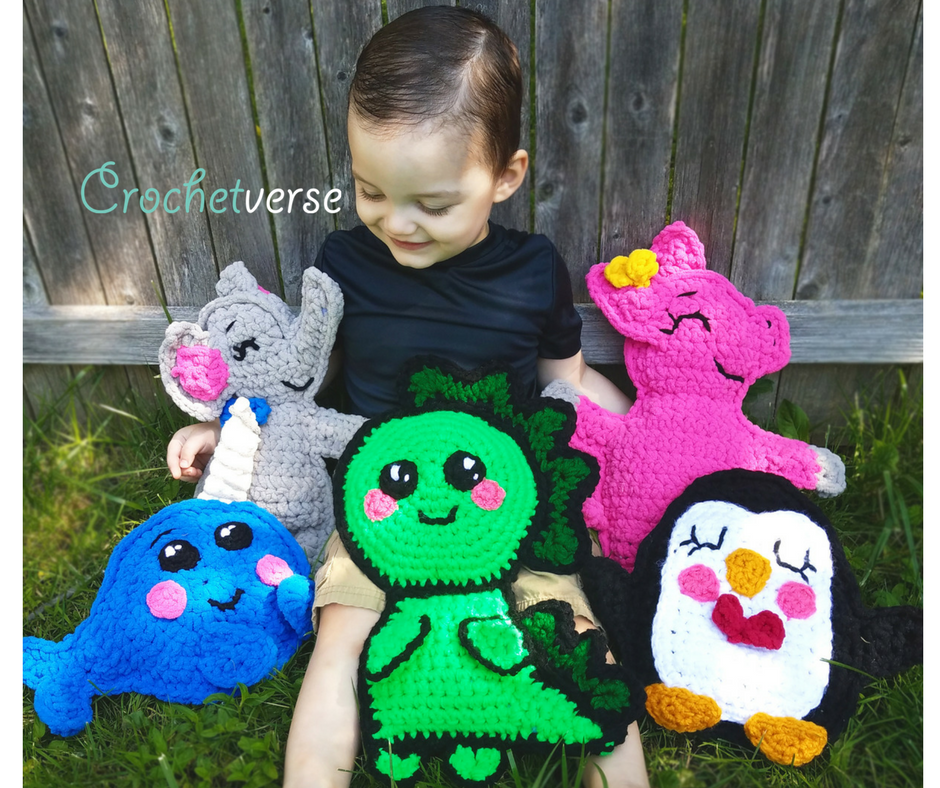 YOU WILL NEED:
– worsted weight yarn in the following colors and appoximate amounts, swap any color you like to meet your preferences!
Red: about 100 yards
White, Peach, Medium Brown: less than 40 yards each
Blue and Black: 5 yards
– size G(4mm) crochet hook USED FOR ALL BUT EYES
– size B(2.25mm) crochet hook USED ONLY FOR EYES
– small amount stuffing of your choice
– needle for ends and sewing features, stitch marker, scissors
– smidge of actual makeup blush if wish to "pink" the cheeks a little
GAUGE:
Gauge is not critical BUT you MUST crochet very tightly. You do not want holes in your ragdolls or amigurumi. I tend to crochet very tightly so you MAY have to drop a hook size from mine to get nice tight stitches.
FINISHED SIZE:
About 9" wide mitten to mitten and about 15.5" tall hat tip to toes
That's all you need. Now, be sure you join the Cal Crochet Along Group and follow my Facebook page at http://www.facebook.com/crochetverse  and watch for the release of Part One on November 28, 2017!
Please post projects and questions to any of the social media sites below, and/or email me at info@crochetverse.com
Much Love and Yarn, Stephanie
Follow on Facebook Here!    http://www.facebook.com/crochetverse
Follow on Instagram Here!  Handle Name: Crochetverse
Follow on Ravelry Here! Shop Name: Crochetverse
Follow on Pinterest Here! Handle Name: Crochetverse
Follow on YouTube Here! Channel Name: Crochetverse
Follow on Twitter Here! Handle Name: Crochetverse
Follow on Etsy Here! Shop Name: Crochetverse
The information and photos in this posting are the sole copyrighted property of Crochetverse©2017. Please do not copy and paste any of the information contained within either electronically, verbally, or written in part or in whole. Instead, please share the DIRECT LINK to this posting only, and if you do, I thank you for sharing. You of course may sell anything you make from this pattern that you have made with your own two hands; no contract labor or mass productions are permitted. If you credit Crochetverse as the designer, that is greatly appreciated!