Welcome! Spring is in the air! There is nothing quite like when the Earth begins to come back to life after a long Winter slumber. Tiny sprouting leaves, flowers, and sunshine filled days ahead!
 And to celebrate, I am so excited to announce :

*Beginning Wednesday April 20th, 2016 – Details Below*
As seen on Stylecraft Clevercrafters and The Official CCC Social Group on Facebook
*Please note that the entire CAL will occur on the Crochetverse Facebook Page and the parts will be posted on the Crochetverse Blog as detailed below. The above wonderful folks were just kind enough to help me get the word out!*
You'll no doubt be the sweetest flower in the bunch wearing this pretty! <3
If you've never made a garment before, this pattern is a great one to start with!
In addition, it's written for a wide range of sizes from XXS though 5X, and the feminine shape is sure to enhance any woman's figure!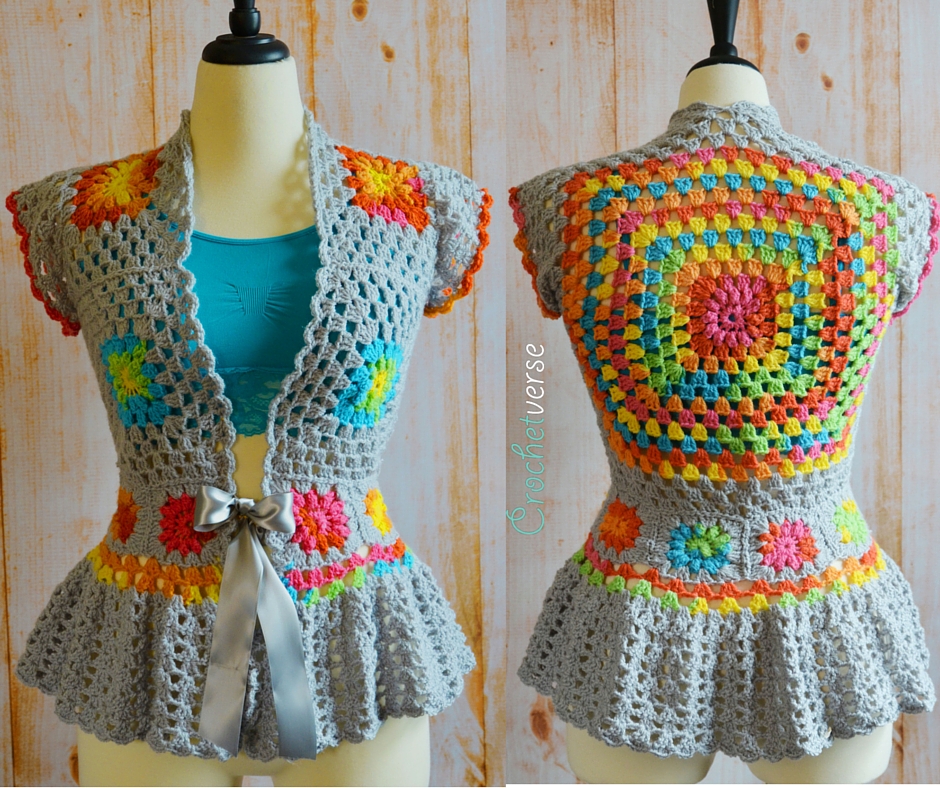 THE OFFICIAL SCHEDULE OF EVENTS:
This CAL is offered free of charge and will begin Wednesday April 20th and last 4 weeks. Here is the schedule:
Week 1 – April 20: Gauge Check & Squares/Pt 1
Week 2 – April 27: Tips & Tricks Post
Week 3 – May 4: Body Assembly & Sleeves
Week 4 – May 11: Peplum, Edge, & Finishing
Each of the above listed dates will become a live clickable link on the Wednesday listed and will bring you to the posting for that part of the pattern! You'll want to bookmark this post, and come back to it as a "Table of Contents" of sorts to access the parts of the pattern as they are released.
In addition, the CAL will be available in Swedish, Dutch, Finnish, German, Hebrew, French, Spanish, and Danish! This has been made possibly solely through the amazing work of the translation team from the "CAL – Crochet A Long" Facebook group, to which I owe an eternal debt of gratitude!! The links for each language will be posted on each week as it is released!
Here are the links to the PDF downloads for
 "INFO & SUPPLY" post in the languages translated to date: Click to download PDF
The CAL and the postings will remain free and available even once the CAL ends, so you may join in anytime, or come back at a later date if needed.
This gives you 2 weeks to order and get that yarn. Should you choose to shop online, this leaves enough time for delivery! AHHHH, SQUISHY MAIL!!! 🙂
The pattern is rated INTERMEDIATE, but I feel as though with some patience and guidance, a beginner with at least a few finished projects under their belt could do this!
The entire pattern will not be done on video, but there will be some videos for special stitches and a few other critical points in the pattern. Each size will be written row for row and nothing will be left to guessing or estimating 🙂
Let's begin to gather our supplies!
FIRST UP: Let's determine the size you will choose to make.
PAUSE AND READ PLEASE!!!!!!! This portion, with the help of a fabulous group of testers, has been made clearer, so that you may better determine your desired size and fit. PLEASE, review carefully! 
I have attempted to make this work for most body types. The natural (and AMAZING) variations of everyone's bodies will obviously affect the final fit. Things such as height, torso length, etc will play a role. But, I feel as though it will flatter just about everyone!
The Garden Party Jacket is sized for XXS/XS, S/M, L/XL, 2X/3X, 4X/5X.
Measure your (or your intended recipient's) NATURAL waist (the narrowest point around, while standing, preferably directly on the skin (no bulky clothing), and make a note of it. Now, proceed below:
Deciphering the chart below chart:
COLUMN ONE: Shows size. Please note GENEROUS sizing as each size emcompasses two sizes. DO NOT simply choose your "off the rack" size 🙂
COLUMN TWO: Shows the ACTUAL natural waist measurement of your body or the body of your recipient in inches as you have measured.
COLUMN THREE: Shows the GARMENT'S FINISHED waist measurement in inches, measured across the band of smallest squares, around the middle, at the point where it ties with a bow.
COLUMN FOUR: Shows the potential EASE, or EXTRA width of the garment in comparison to the actual waist measurement. Note, a smaller waist in the range will have MORE ease and a looser garment; a larger waist in the range will have LESS ease and a more fitted garment.
NOW TO DECIDE!: Crochet, and the stitch pattern of the garment more specifically, creates QUITE a stretchy fabric. If you are between measurements and wondering which size you should choose:
Do you prefer your clothing MORE fitted as shown on the model? I HIGHLY recommend you go DOWN to the smaller size.
Do you prefer a lot of ease and LOOSE clothing? Then you may stay with the size your waist measurement has determined.
Let's do an example, using myself:
My normal off the rack size is usually a small. My natural waist measures 29″. This puts me between two sizes, the XXS/XS and the S/M.
For the Garden Party Jacket, I prefer it to be form fitting. Therefore, I have gone DOWN in size and chosen to make the XXS/XS for myself, this gives me a NEGATIVE EASE of 1″, meaning the garment is form fitting and will be stretched upon wearing. If I were to like my clothing loose, I would have gone UP and that would give me an ease of 7″ of fabric, because 36″ (the finished waist of the S/M) is 7″ more than my actual waist measurement of 29″.
Size:

(Note: Runs generous)

Your Waist (inches)
Finished Garment Waist (inches)
Ease of Garment in comparison(Inches)
XXS/XS
24-28
28
+4 to 0
S/M
30-35
36
+6 to +1
L/XL
36-41
45
+9 to +4
2X/3X
44-49
52
+8 to +3
4X/5X
52-57
61
+9 to +4
Now that you've chosen your size, let's gather materials:
The featured yarn is made by Stylecraft, it's the perfect combination of soft yet durable, something I insist on for garments. I simply won't put a ton of time into an item that will not last and look crisp for a long time, and this yarn WILL deliver! I purchased mine online through www.deramores.com. This company is, in fact, in the UK, but the shipping to USA is quite reasonable and fast. I've never been disappointed in their customer service after many orders (more than I care to admit! LOL) I am not affiliated with Stylecraft (though they have been so kind to share this CAL for me!) or Deramores, I am simply a happy customer of theirs, and know you will be too!
Below are the quantities needed for each size:
Shown as XXS/XS (S/M, L/XL, 2X/3X, 4X/5X)
– 475 (570, 680, 820, 975) yards DK weight yarn accent color (AC/Accent Color)
 [Shown: 2 (2,3,3,3) Stylecraft Merry Go Round in Starburst) and can be found here:
Find Stylecraft Merry Go Round from Deramores here!
– 650 (780, 925, 1125, 1350) yards DK weight yarn main color (MC, Main Color)
 [Shown: 2 (3,3,4,5) Stylecraft Special DK in Silver)
Find Stylecraft Special DK from Deramores here!
*NOTE: Yardage requirements are estimated for what is needed, plus about 15% extra for ends, practice, and slight differences in tension.
– Tapestry needle, scissors, non-rusting steel pins (for blocking squares)
– (for closure): (2) yards of coordinating ribbon about 1.5" wide
– coordinating sewing thread to the ribbon, sewing needle
Yarn Subtitution:
Looking for ideas on how to sub yarn in for the upcoming Garden Party Jacket CAL? Here's some ideas:
1. Visit yarnsub.com the site will allow you to search DK weight options to see what appeals to you.
2. Go to your favorite online yarn retailer, using the filter option on the search engine, narrow down for DK weight results. (most have this option)
3. Head to your favorite store and begin by reading labels, you'll want to look for yarn marked DK, 8Ply, or size 3.


I'm sure you're asking yourself, "Why no hook size, Crochetverse lady?!"
There is a method to this madness, and I am intentionally not going to tell you the hook size you will need. I'd venture to bet if you've not made a garment before, you have not really done too much of gauge checking.
Now, this is fine for a scarf or afghan, but we MUST check for a wearable item. Fear not, it's a simple 3 round swatch and one small square. It won't be too terrible and I will guide you through the process. If you've never done it, now is the time to learn.
Even in yarns marked DK, there will still be some variation in actual width. In addition, we all have differing tensions, some looser and some tighter. Gauge is necessary for this!
With all that being said, I used a size I (5.5mm) crochet hook for my garment. You will want to have that size and probably one or two smaller and larger, depending on your natural tension so you can adjust as needed once we test our gauge.
Now, run off and gather those supplies, which for me is half the fun!
Bookmark this page and be sure to like the Crochetverse Facebook Page Here so you may keep up to date with the CAL dates and releases! I'd be overjoyed if you shared your work on Facebook, I truly hope each of you enjoys this foray into crochet wearables!
If in your preparations, you find I've missed some pertinent information or I can answer any questions for you, please message me here on the blog, on the Crochetverse Facebook Page, or via email at [email protected].
I GREATLY look forward to seeing you all back here on April 20th to begin creating your own Garden Party Jacket!
Please do not share any part of the information of the page through copying and pasting, Please DO share the direct links to the page, and thank you if you do! All the information and pattern for the Garden Party Jacket is the sole property of Stephanie Pokorny/Crochetverse.
Much Yarn & Love,
Stephanie 🙂