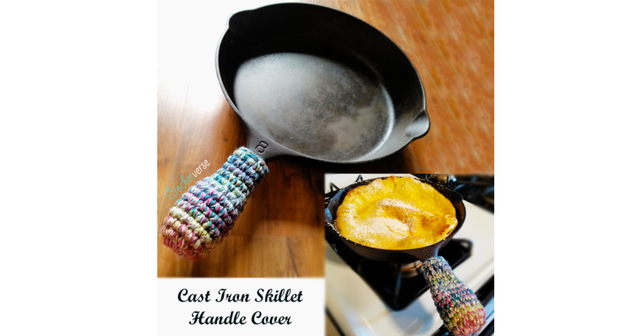 When everyone is embroiled in Instant Pot mania (no hate, I have one too!), I'm over here with my favorite cooking vessel … CAST IRON. The older the better. There is nothing like it. A well seasoned pan with years of use is something that just simply cannot be topped.
Recently, I treated myself to a new to me but nearly ANTIQUE cast iron skillet. It is considered the Rolls Royce of cast iron by many. Handmade in the good ole USA in the 20's-30's for my new piece… the coveted Griswold right out of Erie, PA. I mean look at that block logo, it just screams business!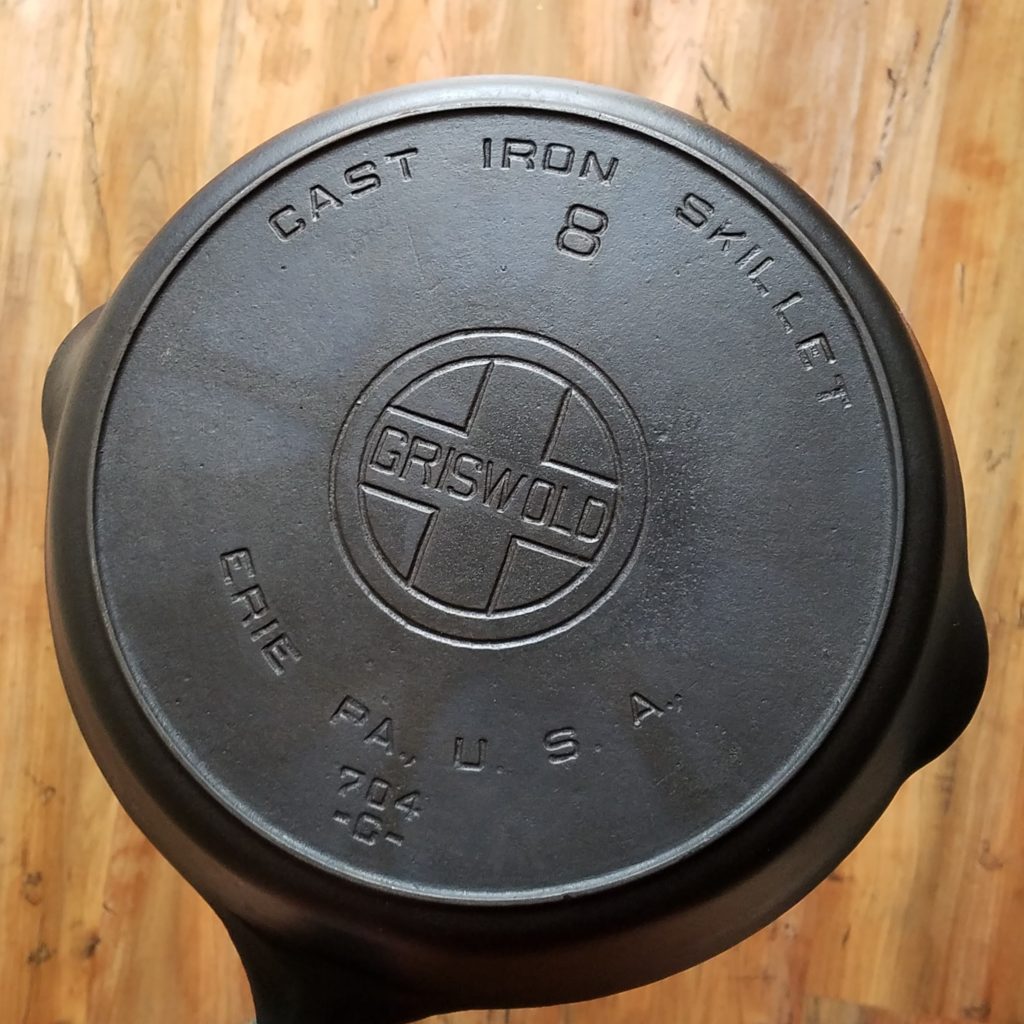 So today, I am going to share one of my favorite recipes to make in the cast iron skillet AND a FREE pattern for a handle cover to protect your hands while you create your culinary works of art! Make some for your craft sales and display them on a skillet, I promise they will fly off your table and they are VERY fast to make! (Add a cute how info tag maybe!)
First, the recipe because food always comes first. Wanna skip to the pattern? Head below!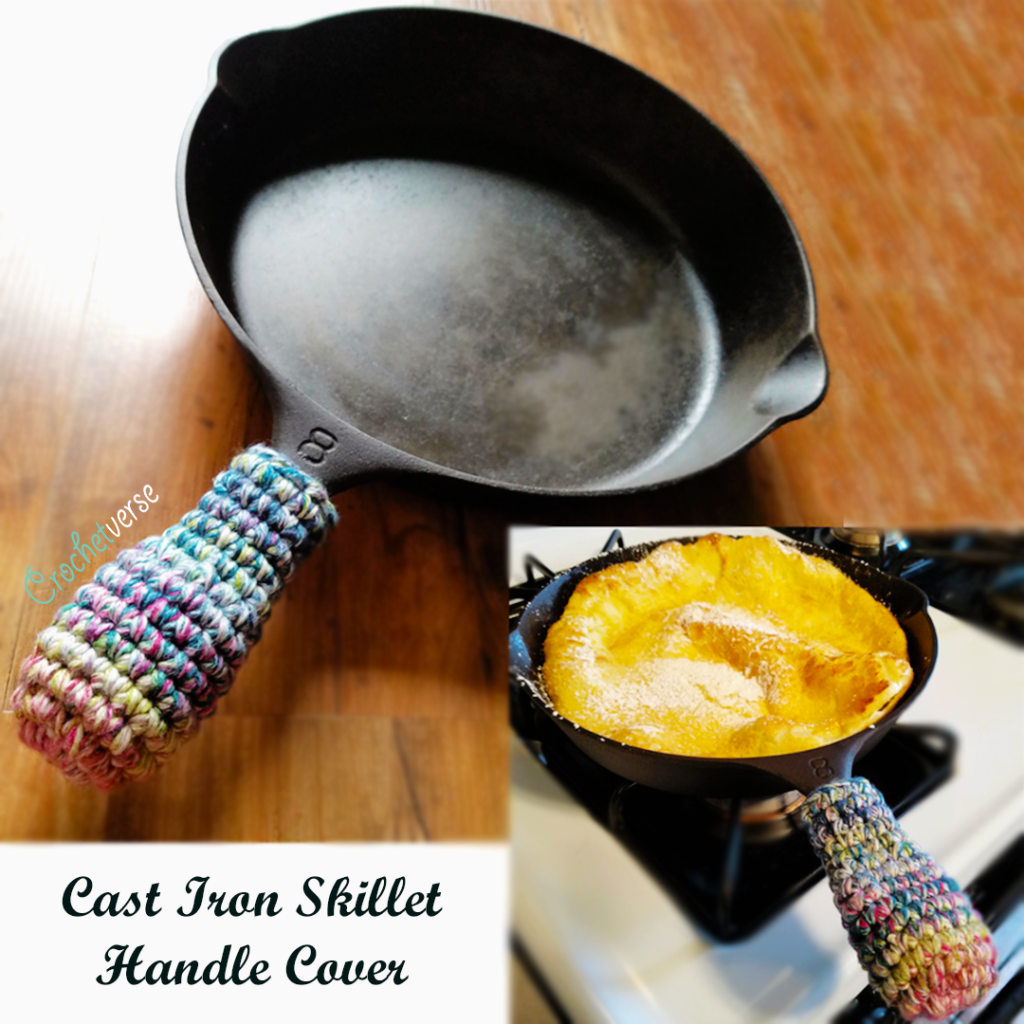 I present… THE DUTCH BABY! Dutch baby? Um…what? Fear not, it has nothing to do with babies lol. It does however have to do with a puffy light almost pancake tasting pillow of Heaven in your mouth. Crispy on the outside and soft and a little chewy on the inside, you NEED this in your life! I was intimidated by them for YEARS, but belong to a group on Facebook that gave me the confidence to dive in and try it. It literally takes longer to preheat the oven than it does to prep the recipe!
Ingredients:
(3) whole large eggs (I have the pleasure of using from my backyard flock! Thanks husband!)
(1/2) cup all purpose flour
(2) Tbs granulated sugar
(1/2) cup whole milk (I'm sure 2% would work too, but whole has my heart for baking)
(3) Tbs unsalted butter
maple syrup, powdered sugar, jelly or anything else you would like to top it with
Place your cast iron skillet in the oven (mine is a 10″ one and this recipe works perfectly for it) and preheat that and the oven to 435 degrees F.
In your kitchen blender add the eggs, flour, sugar, and milk and blend it well (about 15-20 seconds total).
Once the oven is preheated, CAREFULLY get that cast iron skillet out and place it on the stove top and plop in the (3) tbs of butter and swirl to melt it. The pan is hot enough to do this, but I turn on the burner to make it go faster so I don't lose the pan heat while it melts.
Pour the batter right in the skillet and place it back in the oven. Bake it for 15 minutes. Try not to peak, this baby needs to be left alone to rise up!
That's IT! It will deflate rather quickly upon taking it out, so snap your Instagram pics fast lol! Top it with some powdered sugar and any of those ingredients. I PROMISE you will be making a second right after you make your first!
Now for the pattern!
First, some do's and don't of safety:
DO use 100% cotton yarn for this (YOU MUST). Do NOT use acrylic yarn such as Red Heart Super Saver, it is manmade plastic material and will melt and you will hurt yourself and your pan. Good news, the 100% cotton yarn is readily available and cheap too. You'll be able to get about three handle covers from one ball. Look for Peaches and Creme, Sugar and Creme, Crafter's Secret Cotton, or what I have used; Hobby Lobby I Love this Cotton in Pink/Green/Purple.
DO use this on your stove top as you cook to protect your hand.
DO NOT use this IN the oven, it will catch fire. Common sense here, use at your own discretion and risk, but I wanted to mention it just in case there was any questions!
Materials:
G (4mm) crochet hook
about 50 yards worsted weight 100% cotton yarn (I estimate I can get three handle covers from one ball of the I Love this Cotton) in Pink/Green/Purple (working triple strand gives it a really cool almost Monet watercolor look!)
tapestry needle and scissors
This is going to be made TRIPLE STRANDED if you use the Hobby Lobby I Love this Cotton as it's on the thinner side in my opinion. You can work DOUBLE STRANDED for the other types of cotton listed above as they are a bit thicker.  I just roll my single ball of yarn into three separate equal balls before I begin.
Gauge:
While not critical, you must be sure to work as tightly as you can. I am a tight crocheter, you may need to drop a hook size to achieve this.
As written, the finished size is about 4″ long x 2″ wide at the closed end.
Holding the yarn triple stranded for I love this cotton or double stranded for other brands, make a magic circle leaving a long beginning tail to sew any hole closed later:
Rounds are not turned or joined. The piece is worked in a spiral manner.
It's a little tough on the hands because it's tight and needs to be bulky to do it's job right, but it's small and quick so power through with me!
This is made to fit the average skillet handle, if yours is particularly long add more rounds at the end. It may seem a little loose to begin with but it will work and remember cotton does shrink with washing/drying so keep that in mind as well!
Rnd 1: ch 1, make 12 sc in the ring, pull tail to close. (12)
Rnd 2: (sc in the nxt st, 2 sc in the nxt st) repeat SIX times total. (18)
Rnd 3-8: sc in each st around. (18)
Rnd 9: (sc decrease over the nxt 2 sts, sc in the nxt st) repeat SIX times total. (12)
Rnd 10-14: sc in each st around. After round 14 (or when it is long enough for your handle), sl st to the nxt st and cut yarn. (12)
Weave in all tails using the beginning tail to close up any hole remaining from the magic circle and get cooking!
Copyright Info/Selling: You MAY sell anything you make from this pattern, anywhere and anytime. I do ask that you credit Crochetverse as the designer if you do. You MAY NOT copy the info and post it elsewhere either free or paid. Please instead LINK to this page directly. You may NOT change parts of the pattern and claim it as your own, to offer for free or for sale. I love crochet and by doing these things for me and honoring copyright, I can continue to share my love and passion with you allowing you to bring joy to others through your hand created art.
Much Love and Yarn,
Stephanie
The information and photos in this posting are the sole copyrighted property of Crochetverse©2017. Please do not copy and paste any of the information contained within either electronically, verbally, or written in part or in whole. Instead, please share the DIRECT LINK to this posting only, and if you do, I thank you for sharing. You of course may sell anything you make from this pattern that you have made with your own two hands, no contract labor or mass productions are permitted. If you credit Crochetverse as the designer that is greatly appreciated!