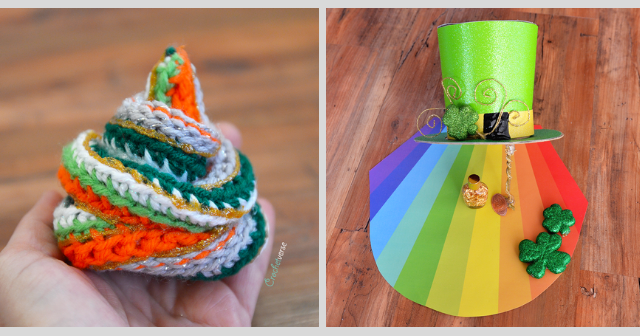 Need proof that tricky leprechaun escaped your leprechaun trap?
MAKE THIS POOP!
In under an hour (took me about 30 minutes actually!) you can own your own magical poop! Probably faster that some of the people in your life take for the real thing. Hahahah!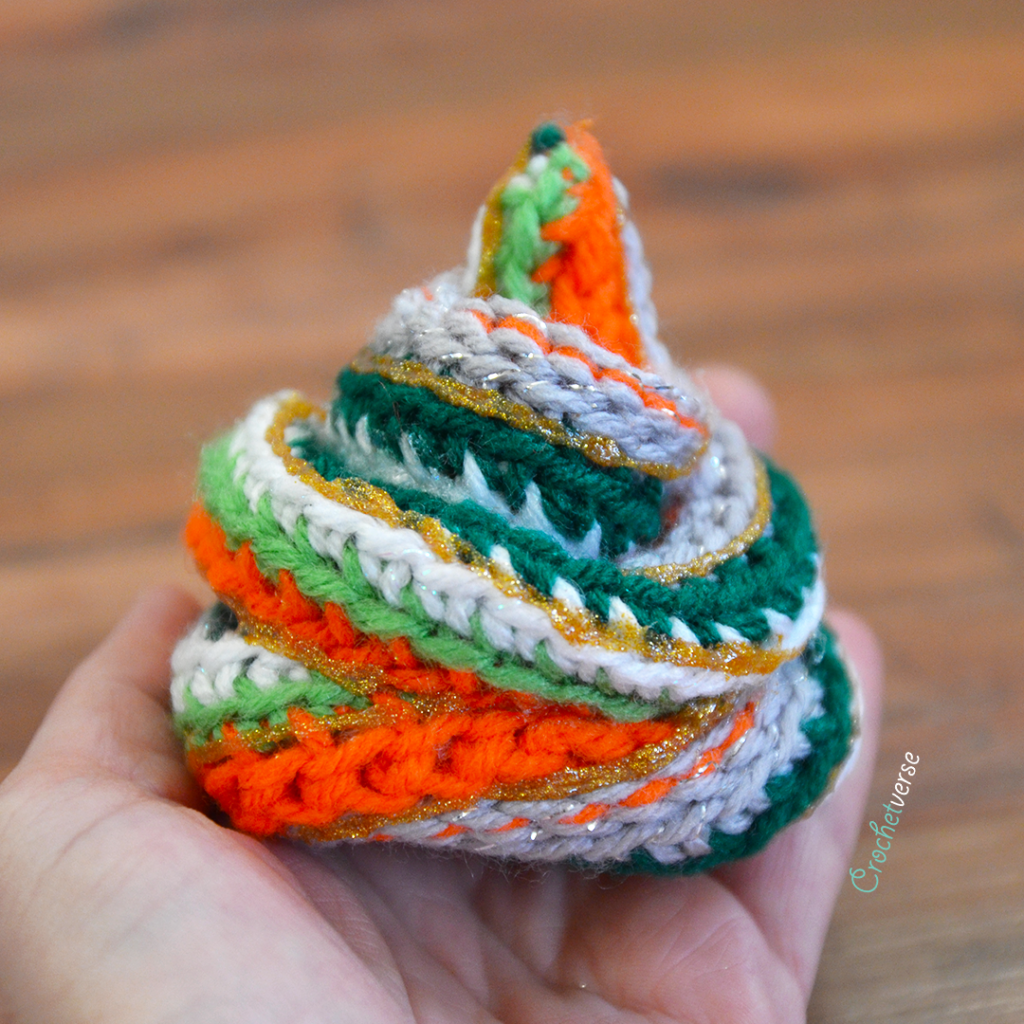 And here is our trap. A shiny new hat, a lucky penny, and a bottle full of gold! Irresistable!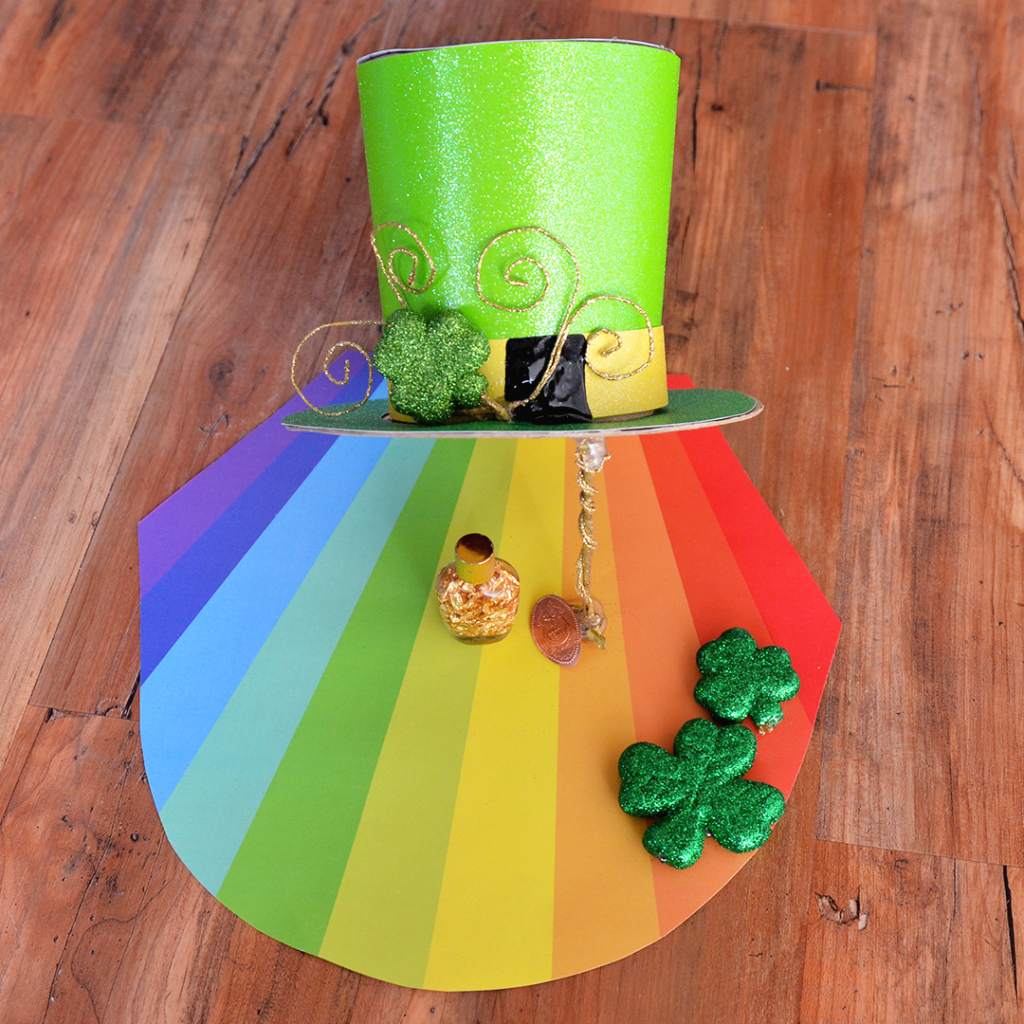 Materials:
less than 10 yards each of worsted weight yarn in the following colors: (Red Heart Super Saver Flame, Spring Green, and Hunter Green and Red Heart With Love Metallic in White and Gray)
Size H (5.0mm) crochet hook
tiny bit of stuffing if desired
scissors, tapestry needle
glue gun and glue sticks if you want to glue in place (optional)
gold glitter puffy paint for accent (optional)
Gauge:
Really not too important, poop comes in all sizes. BUT you do not want big gappy stitches. I crochet tightly, you may have to drop a hook size to get that.
Finished Size:
About 4″ at the base and about 3.5″ tall
Instructions: (US Terms)
Row 1: With flame orange yarn, make a chainless foundation single crochet row of 76 stitches, cut yarn.
Alternatively, you can chain 77, single crochet in the second chain from the hook and each rem chain across and cut yarn.
Row 2: All subsequent rows are joined from the right side of the previous row in the right most stitch BACK LOOP ONLY with a sl st. Do NOT TURN. Join the Spring green in the right most stitch in the BACK LOOP ONLY, ch 1, scblo in each st across, cut yarn. (76)
Row 3: Repeat Row 2 with metallic white.
Row 4: Repeat Row 2 with hunter green.
Row 5: Repeat Row 2 with metallic gray, DO NOT CUT YARN.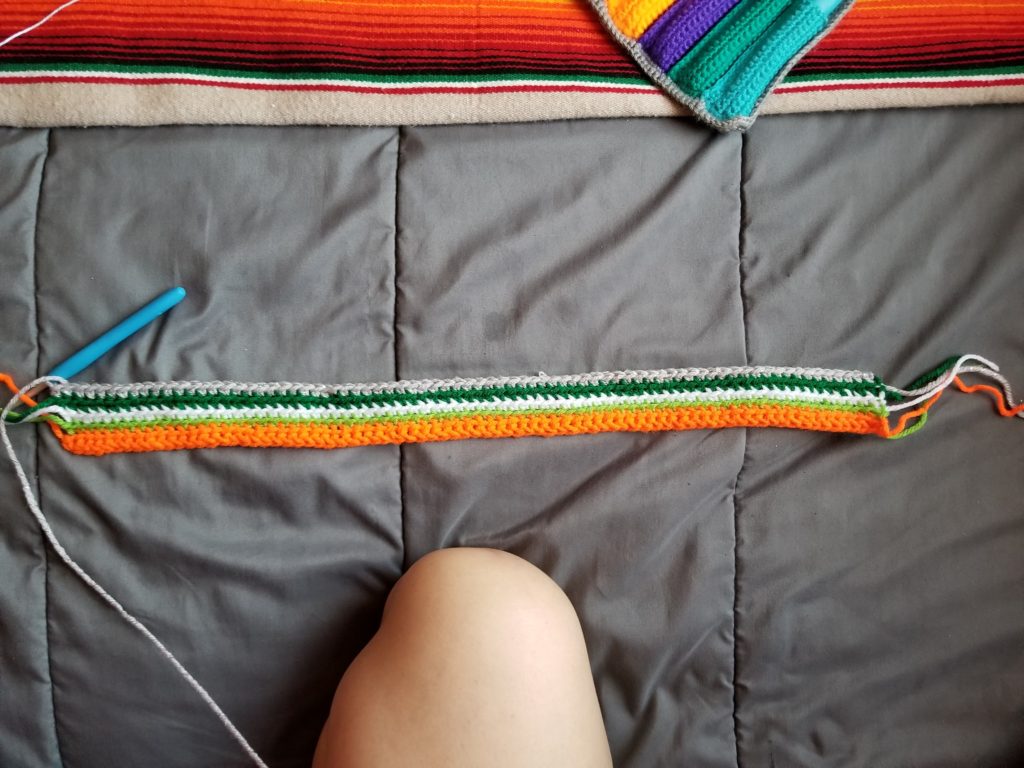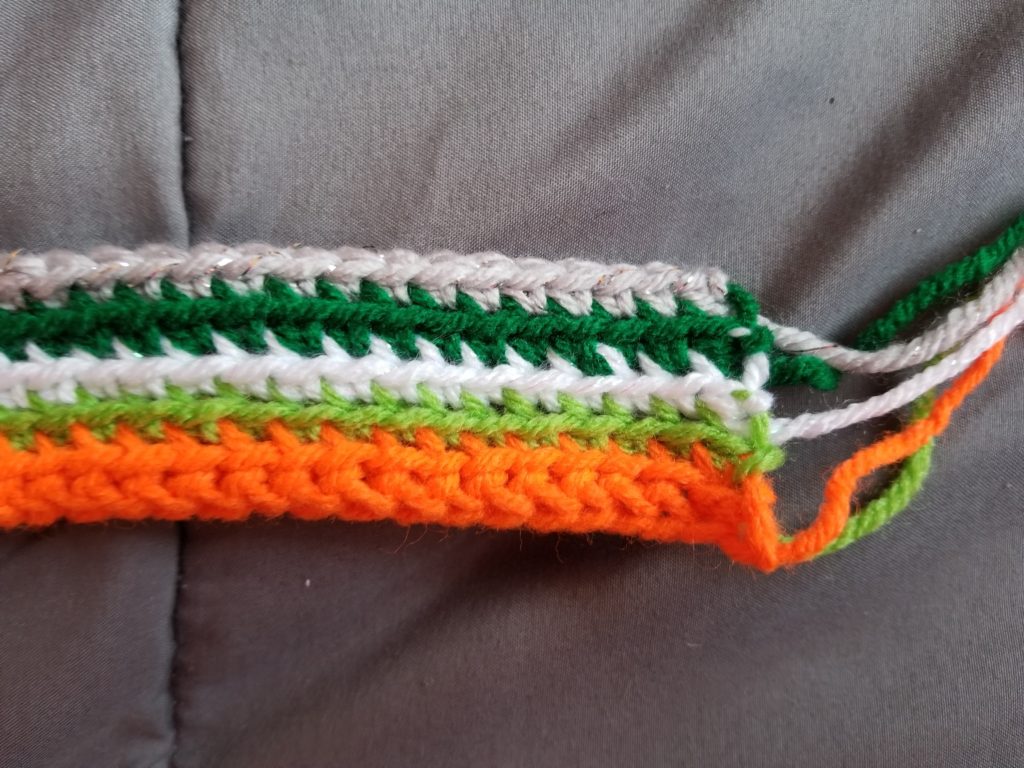 Row 6: (Closing Row): Fold the piece in half with the right side of the rows facing out and matching rows 1 and 5, working in the rem loop of the beginning chain (if you chained to start) or inner loop (if you foundation chained) AND the inner loop of row 5, loosely slip stitch rows 1 and 5 to close into a tube. I put the smallest amount of stuffing in the first half of the tube.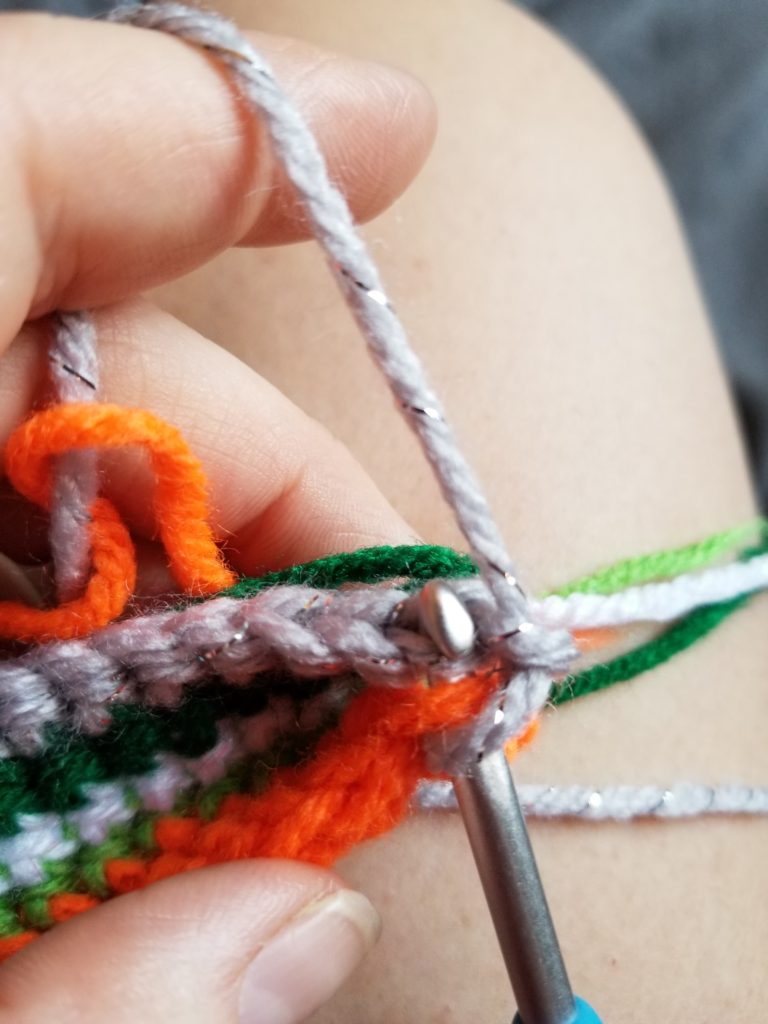 Weave in all the tails. Use one tail on each end to sew the ends shut. Sew it tightly so it creates a "point" like a real poop!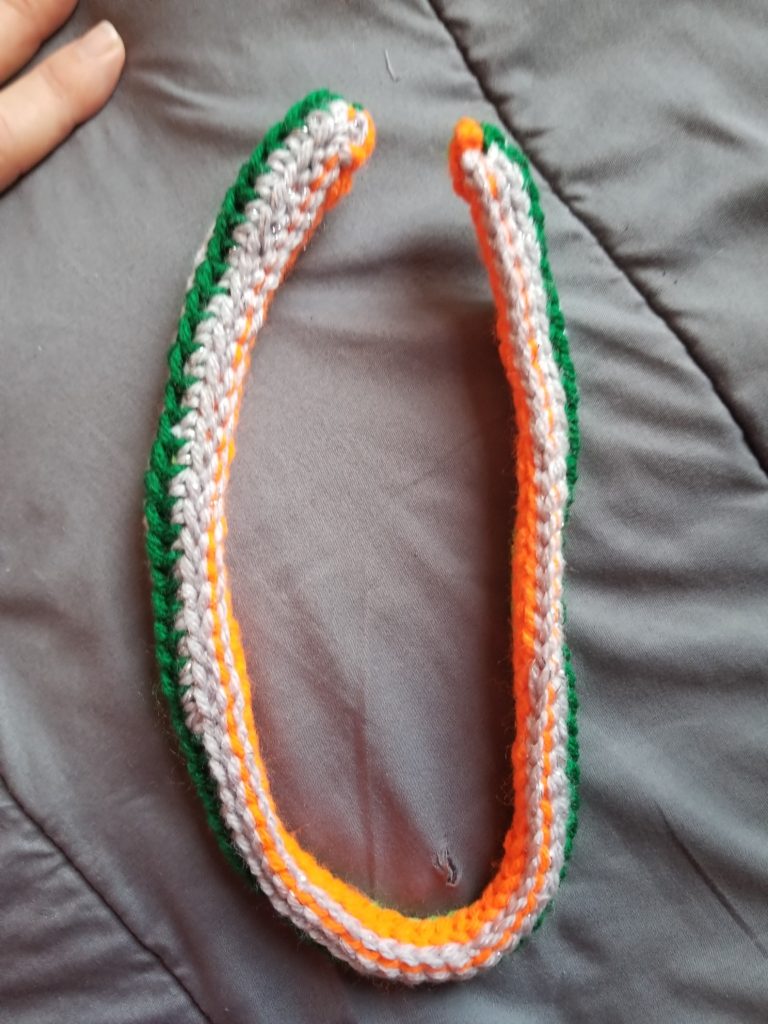 Using pins form one end into a circle about 4″ in circumference and sew or glue in place. As you turn into a loop, TWIST the tube so the final poop looks most realistic!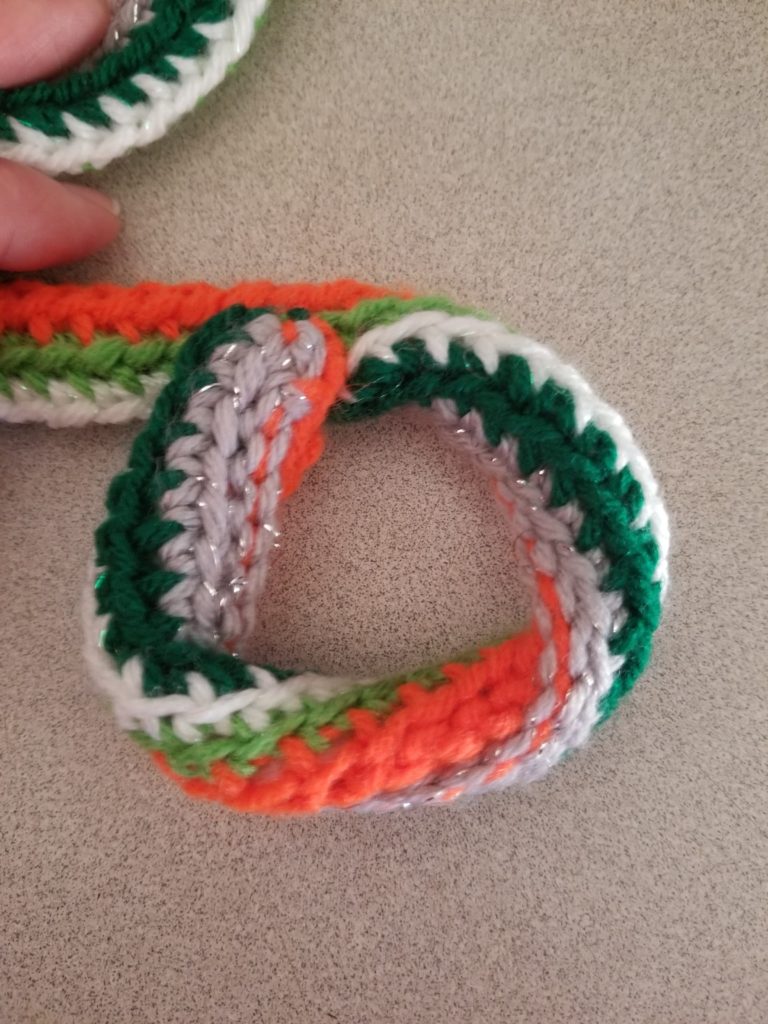 Continue to swirl up and sew or glue in place as you go. Each subsequent turn of the poop should be slightly smaller than the previous. End with a tip. Optionally, swirl gold glitter puffy pain around the poop.
ENJOY YOUR POOP!
Follow me on any of my social media to stay in touch, I would love to have you! Much love and yarn, Stephanie Pokorny (Crochetverse)
The information and photos in this posting are the sole copyrighted property of Crochetverse©2019. Please do not copy and paste any of the information contained within either electronically, verbally, or written in part or in whole. Instead, please share the DIRECT LINK to this posting only, and if you do, I thank you for sharing. You of course may sell anything you make from this pattern that you have made with your own two hands, no contract labor or mass productions are permitted. I need your visits to keep me around creating! Please never screenshot or copy and paste the info within, instead share the link so I may entertain your friends as well! If you credit Crochetverse as the designer that is greatly appreciated!