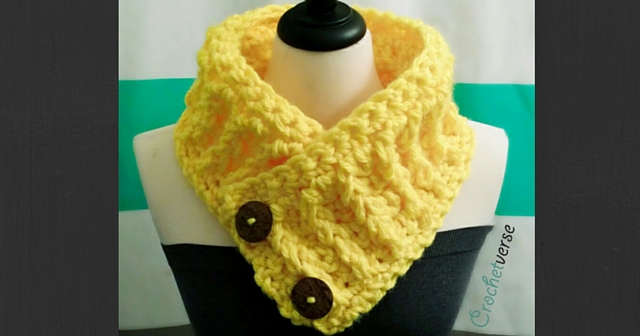 Baby, it's COLD outside! So, we took our free pattern for the "Be Mine" Cowl  and it got CHUNKIFIED and SUNSHINED!
If I can't have warm sunshine rays, well, gosh darnit, I'm gonna crochet them! Take that Mother Nature. Hhmphhh.
I ain't got no sunshine in my pocket, I've got it on my NECK! One fancy pants picture and one mod picture for you! (Can you tell I love photography as well!?) Crochet is art!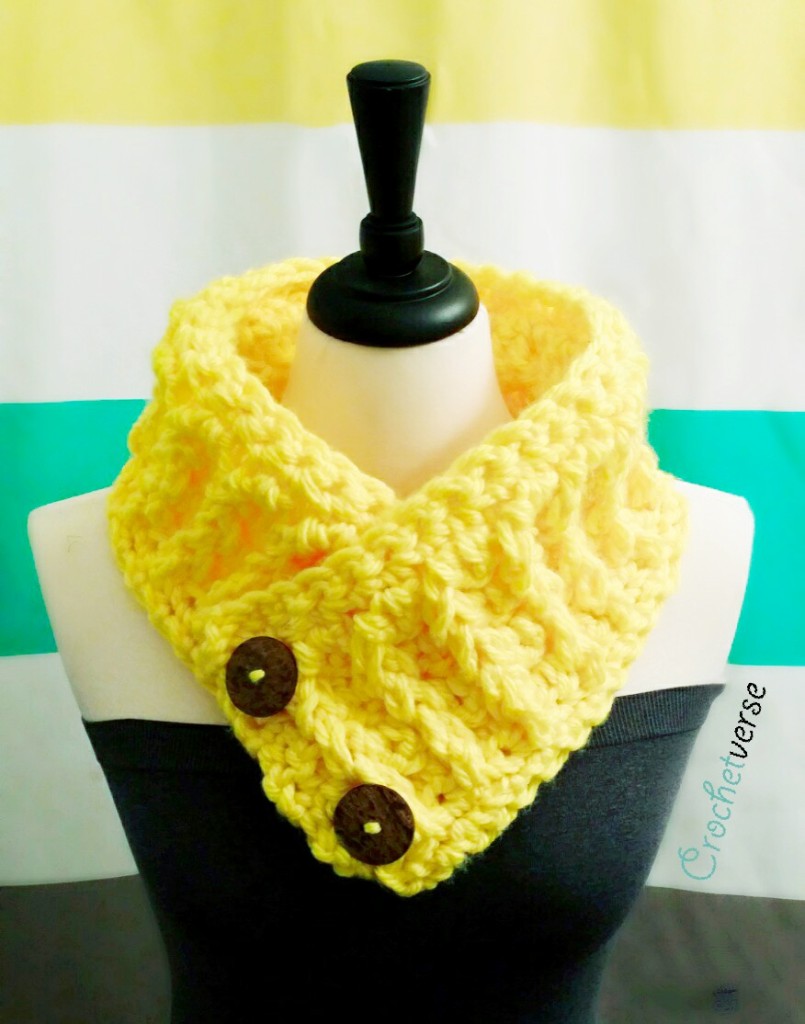 Want some of your own snuggly sunshine?! Read on for the pattern…With just a few adjustments to the original pattern, you can have sunshine all up in your face too!
The Materials:
 Size P (12.75 mm) crochet hook
150 yards super bulky size 6 yarn
SHOWN: (3) Skeins Lion Brand Hometown USA in Neon Lemon
(2) 2″ diameter buttons
Tapestry needle
Instructions:
FIRST: Open the original Be Mine Cowl Pattern by clicking HERE!!
You will follow the instructions exactly as our original "Be Mine" Cowl through ROW 9 ONLY , using the materials listed above.
2. After row 9, you will have 22 vertical.      rows of 4 loops each. Only one more step.
3. Carry on and do the instructions of Row.  14 and 15 of the original cowl to twist,  cable, and secure the loops and finish the  cowl. (which will be rows 10 and 11 of this  chunky version).
Finishing:
Match the short ends up so they form a "V" shape at the bottom of the cowl and using yarn and tapestry needle, stitch them in place as shown on the picture. Weave in your ends.
TaaDaaa!!! Will you look at that?? In only 11 rows, you're now the proud owner of a shiny new cowl! Dang, you're good!
I need all the sunshine I can get, so when you're done, please hop over to our Facebook page HERE!! and post your own pretties!
Please feel free to share the watermarked photo and link as you like, and thank you if you do! BUT,  please do not copy any part of this and post elsewhere, that'd really rain on my parade! Thanks so much!
Follow us on Facebook HERE!!
Follow on Instagram  HERE!!