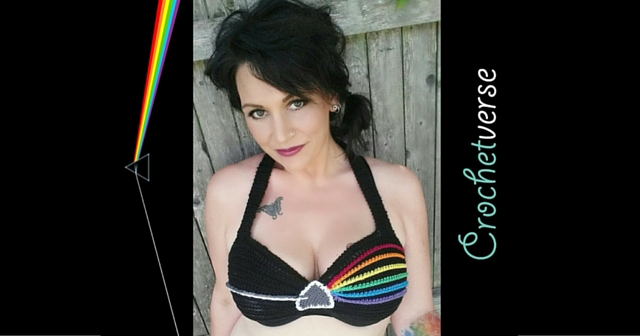 Calling all Pink Floyd Fans! New Crochet Pattern Release!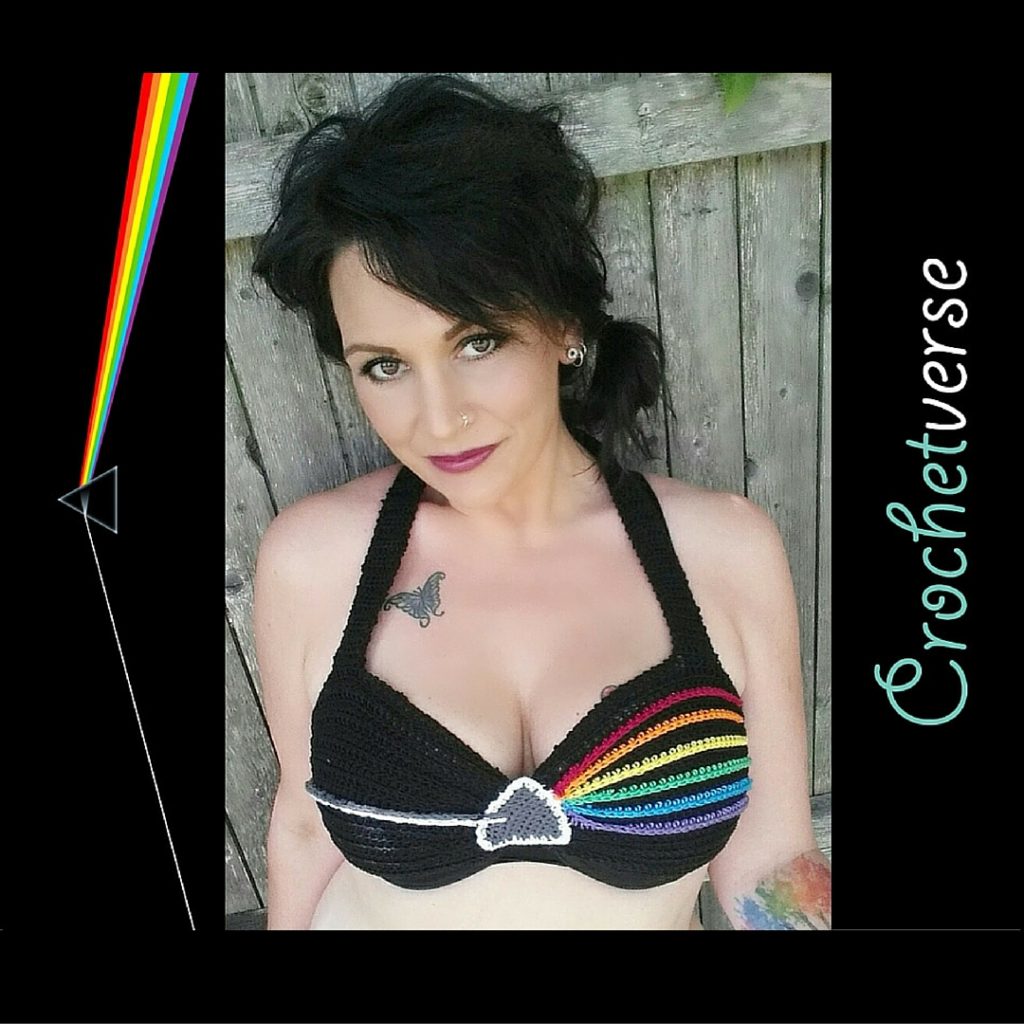 This cute little halter top combines my two favorite things: Crochet (of course!) and Pink Floyd (specifically Dark Side of the Moon, as if I had to say that!)
Fully tested, I think you will enjoy making this little beauty!
Pick up your copy on Ravelry here: CLICK HERE!!
Pick up your copy on Etsy here: CLICK HERE!!
Sized in Small (to fit A-B cup) and Large (to fit C-DD cup), your band size does not matter as it is tie neck and back.
Uses F hook and Size 3 (Sport/Light/Baby/DK) weight yarn.
Caron Simply Soft (though marked worsted) is actually closer to a sport weight and can be subbed with good results.
Uses intermediate level skills.
One can wear it over a tank, or strapless top, or even tank dress to take it from a halter/bikini to an actual shirt!
Check out the work from a few of my amazing testers!
First up: Liz  May I be so bold and say, "Check out this hottie?!"
She used Caron Simply Soft for her top and worked the size large.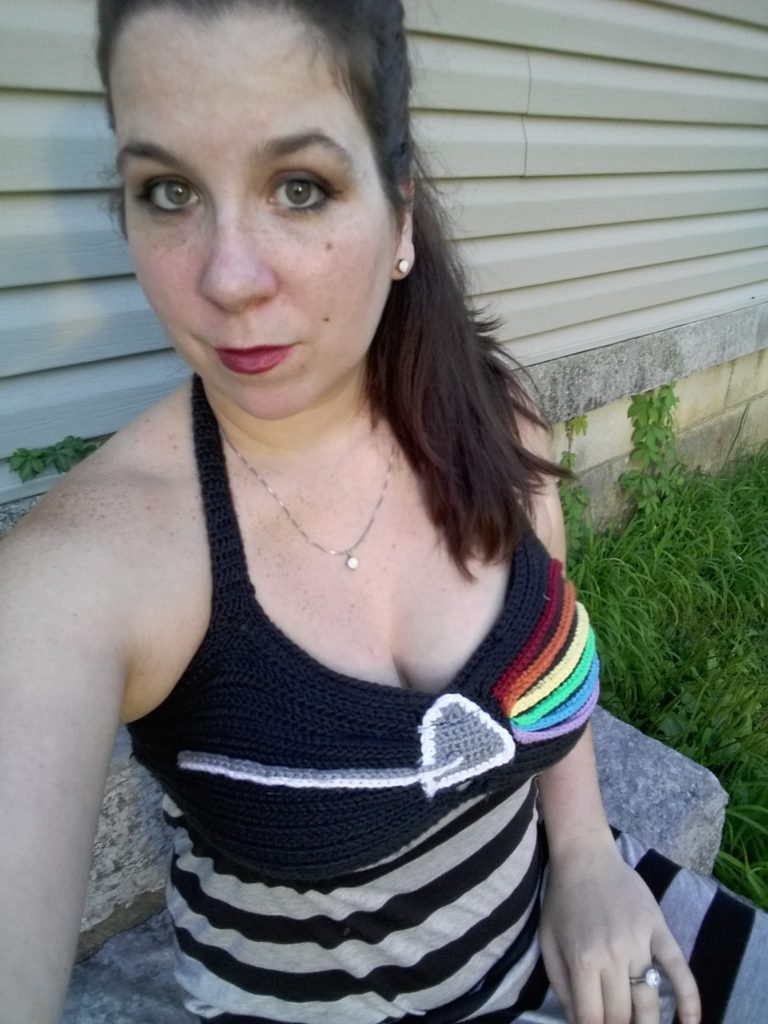 Next Up: Naomi    WHOO HOOO, Will you look at this little cutie!?
She was adventurous and used a regular worsted weight yarn, Red Heart Baby Hugs, that new chemical free yarn. She says it is like clouds and so soft on the skin. To meet gauge, she dropped down to a D hook (the standard pattern calls for F) with great results! She says its squishy and so comfortable 🙂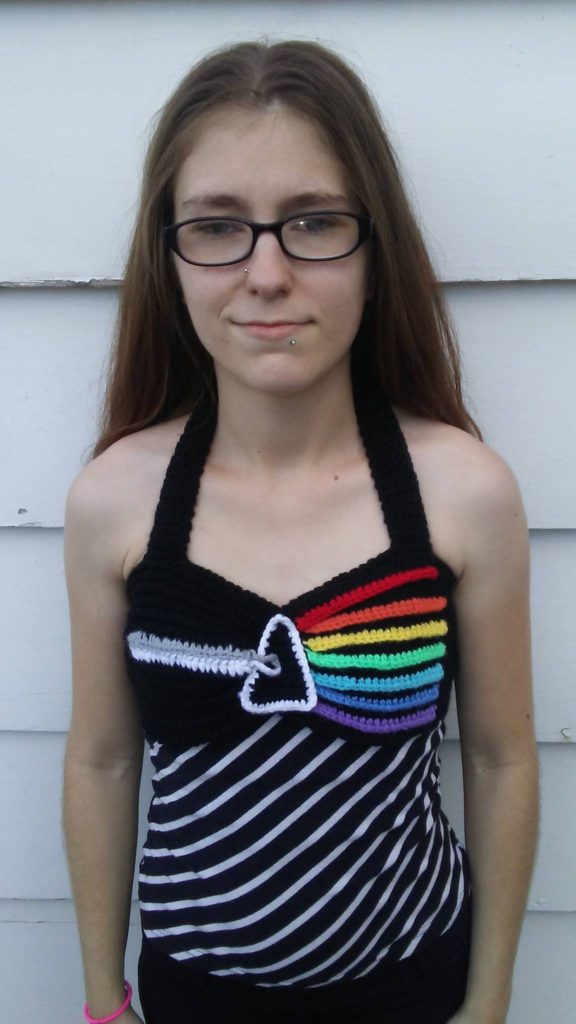 My other testers are waiting for some good light to take photos, so be sure to check my Facebook page to check them out (link below!) But thank you to all of them:
Liz Spencer, Nikki Gosa, Angela Warrick, Melodie Falek, Naomi Kay, Terie Eaton
Much Love and Yarn,
Stephanie
The information and photos in this posting are the sole copyrighted property of Crochetverse©2016. Please do not copy and paste any of the information contained within either electronically, verbally, or written in part or in whole. Instead, please share the DIRECT LINK to this posting only, and if you do, I thank you for sharing. You of course may sell anything you make from this pattern that you have made with your own two hands, no contract labor or mass productions are permitted. If you credit Crochetverse as the designer, that is greatly appreciated!