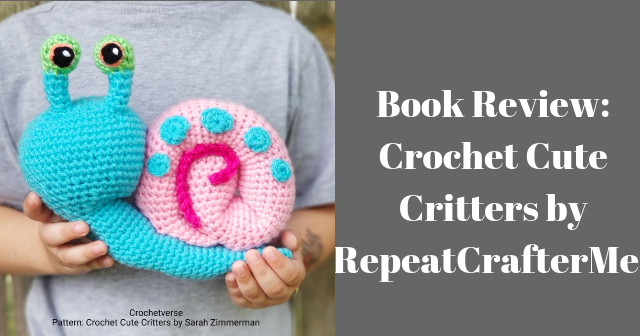 Not even gonna mess around with words first, let me get straight to the PROJECT. LOOK AT DIS! Baby Gary from Spongebob! Read below for how I did him! I had to promise my babies they could have it straight away after I took proper pictures! The begging was real ya'll!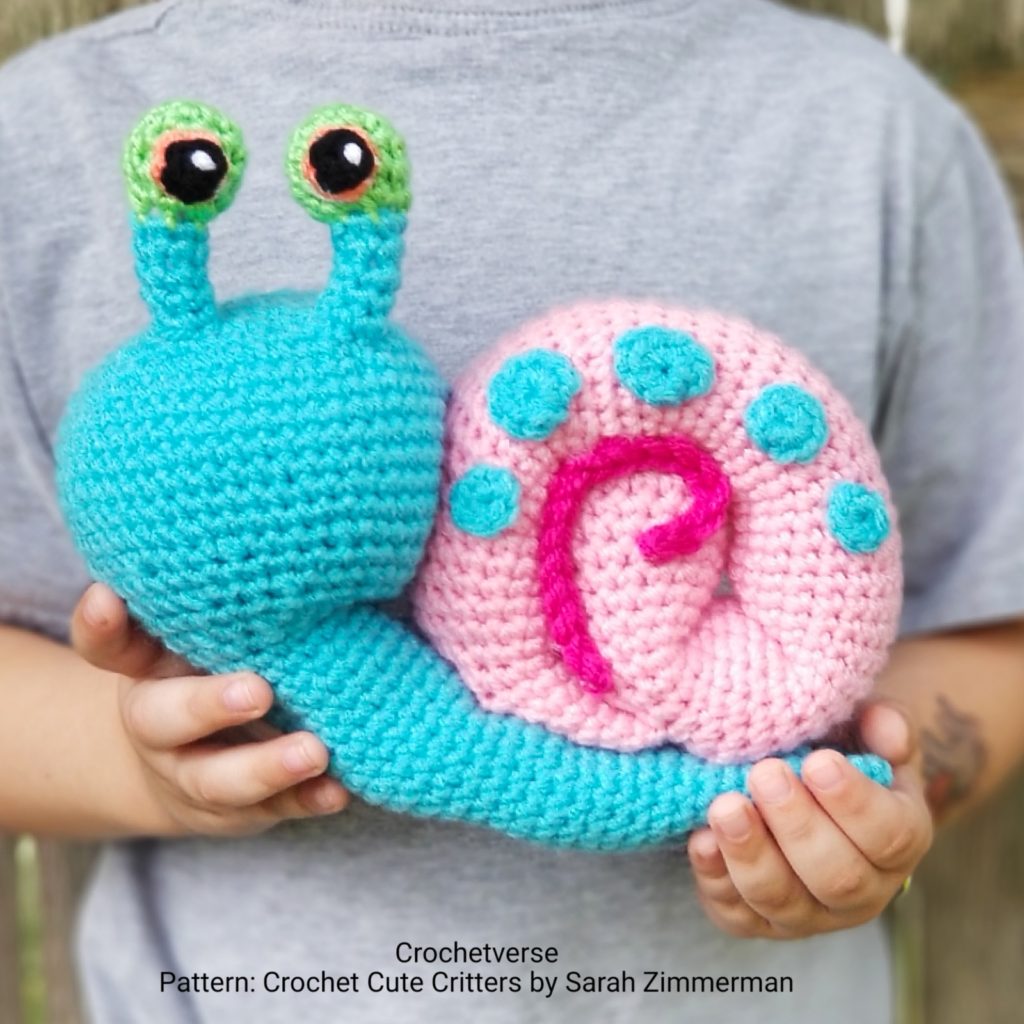 When your crochet idol asks you to review her latest book, you do a little jump for joy and then you get to work 🙂 RepeatCrafterMe aka Sarah Zimmerman recently released her new book Crochet Cute Critters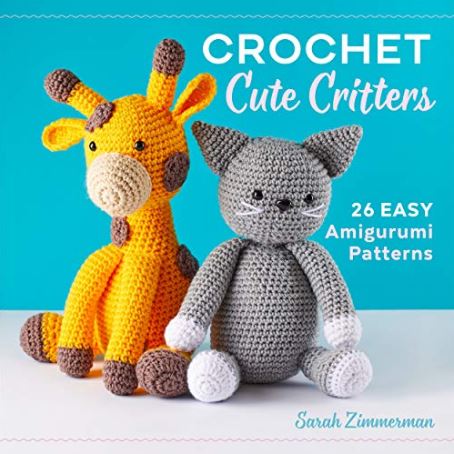 One of the first Facebook crochet groups I joined! Find that here: https://www.facebook.com/groups/RepeatCrafterMeCrochet/
And her blog LOADED with free patterns and tutorials, here: https://www.repeatcrafterme.com/
There are TWENTY SIX patterns in this book!! *Mind blown* for just over 15.00. That is a an outright steal. Available on Amazon, the paperback version can be found here: https://www.amazon.com/Crochet-Cute-Critters-Amigurumi-Patterns/dp/1641522305/ref=tmm_pap_swatch_0?_encoding=UTF8&qid=1567942187&sr=8-1-spons
There is also a digital version, which I love because I am always reading my patterns off my phone while I park myself on the couch for some crochet time. Despite how long the book is, I found it super easy to navigate through the drop down menu, which was super nice. That can be found here: https://www.amazon.com/Crochet-Cute-Critters-Amigurumi-Patterns-ebook/dp/B07VRVKW18/ref=tmm_kin_swatch_0?_encoding=UTF8&qid=1567942187&sr=8-1-spons
Unlike most amigurumi, these babies use an H(5mm) hook, which produces projects that hold their shape but are still the perfect amount of cuddly. I tend to crochet pretty tightly, so I found ZERO problems with gapping of stitches using worsted weight yarns, but if you are a loose crocheter, do not be afraid to drop a hook size to achieve the look you desire!
The details on Gary! HOW I MADE HIM!:
I made him EXACTLY as the pattern stated in the book and added just a few circles and a chain to transform him! H hook and worsted weight yarns.
I began with the pink shell and light turquoise body. After assembling those, I created the dots for his shell. Done in the light turquoise, I made (5) dots total using a magic ring and single crochet: (2) are 5 sts, (2) are 6 sts, and (1) is 8 sts. The shell swirl is a double strand darker pink and simply a chain of 18. Skipping the safety eye option, instead I turned his antennae into eye stalks! The top part is done in lime green and the bottom in the light turquoise. The eye details are again just basic circles magic ring single crochet circles. (2) 6 sts circles for the coral eyes and (2) 4 sts circles for the black pupils. After sewing all the pieces parts into place, I added a few straight stitches of white for the eye sparkle and he was done!
Math? 26 patterns, 15.29 for the book. That is just over .50 cents a pattern, come on!? That is amazing! To be honest, this book was so good, I actually feel inspired to create a crochet book of my own! I have always wanted to put together a crochet book filled with tips and tricks I have picked up along the way and I think this book might just have been enough to point me in the right direction. Although my book is still in the early stages, I have been doing a lot of research into amazon self publishing so if you have any book publishing tips I would love to hear them! Anyway, I hope you enjoyed this review! I would love to have you join and follow any of my Crochetverse pages on the web! I can promise you cool crochet <3
The information and photos in this posting are the sole copyrighted property of Crochetverse©2019. Please do not copy and paste any of the information contained within either electronically, verbally, or written in part or in whole. Instead, please share the DIRECT LINK to this posting only, and if you do, I thank you for sharing. You of course may sell anything you make from this pattern that you have made with your own two hands, no contract labor or mass productions are permitted. I need your visits to keep me around creating! Please never screenshot or copy and paste the info within, instead share the link so I may entertain your friends as well! If you credit Crochetverse as the designer that is greatly appreciated!