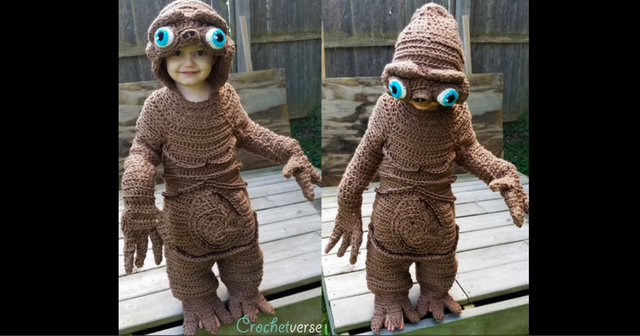 Hi! I have only said it about 40,000 times, but what's one more?!
I AM OBSESSED WITH HALLOWEEN!
So every year I try to really do something special and this year I have invented what I am terming "HUMANGURUMI" … Amigurumi + a Human! LOL!
I present my Baby Jack as ET ! (I am also a way 80s kid, like totally!)
Want to make your own?! Read on!!!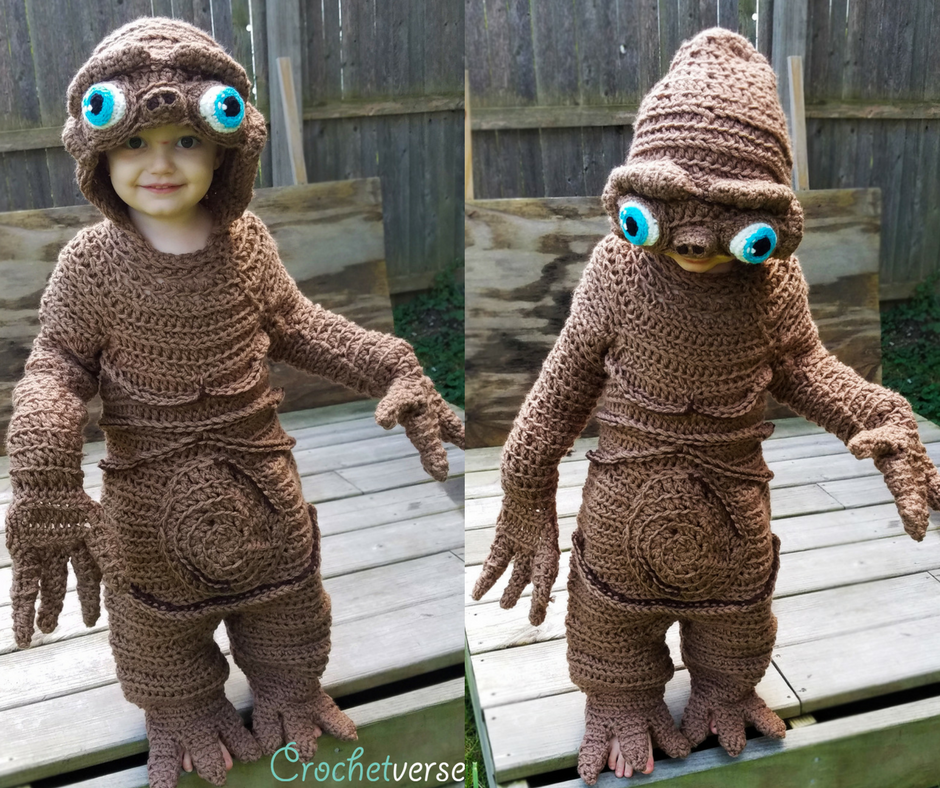 He is free handed and made with no pattern, I literally just tried it on him as I created and stopped when it fit right!
BUT! Due to popular demand, I've created a few things so you make your own!
Here it is in action on 10/31/2016 <3 Click here to watch a short video!!
Want to make your own? Start with my Blank Canvas onesie Pattern available for purchase here: http://www.ravelry.com/patterns/library/blank-canvas-onesie
This tested pattern is super thorough and shows you how to make a plain onesie in ELEVEN sizes! 0/3 Months allllll the way to Men's XL!!
THEN, watch my video on how to alter it to MAKE IT ET! The video is informal and a verbal detailed description on how to do it! If you have some freehanding skills in crochet, THIS can show you how to do it! https://youtu.be/uPNawGWvnHc
Questions? Hit me up on my Facebook at http://www.facebook.com/Crochetverse
I'm happy to help where I can!
As seen on The Huffington Post! They were so kind when I spoke to them, an absolute pleasure! Read the article here: http://www.huffingtonpost.com/entry/mom-crochets-et-costume_us_57f662a3e4b05f39c51e7cdb
As seen on Good Morning America Online/Yahoo News! So very happy to have the costume share the smiles! Read the article here: https://gma.yahoo.com/toddlers-mom-crochets-perfect-et-halloween-costume-hand-202516186–abc-news-Halloween.html
CNET! Thank you! https://www.cnet.com/news/e-t-halloween-costume-crocheted-by-mom/
Q&A:
1. How long did that take you?! Most asked question 🙂 I am blessed to have become pretty quick over the years when I just grab the hook and yarn and go to work… I began him on a Friday and I finished him on a Monday, four days!
2. Will there be a pattern? I do not plan to create a pattern for him for a few reasons…Firstly, It is a copyrighted item and to profit off that would probably result in a lawyer sending me a very "formal letter!" Secondly, It would probably be closer to a book in length as I like to be sure my patterns are clear and this would need a million pictures!
That is.. unless, one of you amazing people knows THEE Mr. Spielberg and can send him my digits! Now, THAT would sure be the bees knees! Anyone? Anyone??
3. What is it made of and how much did it cost? He is made of regular worsted weight yarn, held double stranded, namely Red Heart Super Saver Jumbo in Cafe Latte (or as I like to call it, ET brown!) Total project cost? UNDER 10 DOLLARS!
4. Will you make them for sale? He will remain one of a kind and I will not be selling them, but I do hope he inspires you!
5. People either LOVE or are SCARED of ET!?!? This is something I did not know! I am a total 80s kid and I remember ET as nothing but the cutest most adorable little thing ever, but, I learned that some people are scared! LOL! So whether you LOVE him like me or otherwise… HALLOWEEN IS AMAZING! So whatever you choose to be, have fun!
I hope you enjoy looking at it and it inspires you to really just off and RUN with your hook and yarn and create amazing things!
In the future, I may do some videos to assist in the concept of freehanding so you can make your own art pieces! Would you give it a shot? What would like to learn or allow me to help demystify??!! Let me know on any of the social media sites I am linking below!
Much Love, Yarn, and Happy Halloween!
Stephanie
The information and photos in this posting are the sole copyrighted property of Crochetverse©2016. Please do not copy and paste any of the information contained within either electronically, verbally, or written in part or in whole. Instead, please share the DIRECT LINK to this posting only, and if you do, I thank you for sharing. You of course may sell anything you make from this pattern that you have made with your own two hands, no contract labor or mass productions are permitted. If you credit Crochetverse as the designer that is greatly appreciated!