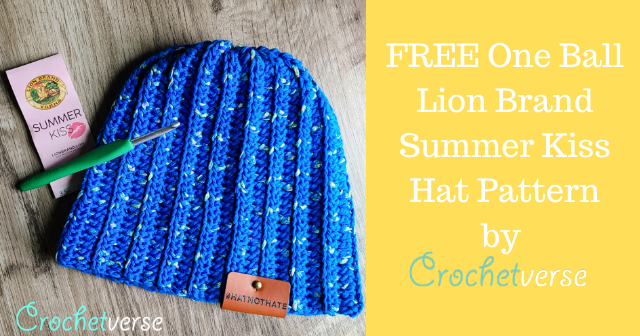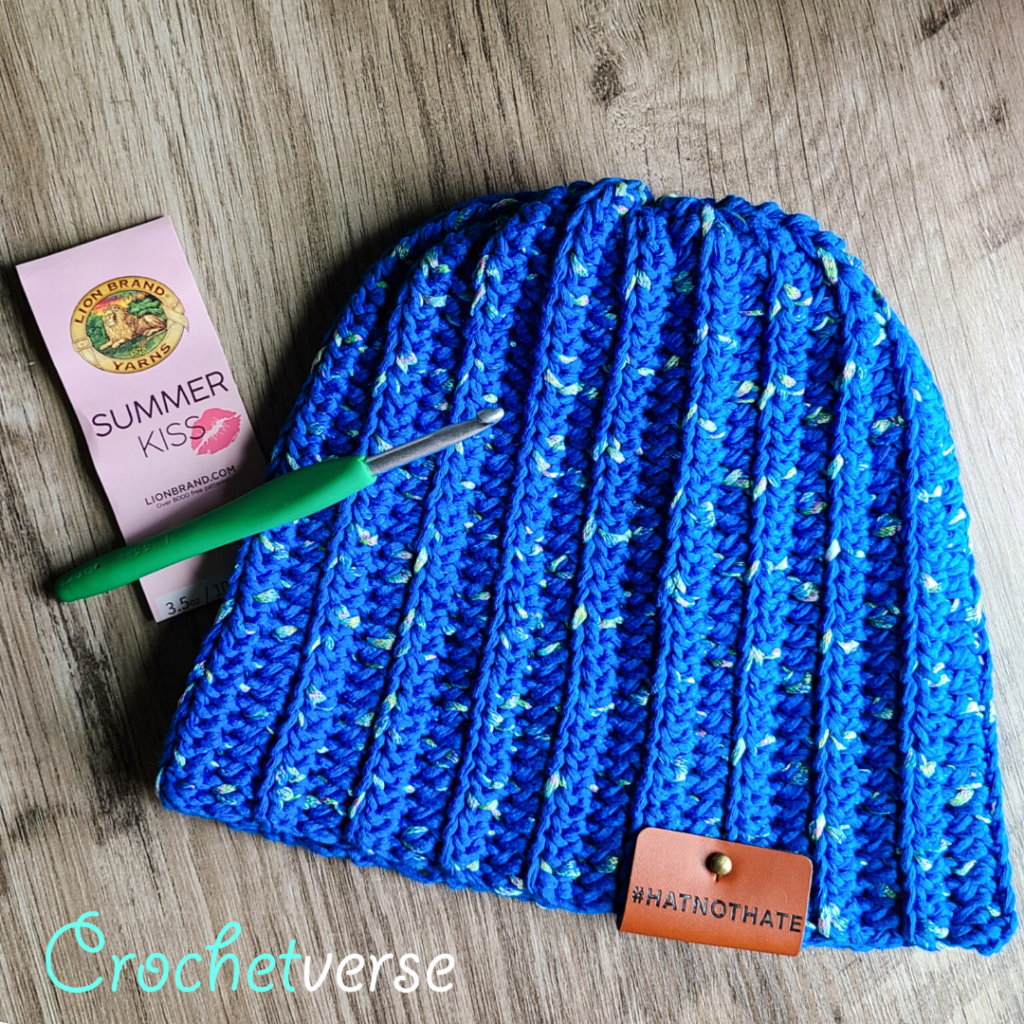 Last week, I was lucky enough to be selected a winner in the Lion Brand Yarn #stitcharoundtheworld Fashion edition in the Wild Card category for my Angler Fish Hat! (I have a PATTERN!: https://www.ravelry.com/patterns/library/angler-fish-hat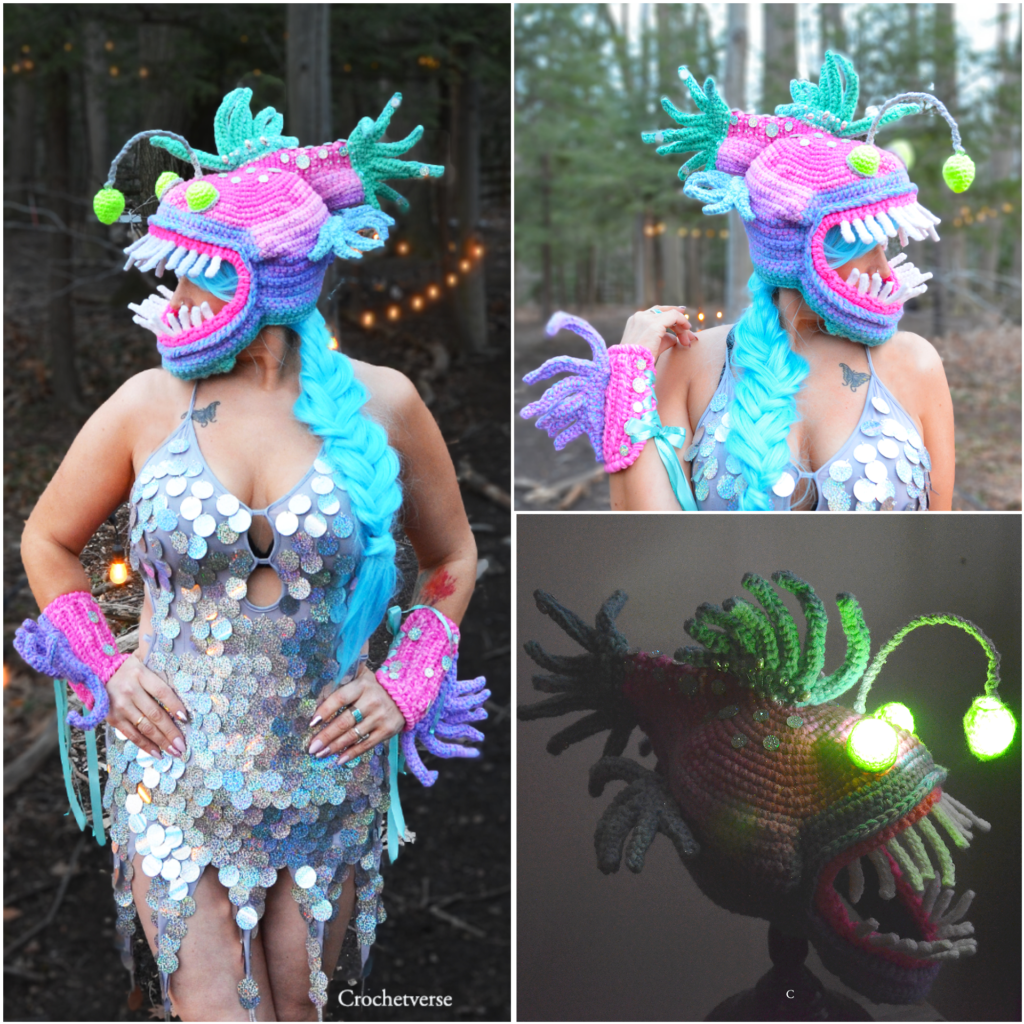 As a prize, I received an incredible basket full of delicious Lion Brand Yarns and hooks! One in particular caught my eye for a few reasons! The Summer Kiss (https://www.lionbrand.com/products/summer-kiss-yarn) in Blueberry! This yarn is a flat type yarn that is 80% cotton/20% polyester. It is legit perfect for warm weather with tiny flecks throughout that look like little pastel flowers!
Why this color though?! Lion Brand has a beautiful initiative called Hat Not Hate that raises both awareness and funds to counteract bullying on all aspects. Helping those who have been a victim of it and educate our youth on how to show love instead. Read more here: http://blog.lionbrand.com/end-bullying-hat-not-hate/
The goal is 100,000 hats for 2020 by August 1st! You donate them and they are distributed to schools all over! Here is that info! https://hatnothate.org/index.php/donate-a-hat/
I also got the gorgeous leather fold tag shown on my hat in the main photo! It is faux leather and easily removable for washing! Here: https://www.lionbrand.com/products/hatnothate-faux-leather-tag?_pos=6&_sid=31319fbca&_ss=r
Tomorrow, I will be on the ShiShow, a daily chat show airing noon EST Monday through Friday! This can be seen on the Lion Brand Facebook Watch page here: https://www.facebook.com/watch/LionBrandYarns/
If you miss it, just head to the Lion Brand Facebook page, they always post the links! Anyway, in short, after all these exciting winnings and learning more about Lion Brand, I decided to create a quick ONE ball hat. It is perfect for the #HatNotHate, but of course it can be used anywhere!
PATTERN: (US Terms)
Sized For: average adult
Finished Dimensions: Before seaming shut, rectangle should measure about 8.5″ tall x 18″ wide when laid flat and unstretched.
Gauge: first two rows when completed in pattern should measure 8.5″ long and 1″ high
Materials:
– ONE BALL of Lion Brand Summer Kiss. I used Blueberry. Here is where you can get it: https://www.lionbrand.com/products/summer-kiss-yarn
– Size I (5.5mm) crochet hook
– tapestry needle, scissors, tape measure, hatnothate tag (Linked above in post)
This hat will fit an average adult head (I am 21.5″). The finished unstretched circumference is 18″ and it has PLENTY of stretch. If you prefer your hats very loose or have a larger adult head, please feel free to use a second ball and go wider!
The ENTIRE hat is worked DOUBLE strand but from the SAME BALL! This is really easy! You just wiggle your fingers in the center and find the middle end. Then find the outer end. Hold both strands and work as if they are one!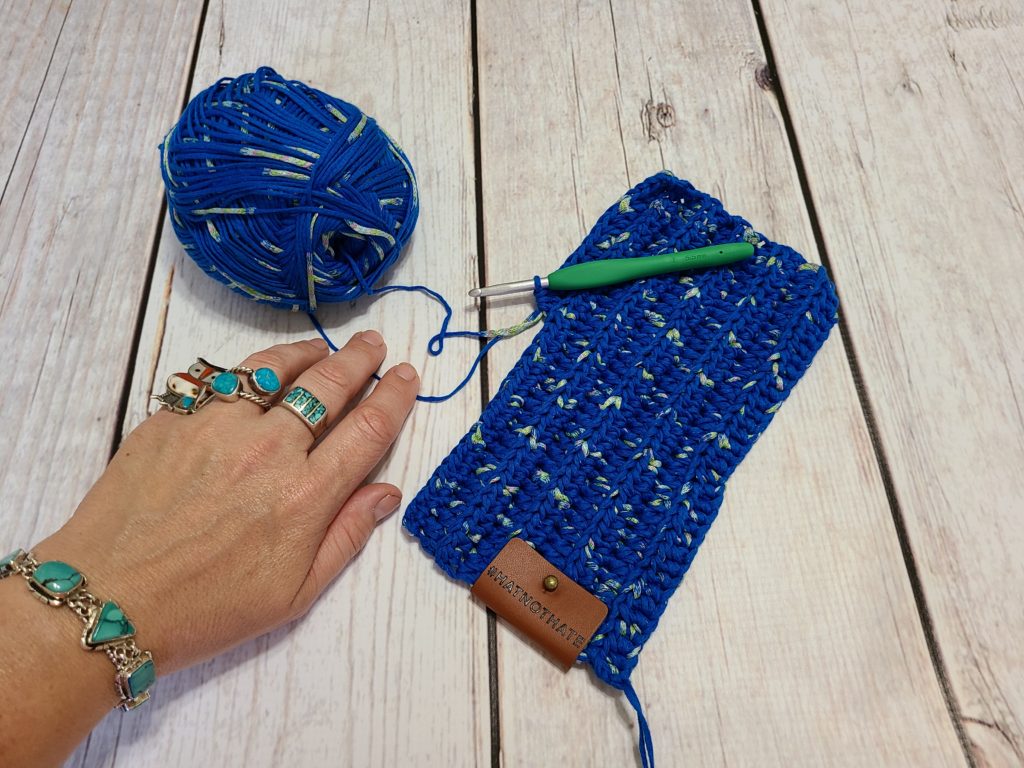 Working DOUBLE strand for the entire hat, chain 35:
Row 1: hdc in 2nd ch from hook and each rem ch across, skipped ch does not count as a st. (34)
Row 2: ch 1 (does not count as a st here and throughout), turn, hdcBLO in each st across. (34)
Row 3 to end: Repeat Row 2 until you have about 1 yard of yarn left.
Finishing: Fold so the stitches of row 1 and last row meet up to each other, creating an open ended tube. Using the last 1 yard length of yarn, SL ST through the back loop only of stitches on the row closest to you and the front loop only of the stitches on the row further from you. Sl st all the way along the row joining the ends. Using the remaining tail end of yarn and needle, weave it in and out of each st around the circular end opening of the hat. Pull the end tightly to close the end. Sew around strategically to bring is shut to your liking. Weave in all ends. Place tag on open end.
To donate the hat for the Hat Not Hate program, simply go here for info and thank you! https://hatnothate.org/index.php/donate-a-hat/\
Follow me on any of my social media to stay in touch, I would love to have you! Much love and yarn, Stephanie Pokorny (Crochetverse)
The information and photos in this posting are the sole copyrighted property of Crochetverse©2020. Please do not copy and paste any of the information contained within either electronically, verbally, or written in part or in whole. Instead, please share the DIRECT LINK to this posting only, and if you do, I thank you for sharing. You of course may sell anything you make from this pattern that you have made with your own two hands, no contract labor or mass productions are permitted. I need your visits to keep me around creating! Please never screenshot or copy and paste the info within, instead share the link so I may entertain your friends as well! If you credit Crochetverse as the designer that is greatly appreciated!