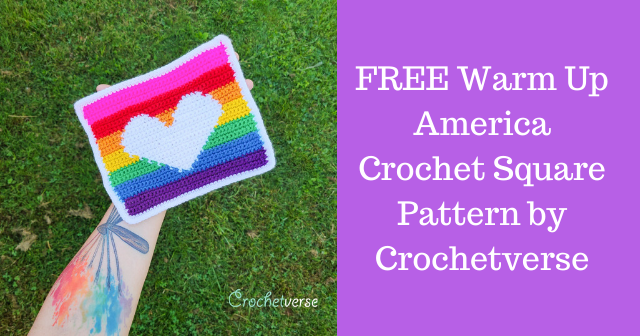 This square was created to be colorful, bright, but most importantly 7″ x 9″ when done. Why is this? The "Warm Up America" initiative. If you've not heard of it, I urge you to check out their non-profit blog here: https://warmupamerica.org/ They serve so many in need communities, such as homeless, Veterans, senior citizens, and babies!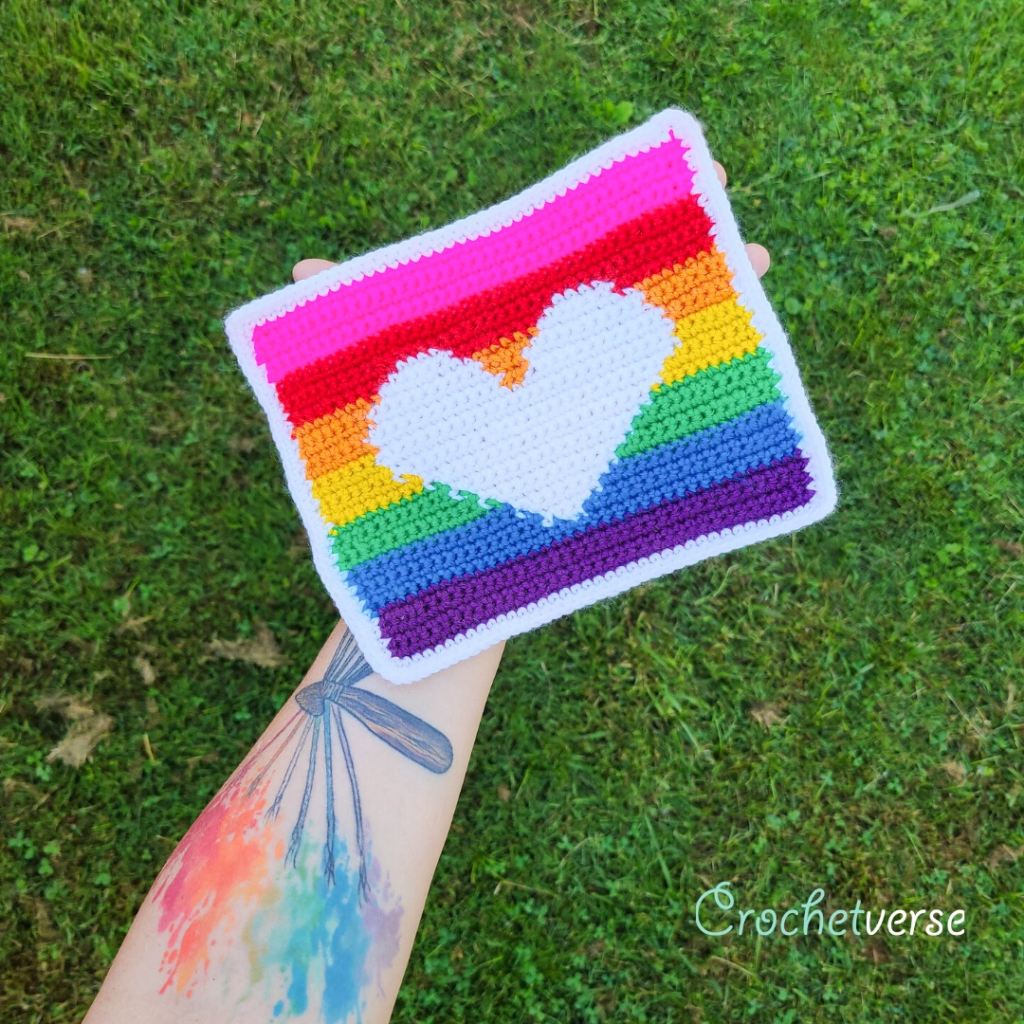 What do YOU do? Create this square (or any square that is 7″ x 9″) and then mail it in to the organization. THEN, they assemble them into blankets and distribute them to those in need.
Once done, you'll send it HERE:
Warm Up America!
Attn: Box of 500 sections
3740 N. Josey Lane, Suite 152
Carrollton, TX 75007d joining
That is it! The amazing people at KnitPicks https://www.knitpicks.com/ generously donated the yarn to create this square! In particular, I have used the Mighty Stitch here: https://www.knitpicks.com/yarn/mighty-stitch-yarn/c/5420287 The fiber is a beautiful super strong acrylic with a sheen and durability that is hard to beat.
This square is done in graphed crochet style. I prefer to NOT carry the yarns while working the color changes, instead using bobbins. These are small balls of yarn in each color that you pick up and drop at the spot color changes are required. This method also helps eliminate lots of ends to weave… BONUS! You can surely do this in the tapestry crochet method, carrying the color not being used across the row and within the stitches. The end result for both methods will be a beautiful square to donate!
My talented friend, Shelynn, at Poise & Envy (Here on Facebook! https://www.facebook.com/poiseandenvy/ made a small Youtube tutorial to assist with color changes! CHECK THAT HERE: https://www.youtube.com/watch?v=QmplWWXFf_8
ROW BY ROW INSTRUCTIONS NOW INCLUDED BELOW!
THE PATTERN IS THE GRAPH! You'll work the graph using the technique of your choice in single crochet. Be sure to see the video above for help!
PLEASE, Do NOT save and share the graph. RATHER, please LINK TO THIS POST. Why? Your visits allow me to continue to offer free content! Yay! Thank you so much! Enjoy and let's WARM UP AMERICA!
I used:
Yarn: Knit Picks Mighty Stitch worsted weight yarn in Pucker, Serrano, Orange, Canary, Macaw, Gulfstream, Mulberry, and White
Hook: G (4.25mm) crochet hook
Border: simple single crochet border around repeated as many times as needed to reach the 7×9″ dimensions. Mine took two rounds.
GRAPH PATTERN: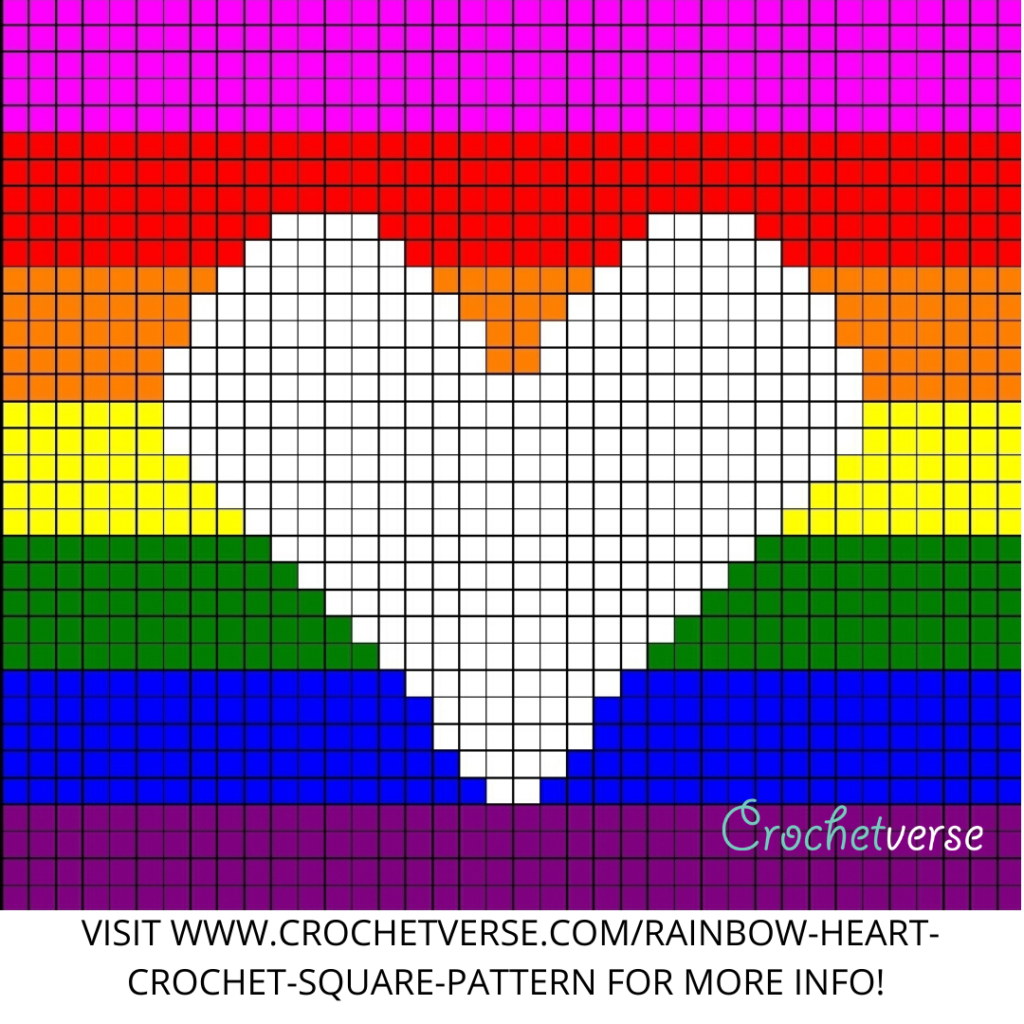 ROW BY ROW:
Created from PINK TOP to PURPLE BOTTOM.
In pink, chain 39:
Row 1: sc in 2nd ch from hook and in each across. (38)
Each additional row is done with a chain 1 and turn to begin and then single crochet across in the counts given. For example: 5 orange, 6 white, 3 orange, means you would work 5 sc in orange, 6 sc in white, and 3 sc in orange. Color changes are done at the final yarn over pull through of the last st of the color JUST prior to the stitch that needs the new color, you will pull through with the new color and drop the old color.
If you would like a solid color square just work all colors indicated in the color of your choosing and the white (or heart color of choice) as the heart as written.
Row 2–5: 38 pink
Row 6-8: 38 red
Row 7: 10 red, 4 white, 10 red, 4 white, 10 red.
Row 8: 9 red, 6 white, 8 red, 6 white, 9 red.
Row 9: 8 orange, 8 white, 6 orange, 8 white, 8 orange.
Row 10: 7 orange, 10 white, 4 orange, 10 white, 7 orange.
Row 11: 7 orange, 11 white, 2 orange, 11 white, 7 orange.
Row 12: 6 orange, 12 white, 2 orange, 12 white, 6 orange.
Row 13: 6 orange, 26 white, 6 orange.
Row 14-15: 6 yellow, 26 white, 6 yellow.
Row 16: 7 yellow, 24 white, 7 yellow.
Row 17: 8 yellow, 22 white, 8 yellow.
Row 18: 9 yellow, 20 white, 9 yellow.
Row 19: 10 green, 18 white, 10 green.
Row 20: 11 green, 16 white, 11 green.
Row 21: 12 green, 14 white, 12 green.
Row 22: 13 green, 12 white, 13 green.
Row 23: 14 green, 10 white, 14 green.
Row 24: 15 blue, 8 white, 15 blue.
Row 25-26: 16 blue, 6 white, 16 blue.
Row 27: 17 blue, 4 white, 17 blue.
Row 28: 18 blue, 2 white, 18 blue.
Row 29-32: 38 purple.
Edge: With white, join in any corner with a sl st, ch 1, sc in each st and end of row around working 3 sc in each corner. Repeat around 2 times or as many or few as needed to obtain the desired 7 x 9″ goal for Warm Up America.
Follow me on any of my social media to stay in touch, I would love to have you! Much love and yarn, Stephanie Pokorny (Crochetverse)
The information and photos in this posting are the sole copyrighted property of Crochetverse©2018. Please do not copy and paste any of the information contained within either electronically, verbally, or written in part or in whole. Instead, please share the DIRECT LINK to this posting only, and if you do, I thank you for sharing. You of course may sell anything you make from this pattern that you have made with your own two hands, no contract labor or mass productions are permitted. I need your visits to keep me around creating! Please never screenshot or copy and paste the info within, instead share the link so I may entertain your friends as well! If you credit Crochetverse as the designer that is greatly appreciated!