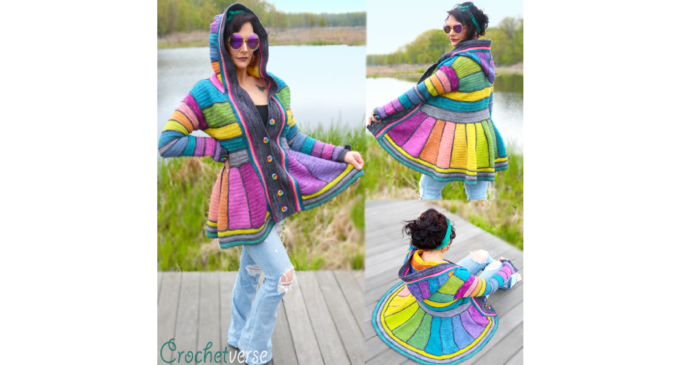 INTRODUCING "THE SERGED DREAM COAT!" PATTERN – NOW AVAILABLE!
This beyond stunning garment is NOT your average crochet; NINE months in the making, & over 185 hours of editing!! Designed to mimic those work of art reclaimed sweater coats for a whimsical fairy feel!
http://www.ravelry.com/patterns/library/serged-dream-coat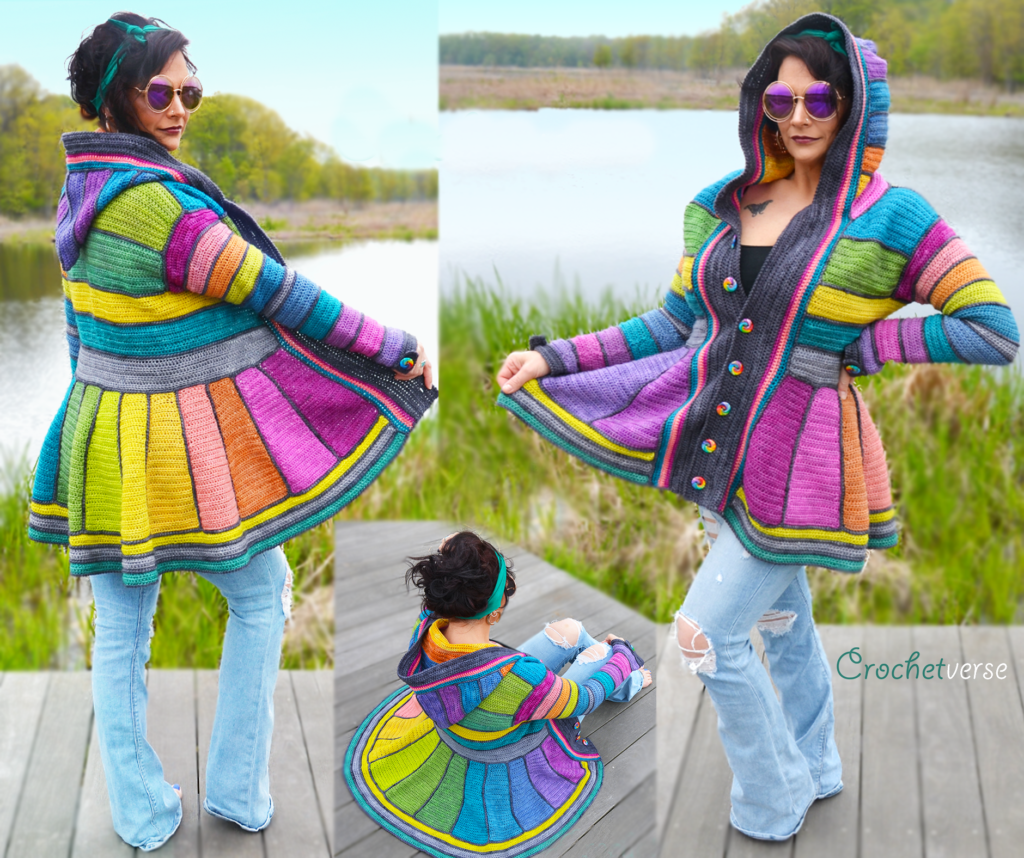 No sewing, but for one tiny seam at hood! I've creating a crochet join technique that mimics serger seams! Sized for bust 36-46″/waist 30-40″ & has 32 pages of the most complete amount of info I think you can expect to find in a pattern w/ photos galore! There is even a "coloring page" to plan your color scheme! Tested by my pickiest tester's, I stand behind it's quality. 
Edited to Add!: Katwise and her upcycled sweaters were a great part of the inspiration for this crocheted jacket! I was unsure if stating her name outright was the proper thing to do as I didn't want to imply that I was affiliated with her art in anything beyond inspiration! I sadly do not sew, so do not own any of her patterns. BUT, I spoke to someone who does own one of her patterns and they made aware that in her patterns, she does state she likes her name to be stated as credit for inspirations. So, knowing that is the preference I would like to do so! Her pieced sweaters are beyond amazing! But, I am sure you already know that! Check her out here: http://katwise.com/
CHECK OUT MY TESTER'S PROJECTS! WOW!
HEATHER: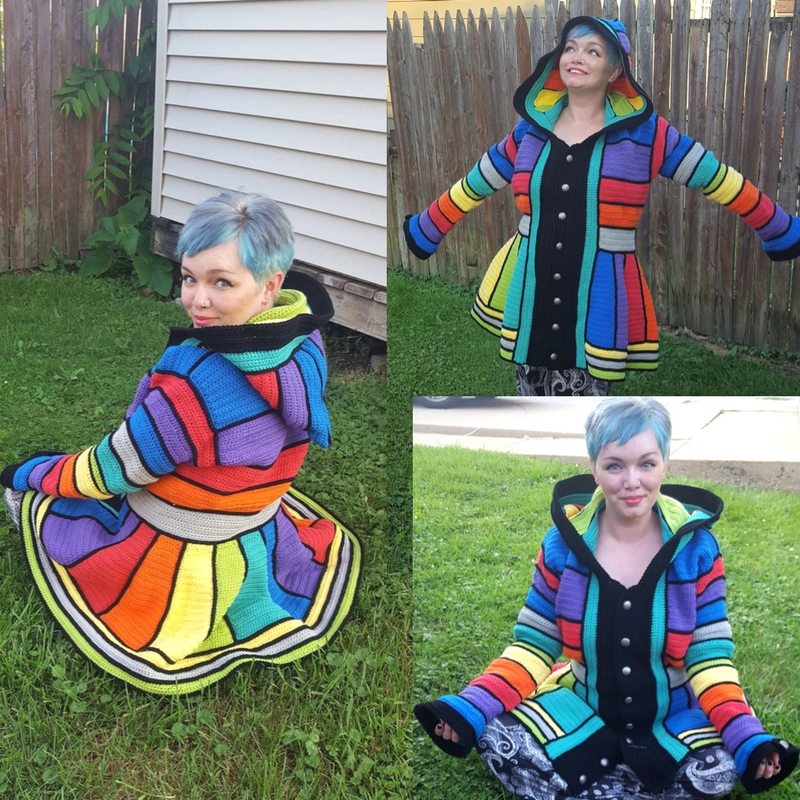 MICHAELA: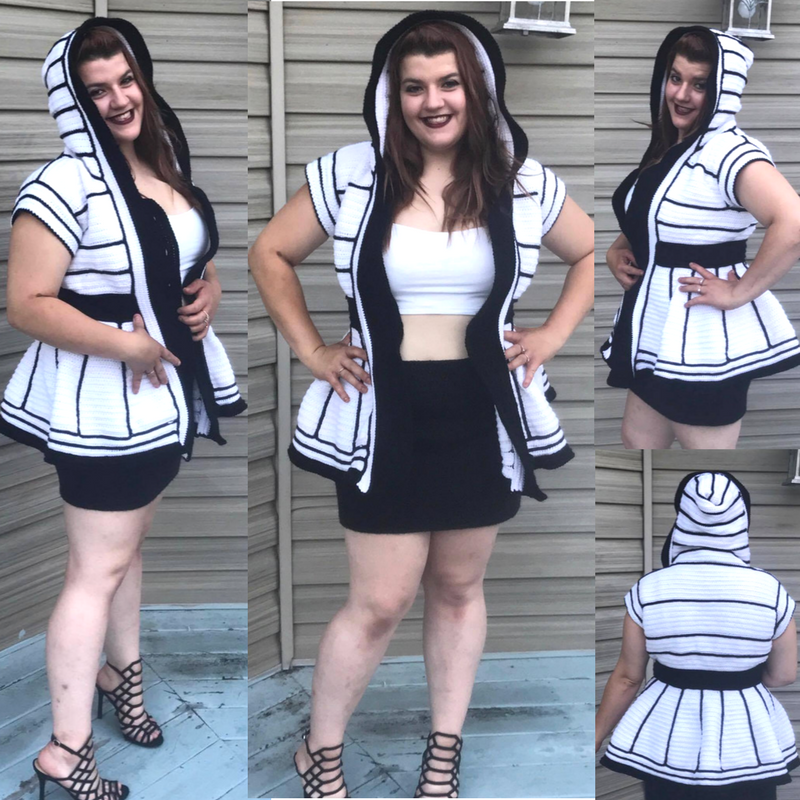 CLARISSA:
SANDI: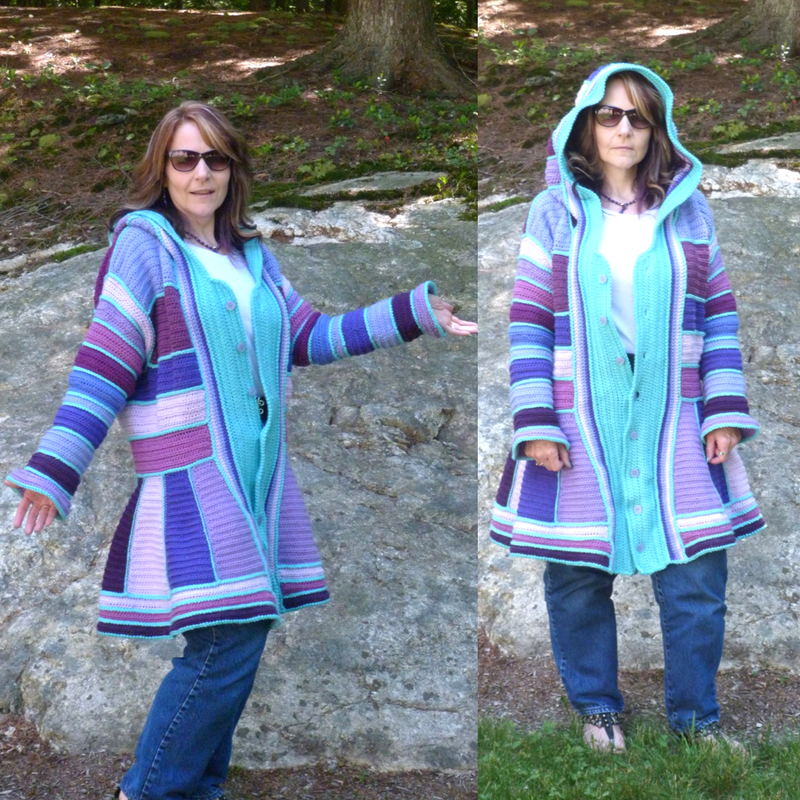 Please post projects and questions to any of the social media sites below, and/or email me at [email protected]
Much Love and Yarn, Stephanie
Follow on Facebook Here!    http://www.facebook.com/crochetverse
Follow on Instagram Here!  Handle Name: Crochetverse
Follow on Ravelry Here! Shop Name: Crochetverse
Follow on Pinterest Here! Handle Name: Crochetverse
Follow on YouTube Here! Channel Name: Crochetverse
Follow on Twitter Here! Handle Name: Crochetverse
Follow on Etsy Here! Shop Name: Crochetverse
The information and photos in this posting are the sole copyrighted property of Crochetverse©2017. Please do not copy and paste any of the information contained within either electronically, verbally, or written in part or in whole. Instead, please share the DIRECT LINK to this posting only, and if you do, I thank you for sharing. You of course may sell anything you make from this pattern that you have made with your own two hands; no contract labor or mass productions are permitted. If you credit Crochetverse as the designer, that is greatly appreciated!