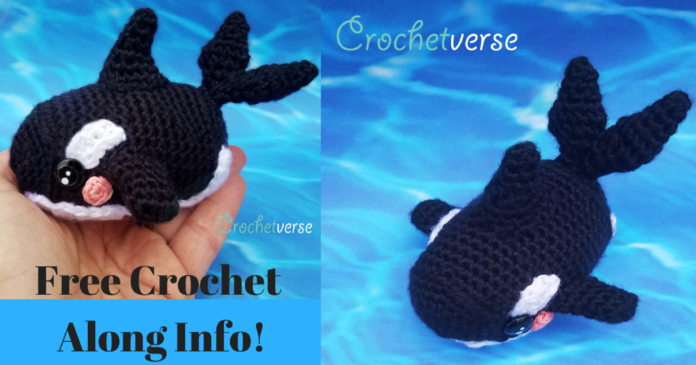 As part of my 15,000 fan celebrations on Facebook…
We are having a Free Amigurumi Orca Crochet Along !!!!
Info and Supply Post: Read below for the details, dates, and materials!!
Have you wanted to try amigurumi or are you an old pro? Join us to make this roly poly little Orca Whale! Learn tips, tricks, or something new!
Where will this take place? The actual pattern will be posted here on Crochetverse.com
How many parts and dates? The crochet along will be split into two weeks; Part One released August 14th, 2017 and Part Two August 21, 2017 at 9am EST
Translations? But, of course! I am so lucky to have the support of this team and will be able to offer it to you in French, Swedish, Dutch, German, UK Terms, and English, and likely a few more to be added!
Can I download this? I need you to come visit me to be able to keep offering amazing free patterns to you! For this reason, all my free patterns are not offered as a pdf, instead you will just head right here to the blog at crochetverse.com to access them! Thank you for supporting me, it brings me such joy to share with you all!
Where can I post and share? The amazing "CAL – Crochet A Long" group on Facebook has spent many hours testing and translating this! You will want to join that group for the event and share your work and ask questions there! Find that here: https://www.facebook.com/groups/668646249929007/
Anywhere else? YES! You can post and ask questions on the Crochetverse Fan Page here: http://www.facebook.com/Crochetverse
Ravelry? Yes! You can save it in your Ravelry library and all updates to parts will be added in the description as they are released! Great way to keep organized! Here: http://www.ravelry.com/patterns/library/orca-whale-amigurumi
What will I need? This is an easy small project! Just about 75 yards of black and white yarn, such as Caron Simply Soft or Stylecraft DK, a small amount of pink for the cheeks, C(2.75mm) and E(3.5mm) crochet hooks, eyes about 12mm or 2 black dome buttons about 1/2″, (there are also instructions to crochet the eyes for young children!), and stuffing. You likely already have most everything you need in your stash!
Thank you so much for all your support and I hope you will join us!
Please post projects and questions to any of the social media sites below, and/or email me at [email protected]
Much Love and Yarn, Stephanie
Follow on Facebook Here!    http://www.facebook.com/crochetverse
Follow on Instagram Here!  Handle Name: Crochetverse
Follow on Ravelry Here! Shop Name: Crochetverse
Follow on Pinterest Here! Handle Name: Crochetverse
Follow on YouTube Here! Channel Name: Crochetverse
Follow on Twitter Here! Handle Name: Crochetverse
Follow on Etsy Here! Shop Name: Crochetverse
The information and photos in this posting are the sole copyrighted property of Crochetverse©2017. Please do not copy and paste any of the information contained within either electronically, verbally, or written in part or in whole. Instead, please share the DIRECT LINK to this posting only, and if you do, I thank you for sharing. You of course may sell anything you make from this pattern that you have made with your own two hands; no contract labor or mass productions are permitted. If you credit Crochetverse as the designer, that is greatly appreciated!