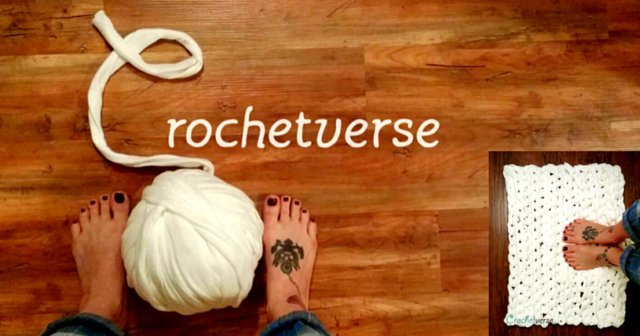 I'm sure you've seen it. That ENORMOUS squishy blanket. You fell in love. You saw the price of the yarn. You needed CPR and a large bottle of wine. It is gorgeous, but it is EXPENSIVE!
Have I got a low cost, big impact, super squishy, ball of amazing to teach you how to make today?! Guess how much it cost me? 6.98. Yes, SIX dollars and 98 cents. That's it. Holy smokes. Take a look at this…It's huge even in comparison to my huge man feet. That's truly impressive.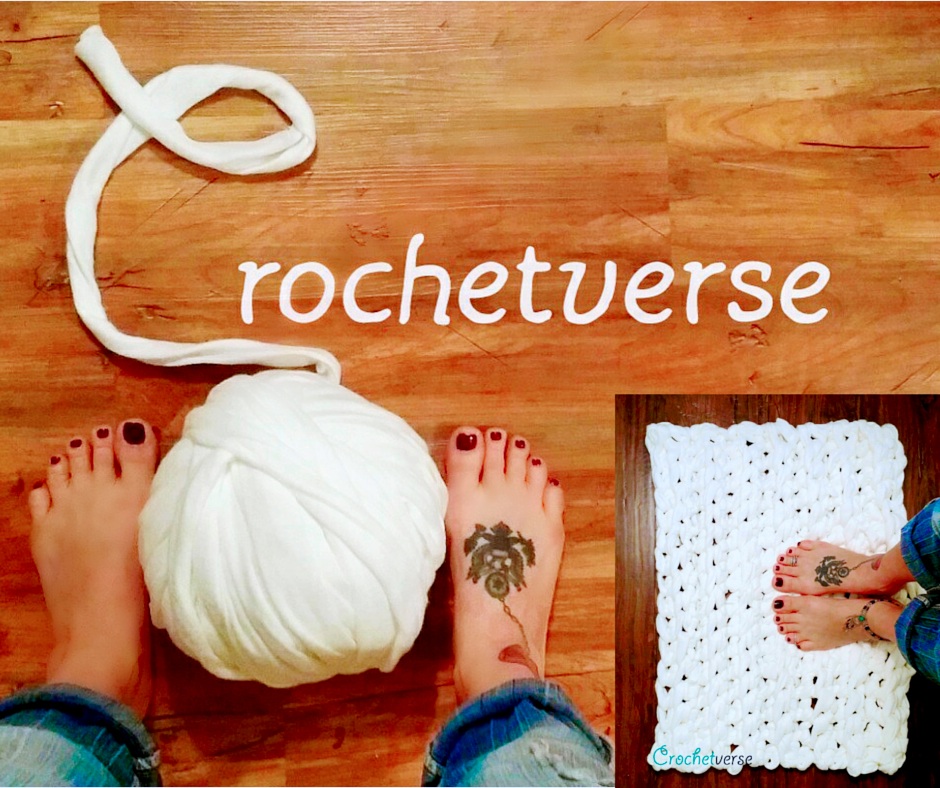 I'm going to show you how to turn 4 yards of regular polar fleece into just under 100 yards of HUGE FABULOUS YARN in ONE CONTINUOUS PIECE! Then, I have a quick free pattern for the luxury accent rug you see!
Let's start: I've also done a video, upon multiple requests, find it here: HERE!!
All you need is:
-(4) yards of polar fleece (not fabric, or flannel, or sweatshirt material) polar fleece will not run or fray when cut
-Scissors
I'm going to HIGHLY recommend you take a sheet of paper and run through the instructions using it as you would the polar fleece. This way you can be super clear of what to do and NOT ruin 4 yards of fleece as I did the first go round!!
Step 1: Fold the fleece in half at the widest dimension, you may have to have someone help you, 4 yards is big! Then, position it on the floor in a large space. Now, take the FOLDED edge and fold that upwards toward the OPEN edge, but not all the way up, leave about 8″ space short of matching the folded and open edge. Here is what it should look like: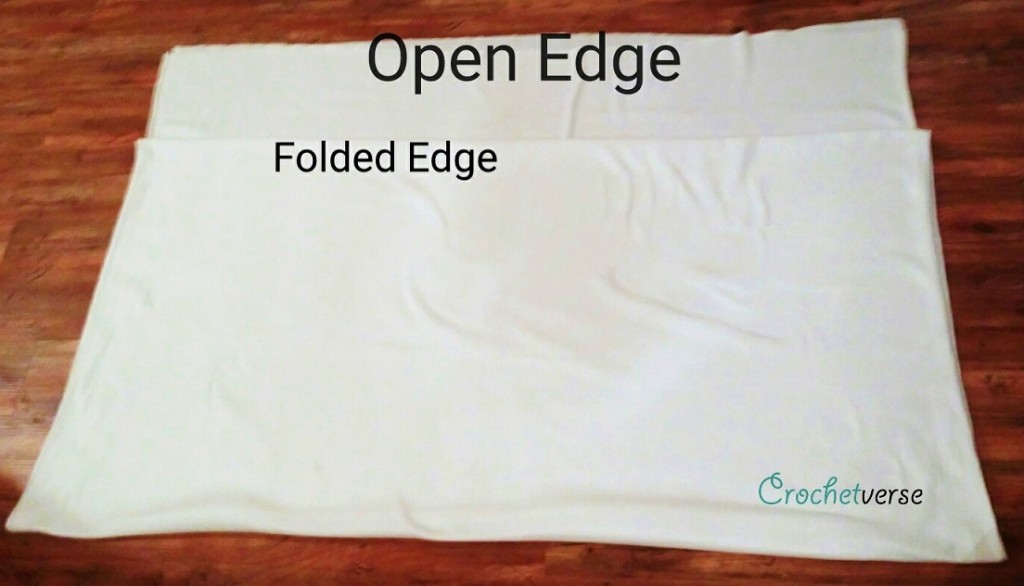 Step 2: Now, take scissors (I considered my rotary cutter, but I do not have a cutting mat big enough to protect the floor, so scissors it is) and beginning at the left, start cutting the fleece into about 2″ strips, beginning at the BOTTOM FOLDED EDGE FURTHEST from the open edge and STOPPING 2″ BEFORE you reach the top open edge. I repeat DO NOT cut all the way through the open edge, stop about 2″ short. This is NOT a place to try to be perfect, it DOES NOT matter, your lines won't be perfect and that is OK! My fleece was thinner so this is why I double folded, so I would have less distance to cut. Should your fleece be super thick, just fold once and cut from folded edge to top open edge stopping 2″ short. Repeat this all the way across until your fleece looks like this: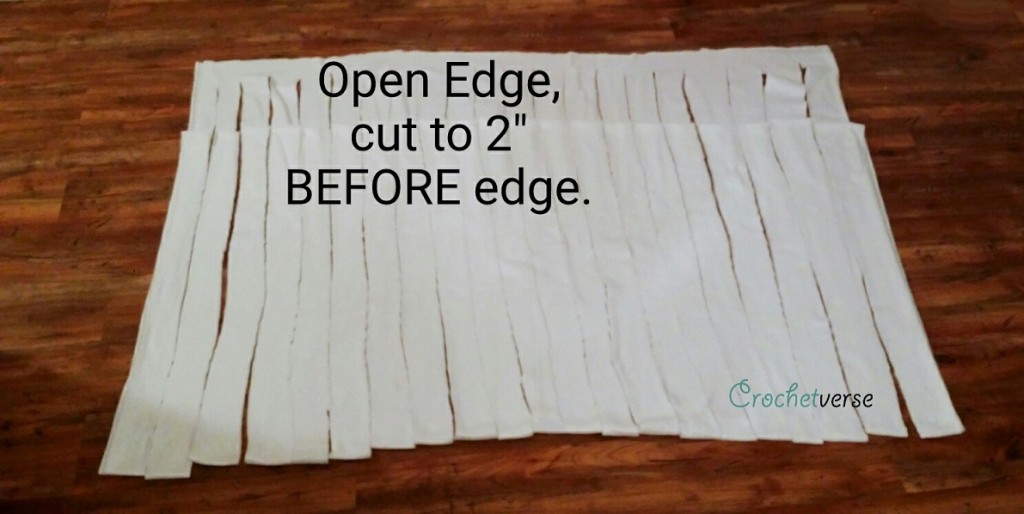 Step 3: Here's where the good stuff happens, it's kinda magic, I barely believed it myself. Head up to the top OPEN edge of the fleece at one side edge. Slip your hand between the pieces. Remember how you stopped short about 2″ all the way across the top? Go to the TOP LAYER ONLY, FIRST STRIP and finish cutting it all the way to the edge. Now wait. Listen close or all that cutting will be for naught. Next, go to the BOTTOM LAYER, SECOND STRIP and cut that one all the way through. Now go back to the TOP LAYER, SKIP the cut after the 1st cut you made and cut the NEXT all the way through. Now, back to the bottom, skipping one strip, cutting the next. Repeat this all the way across. Alternating back and forth top layer, bottom layer, top layer, bottom layer alllll the way across. The photo shows cutting the top layer all the way through at the first strip.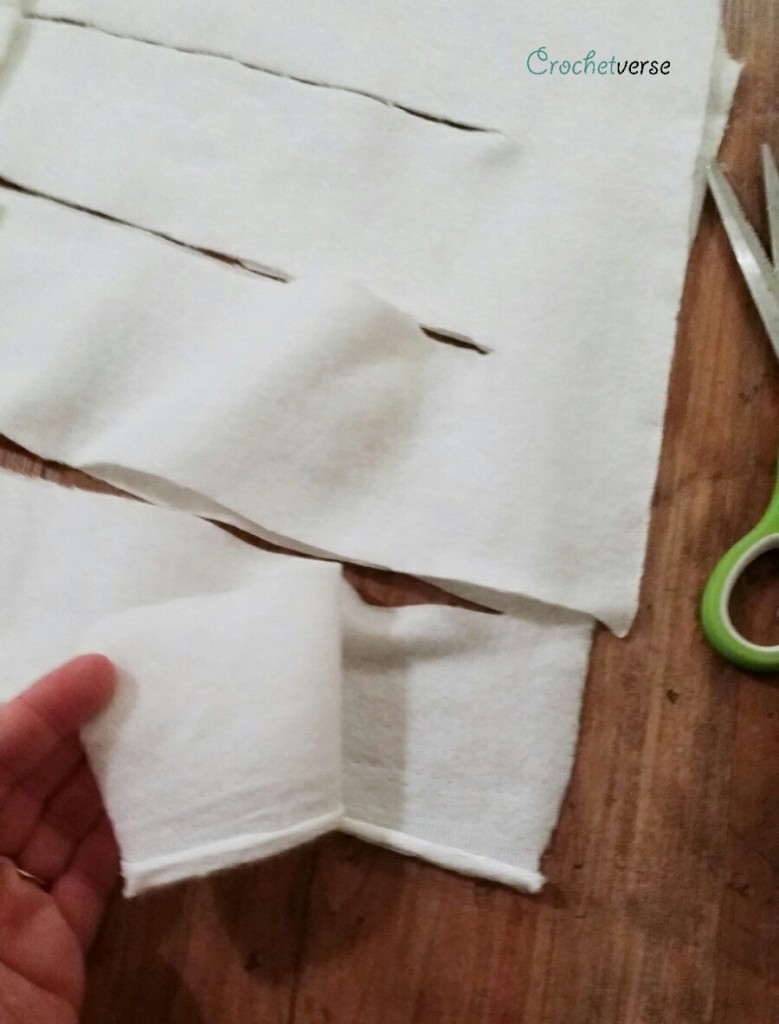 Step 4: Now, we wind, but keep your scissors handy. Beginning at the last strip you cut all the way through, pick it up and begin to wind into a ball. When you reach the first edge (where the fleece was folded and has a "squared" corner type edge, take a second with your scissors and trim off the corners, rounding the edges, like this: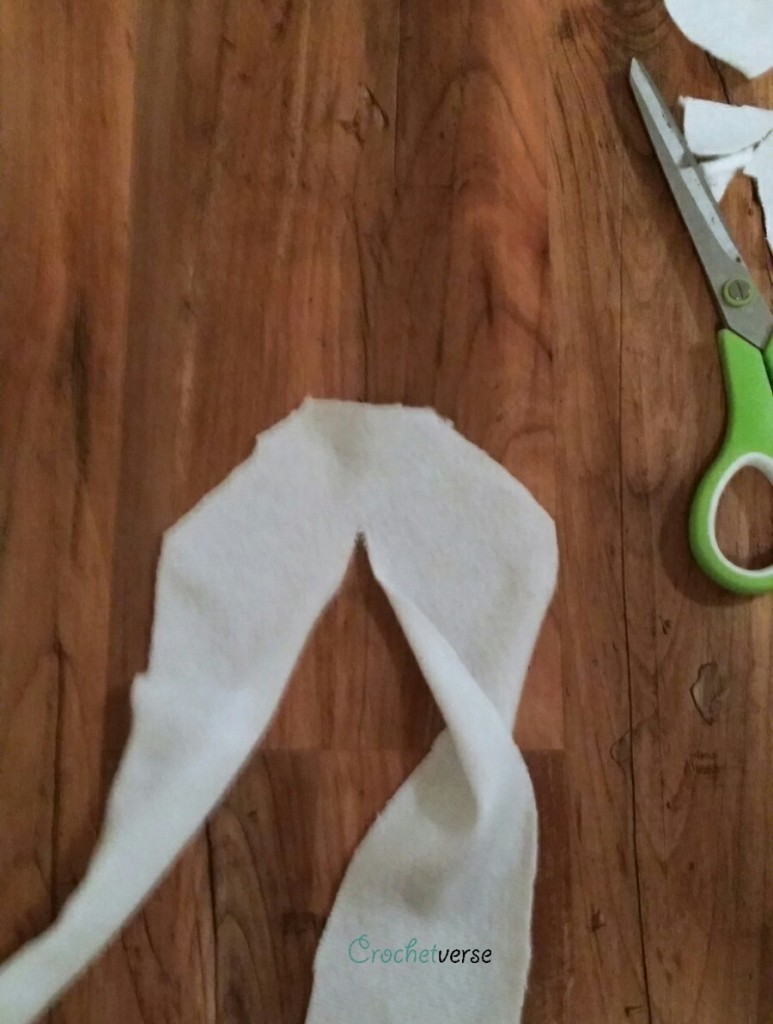 Keep winding, and eventually you will end up with a HUGE gorgeous ball of yarn.
Now, we are ready for a quickie pattern, with a luxurious feel. A super squishy accent rug. After you rock this rug, go ahead and make a few balls of this amazing yarn, and make one of those HUGE throws. It will most definitely be affordable with this new skill you just learned.
You'll need two things:
a Size S crochet hook (that's the new BIG one you see in the stores, it's usually BIG, BLUE, and PLASTIC.
Your newly made ball of yarn
Your finished accent rug will measure about 18″ x 25″
Start by chaining 17:
Row 1: sc in 2nd chain from hook and each ch across. (16)
Row 2: ch 1, turn, sc BACK LOOP ONLY in 1st st and in each st across. (16)
Row 3-15: repeat row 2, tie off after round 15.
You can use your hook to weave those beginning and end tails into the work and hide them away.
Now, step on that. That's some comfy stuff right there!!!
I'd really love to see your huge balls of yarn! Please come on over and post on our FACEBOOK PAGE HERE!
Follow us on INSTAGRAM HERE!
Check us on RAVELRY HERE! and ETSY HERE!
Now, feel free to make as many huge balls as you want, make what you want, sell what you want! I ask that you share the link to this tutorial and any watermarked photos. But, do not copy any partial info within and repost elsewhere. Because, copyright, yo. 🙂 Thank you!