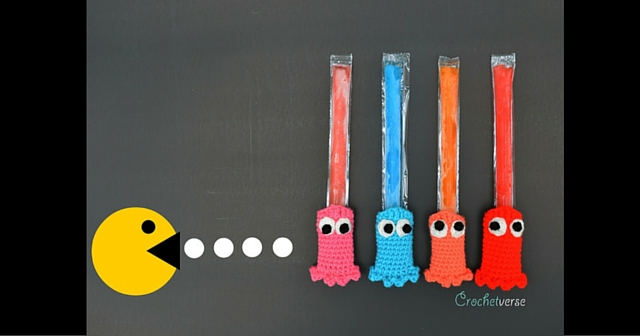 Whatever you call them: freezies, popsicles, ice lollies, or freeze, these adorable holders are popping up everywhere! No kid wants their hand super cold while they eat their frozen treat, and it will help minimize mess to boot!
Let's hope they don't eliminate koolaid colored kid mustaches though…because let's be honest…there's not many things cuter that those!
Add 80's kid + mom and what do you get??
PACMAN GHOST POPSICLE HOLDERS!!! How cute are these?!? If this does not transport you back to the days and nights spent in the arcade trying to get the high score on this classic game, I don't know what will. If you want to relive those memories, you can actually use an arcade game emulator these days to play Pacman from the comfort of home. There's nothing quite like a healthy dose of nostalgia now is there?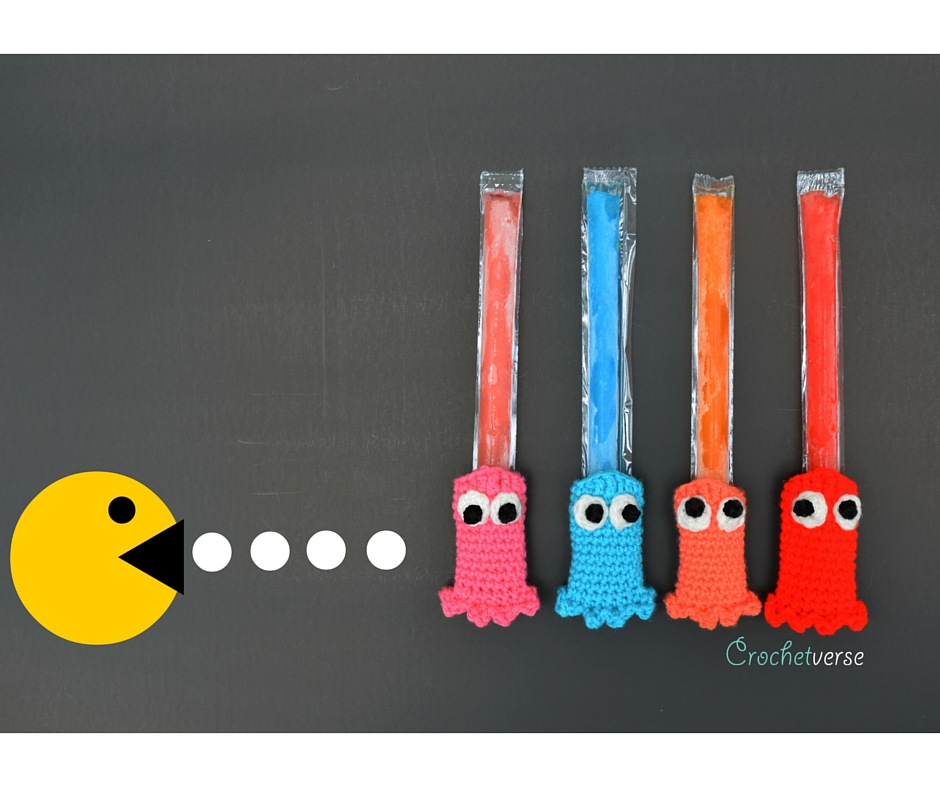 Here is the details on how you can make your own! Please hit me up and post your finished ghosties on my FACEBOOK PAGE HERE! so I can see all the cuties you whip up!
Materials:
– 25 yards worsted weight yarn for each holder in colors: red, light orange, medium pink, light aqua. I used acrylic yarn because it is what I had on hand, you can use cotton as well
– small amount white and black for the eyes
– size G (4.25mm) crochet hook
– tapestry needle
– stitch marker to mark rounds if desired
Finished Size:
About 4″ tall x 2″ wide
Skill Level: *Do not turn rounds or join unless specifically instructed, this is worked in spiral.*
Main Body:
With main body color, ch 8:
Rnd 1: sc in 2nd chain from hook and next 5 chains, 3 sc in last chain, working in the free loops on the other side of the beginning chain, sc in next 5 chains, 2 sc in last chain. (16)
Rnd 2: sc in each sc around. (16)
Rnd 3: sc in the BACK LOOP ONLY (the one furthest from you) in each sc around. (16)
Rnds 4-13: sc in each sc around. (16)
Adjustment Notes: *As you work, the position of the 1st sc of each round will move due to us working in a spiral. At the end of round 13, you should be one stitch from the edge of the holder when laid flat. If you made an error in count, just sc a few until you are in that position. If you want your holder to be taller, add rounds here, and adjust so the final sc is one away from the edge as described here as well*
Rnd 14 (partial round): sc in the next 2 sc, hdc in nxt sc, dc in nxt sc, tc in nxt sc, dc in nxt sc, hdc in nxt sc, sc in nxt 2 sc, sl st to nxt sc, tie off.
Bottom Ghost Ruffle:
With closed end of the holder facing away from you, join main body color in any remaining loop left unworked in round 3 with a sl st:
Rnd 1: ch 1, (sc, dc, sc) in same st as join, sl st in nxt remaining loop, *(sc, dc, sc) in nxt loop, sl st in nxt loop, repeat from *, SIX times more, sl st to 1st sc made, tie off. (8 ruffles made)
Note*: Because we worked in spiral, the free loop will jump up a little at the beginning/end point of round 3, do not let that confuse you, just carry on moving up a tad.
Eyes: (Make 2 of each part)
Main White:
With white, make a magic circle:
Rnd 1: ch 1, 6 sc in ring, sl st to 1st sc made, tie off. (6)
Black Pupil:
Take about ½ yard of black yarn and notice how it has 4 plys. Split the yarn so you have (2) piece of 2 plies each, then work with the 2 ply pieces. (Makes for a more proportionate looking eye)
Make a magic circle:
Rnd 1: ch 1, 3 sc in ring, do not join, instead tie the 2 tail ends together to bring into a circle shape.
Assembly:
NOTE*: Each ghost has their pupils place in a different position, just like the real deal video game!
Using the photo as a reference, stitch the black pupil onto the white eye using the tails from the piece in the correct position. Use the tails to stitch it to appear round, you can be "artistic" in your stitching to improve the look of your final piece.
Stitch the assembled eye onto the holder body, just below the partial round 14 that created the rounded head look.
Weave in any remaining tails
That's it folks! Hope you enjoy!
Much Love and Yarn,
Stephanie
The information and photos in this posting are the sole copyrighted property of Crochetverse©2016. Please do not copy and paste any of the information contained within either electronically, verbally, or written in part or in whole. Instead, please share the DIRECT LINK to this posting only, and if you do, I thank you for sharing. You of course may sell anything you make from this pattern that you have made with your own two hands, no contract labor or mass productions are permitted. If you credit Crochetverse as the designer that is greatly appreciated!