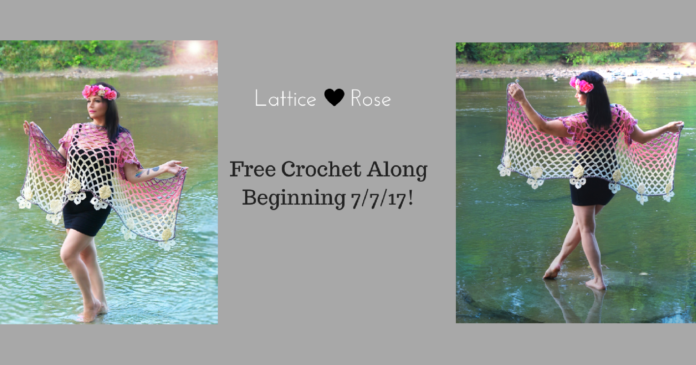 Join me for a special event starting July 7, 2017!
The Lattice Rose Shawl/Vest CROCHET ALONG is coming to you as a relaunch!
Read Below and then Click HERE FOR INFO AND SUPPLY LIST <3
Read Below and then Click HERE FOR WEEK 1 & 2 <3
Did you not have time to follow along last summer?! Well, NOW is the time to join us! Optional Irish Crochet details and sized for misses and plus, this easy fit versatile garment is one NOT to miss!
READ BELOW FOR THE DETAILS: Where, When, What do you need?
When? The crochet along will last 8 weeks and begin on July 7th, 2017, with one part being released each week.
Where? The actual pattern will be posted on the Crochetverse blog, where you are right now! 😉 The CAL will be hosted by the CAL – Crochet ALong group on Facebook. You will WANT to join that group so you can work along with others and ask questions if needed! Click here to join that group: https://www.facebook.com/groups/668646249929007
Another good way to keep informed is to follow my Crochetverse Facebook page here: https://www.facebook.com/crochetverse/
Finally, you will want to "add to favorites" on Ravelry, where it will be linked with the new part each week in the description and is a nice easy way to keep it all organized! Find that here: http://www.ravelry.com/patterns/library/the-lattice-rose—multiwear-shawl
What do I need? The Info and Supply post is available NOW for you to gather all the info you need to prepare such as materials and sizing info! Head there now for the deets! https://crochetverse.com/lattice-rose-info-supply/
There you have it! It is going to be fun fun fun! And you will look pretty pretty pretty in it when we are done!!
Much Love and Yarn,
Stephanie