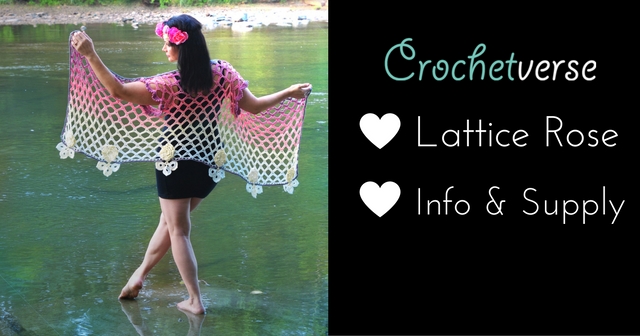 Hello again my crochet family! Many hugs and kisses and welcomes <3!
RELAUNCH! <3
READ BELOW FOR MATERIALS AND INFO and Yarn Sub List!
THEN HEAD TO THE LINK BELOW FOR:
Weeks 1 & 2: https://crochetverse.com/lattice-rose-week-1-2/
After I finished my Garden Party Jacket Crochet Along, (CAL for short!) I KNEW I wanted to create another one. It was so fun to see each creator's work. I loved seeing color choices I would not have thought of, and little changes and touches that made each person's jacket their own! (FYI: You can find that CAL index through the "Info & Supply Post" here: www.crochetverse.com/615-2/
Through the Grace of God and some lucky universe/star alignment, the cards fell right, and HERE WE ARE, back at it! YIPPEEE!!!
In short, I am as ANXIOUS as a 4-year-old on Christmas Eve to start and work with you all again!
Before we get to the pretty pictures, yarn ordering frenzy, and spinning creativity wheels in your brain……allow me to pause. My momma taught me my manners and before we get into the party, I must give credit and thanks where it is most highly due:
CAL Crochet A – Long group on Facebook, found here: https://www.facebook.com/groups/668646249929007/ They will be so graciously hosting our CAL, pop over using the link and promptly click join, so you don't miss a beat!
Wolltraum Yarns. Through their generous support, we have been able to create and thoroughly test this project for you. I. CANNOT. SAY. ENOUGH about how much I love this yarn…. I'll go on some more further in this posting, telling you where and how to order your very own cakes of YARN HEAVEN!
Laurene, the greatness behind the CAL group on FB you will join to work along. I am so blessed and happy to have met her on this, thee, WORLD WIDE WEBS!
Massiel and the ENTIRE team of *holy smokes* talented translators. I literally am mind boggled when I think about everyone and their time and work to translate this for you all so that as many lovely artists can join us from all over the WORLD as possible!
The lovely testing team who stitched tirelessly to be sure my crazy ideas came across clearly and error-free! In no particular order: Heather, Nichole, Massiel, Gabri, Jolanda, Sarit, Ulrika, and Yael
Anyone I am forgetting, I was blessed to have been helped by SO many amazing people!
Up first, here are your available translations, just click to be redirected to the posting:
Take a seat my friends…. the show is about to begin, grab some popcorn or candy (I'll take both, cuz I go hard like that) …and read on!
This beautiful multi-wear garment is a true Irish Crochet inspired piece, featuring multiple motifs and textural details. Irish crochet affords us an opportunity to be detailed, intricate, and show off our skills. You can choose to add as many or as few, or even more of the details as we go along!
I present to you the "LATTICE ROSE" Multi Wear Shawl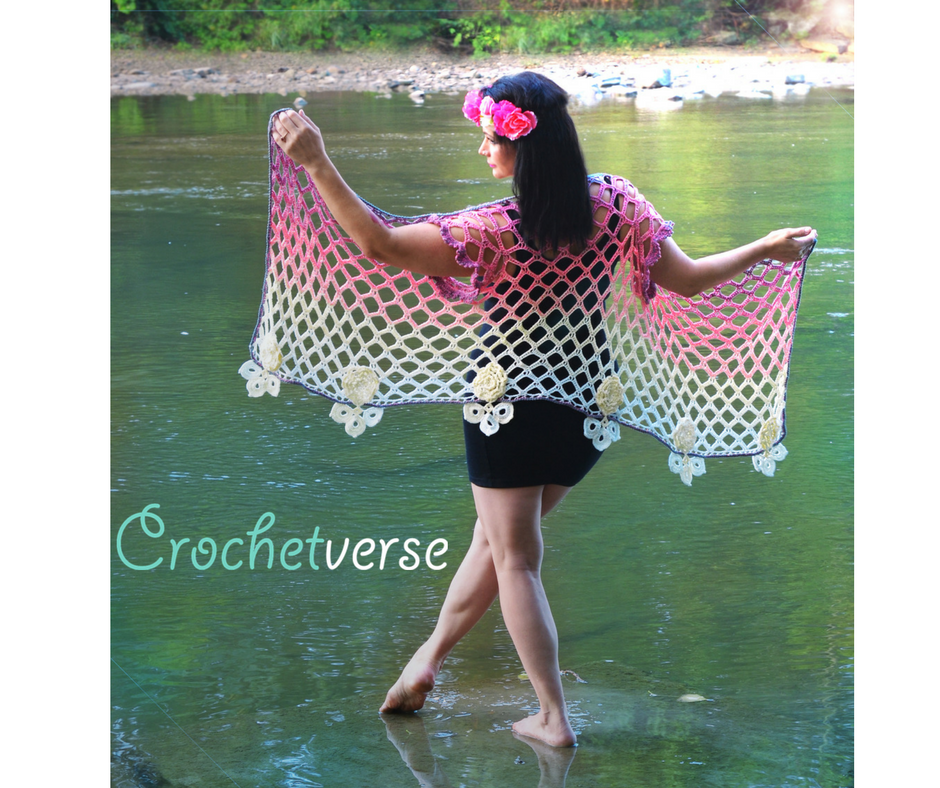 BUT WAIT…. THERE'S MORE! This garment is NOT a one trick pony…this baby has ALL the tricks. Follow with me:
Pop your arms through the arm openings and…. BAM! It's a boho waterfall vest. Long and drapey in the front, perfectly aligned in the back to showcase all those gorgeous Irish Crochet inspired details: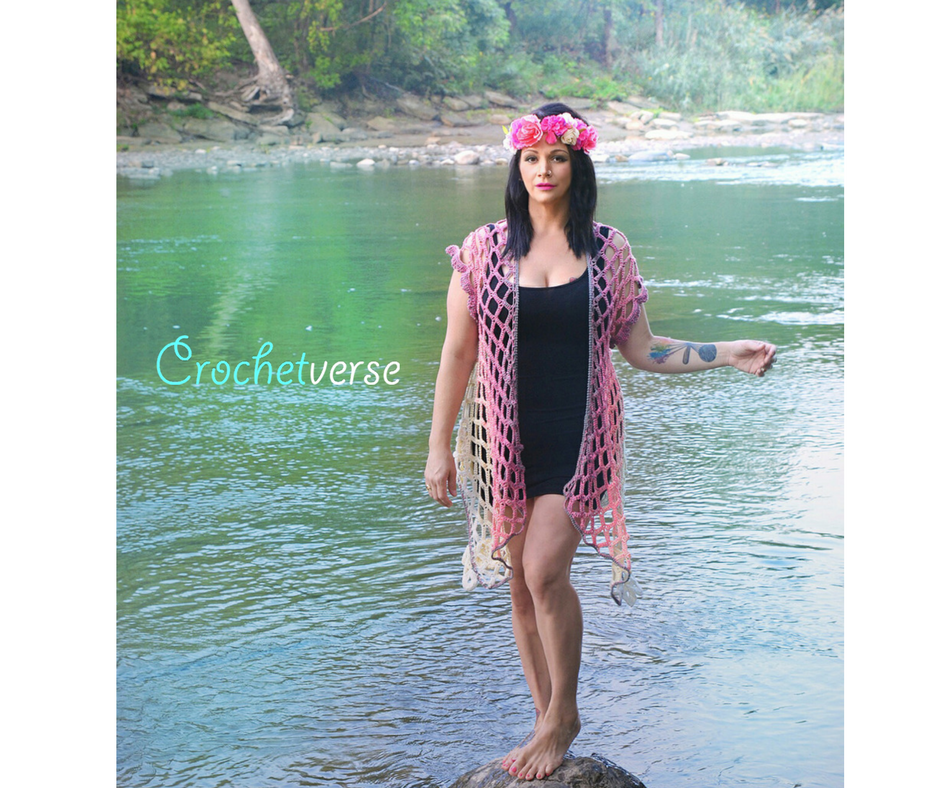 Wrap this luxuriousness around your body in a creative way, lace it up and …HOLD YOUR HATS…. It's an long thick cowl!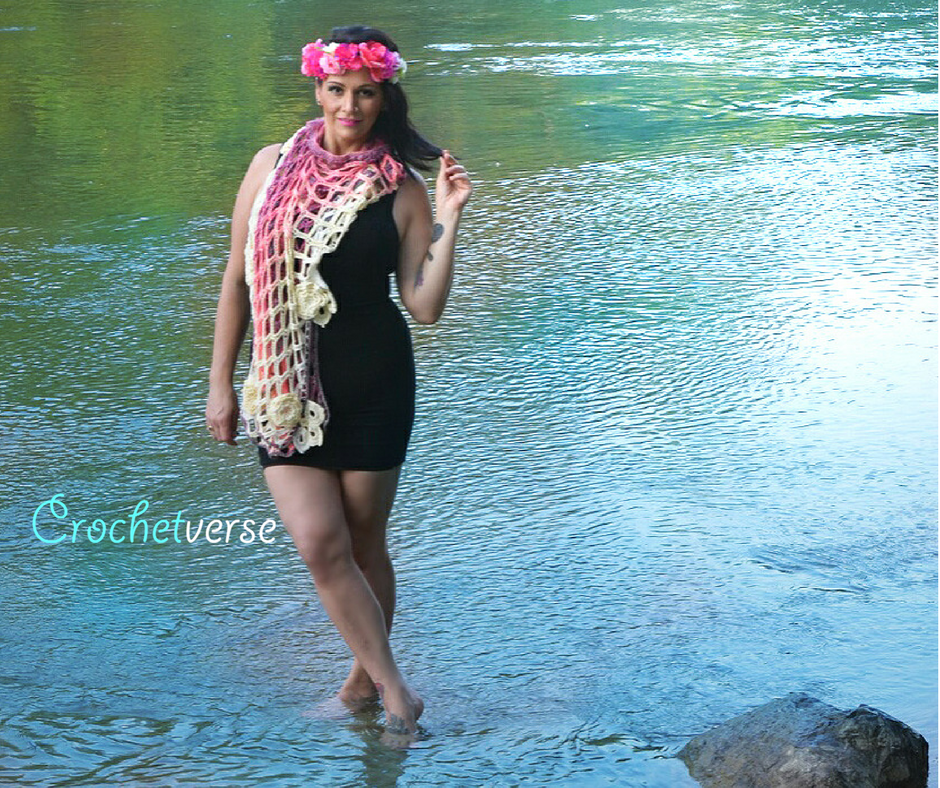 Now, look at this image. EXCITED YET?! I hope so 🙂 In short, I sat and wrapped and played and came up with as many options as I could. I HIGHLY look forward to see what you creative spirits come up with! Be sure you show me as you do!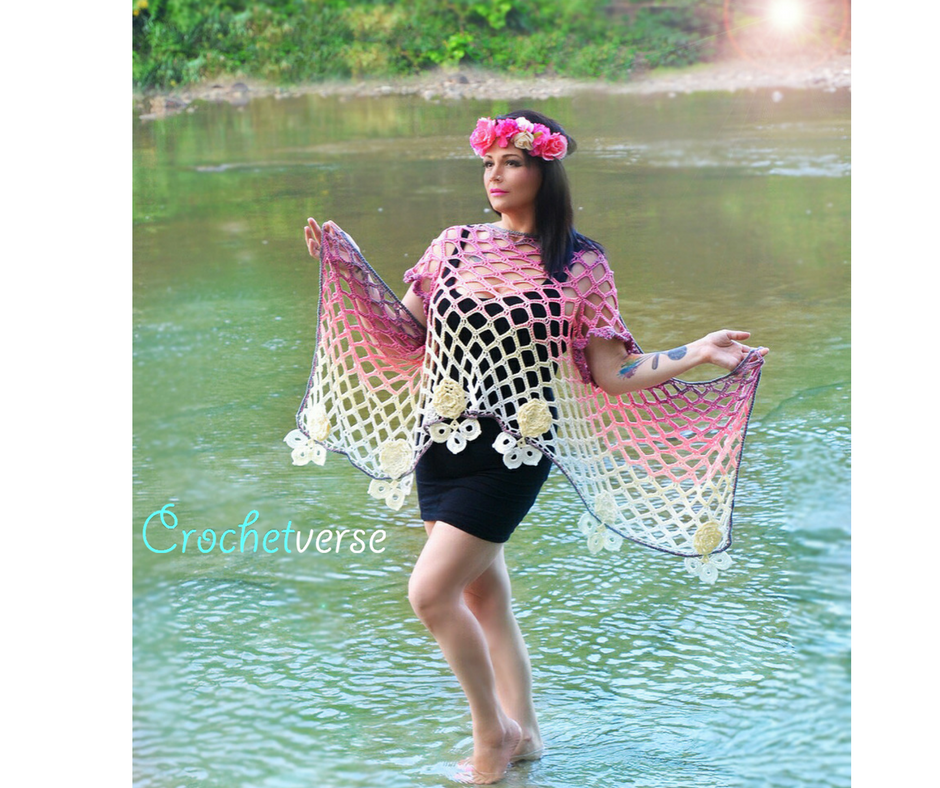 And finally, here is a close up of the fabric and details for you!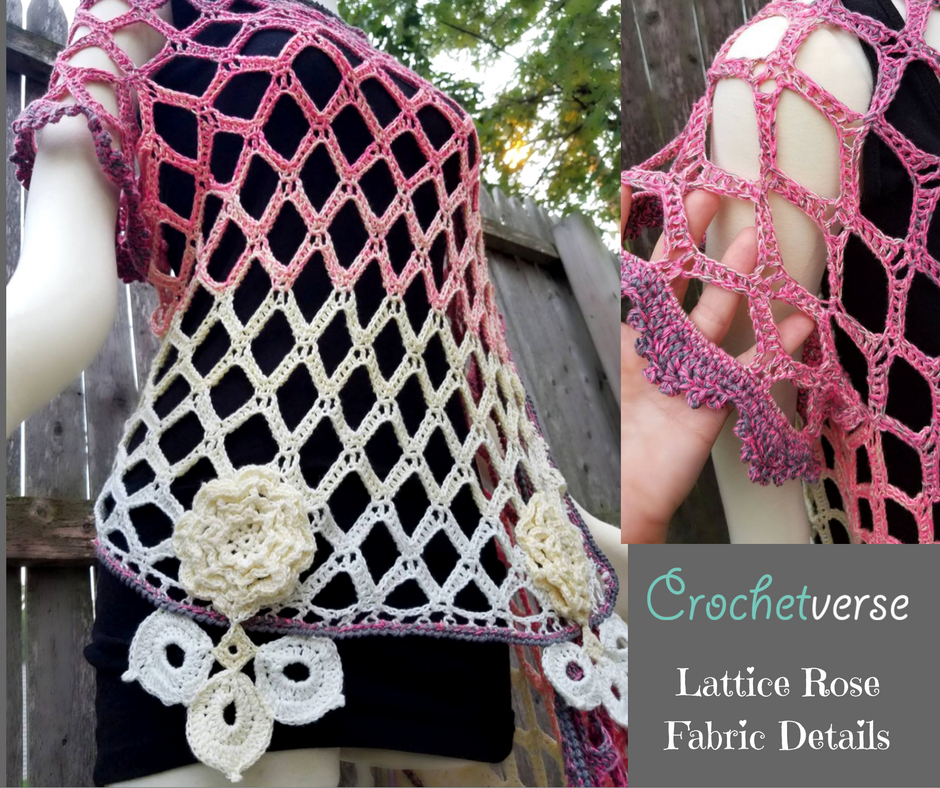 So we are all set and ready, anxiously awaiting with hook and yarn in hand to JUMP from the start line, let's go over the details, so you know what kind of ride you are in for!
Each week, over the course of SEVEN consecutive weeks, the part of the CAL that is up for the stitching, will be posted on my website at www.crochetverse.com. There will be specific direct links to make sure you can find them easily. Within each week's posting, our language translations will also be linked. Finally, this original INFO post can serve as you "Table of Contents" of sorts. Each week I will add that week's work to this post. That way all the parts are gathered in one easy post, so bookmark this posting!
Let's do a little speed-dating style version of "Get to know this Crochet Project":
Here is the schedule breakdown (each week the link for that week will become "live and clickable", so be sure you bookmark this post!
WEEK 1 (7/7/17): Main Shawl – Start & Middle: https://crochetverse.com/lattice-rose-week-1-2/
WEEK 2 (NO NEW INFO GIVEN, SIMPLY COMPLETE WEEK ONE INFO): Main Shawl – Middle
WEEK 3 (7/21/17): Main Shawl – Finish
WEEK 4 (7/28/17): Edge & Block
WEEK 5 (8/4/17): Irish Crochet Motifs – Part 1
WEEK 6 (8/11/17): Irish Crochet Motifs – Part 2
WEEK 7 (8/18/17): Additional Options, Closure, & Block
WHAT SIZES WILL THIS FIT?
This drapey lovely piece of prettiness is a ONE SIZE FITS ALL up to 2X. The finished dimensions and yarn requirements are the same for ALL the sizes. There will be ONE spot to alter the distance between the armholes, which will require you to decide if you'd like to create the:
                                MISSES: XS- L   -OR-   PLUS: XL – 2X
So… Will this fit you? I have been somewhat conservative stating 2X, I feel it will fit comfortably a bit larger, but I am going to give you measurements so YOU may decide for yourself if this garment will fit in a manner that pleases you.
The limiting measurement of the garment is the "crossback" and is measured armpit crease to armpit crease across the back. Do not stretch the tape, simply lay it across the back. If you plan to wear the garment over other clothing, you will want to measure with something similar on your body so that is added in to be sure it is going to be comfortable to you. Measure this "crossback" as shown in this image: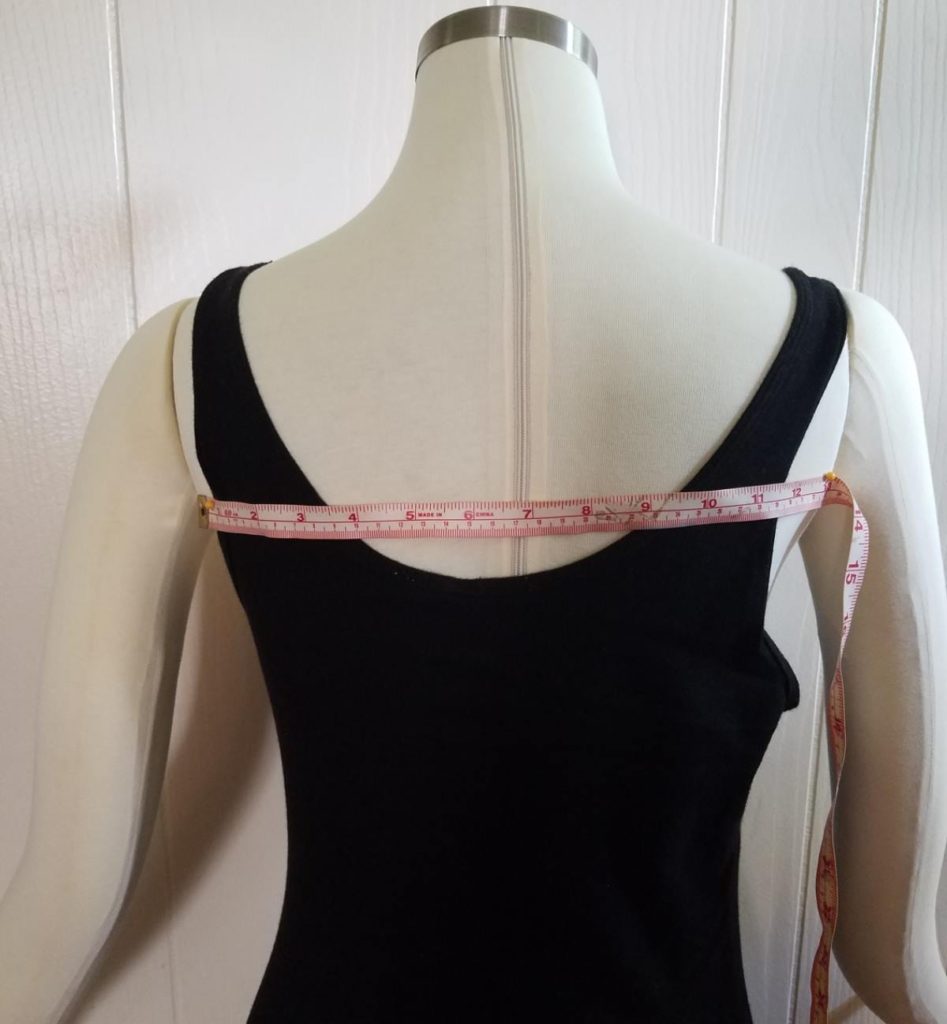 The measurement shown above on the finished garment when stretched firmly is:
(These are the MAXIMUM measurements. When just draped on the body, it is smaller of course. But the fabric is very open and stretchy, allowing us a larger range of sizes to fit)
Approx 18″ for the Misses and Approx 24″ for the Plus
Using those measurements, you can now determine if this will fit you in a manner you like.
That's all you'll need to choose! Easy peasy, right?
WHAT MATERIALS WILL I NEED?
A crochet hook: I used a G, but GAUGE IS SO IMPORTANT, and we will test that BEFORE WE BEGIN, so you know if you need to alter your hook size from mine.
******Details on Gauge Check are below! DO IT THIS WEEK*******
Some yarn: 1660 yards of FINGERING weight yarn. This is a category 2 weight yarn.
You should CHECK GAUGE WITH other weights of yarn as the results WILL NOT be the same.
Here is a list of list of good sub yarns!
Lion Brand 24/7 cotton
I Love This Yarn Sport
Any sock yarn
Hobby Lobby Sinfonia
Scheepjes Catona
Bernat Softee Baby
Bernat Baby Sport
Stylecraft DK
Wollfamos 4 ply
Little Favorites by Rea 4 ply
Wolltraum 4 ply
Deborah Norville Serenity Garden
Premier Cotton Faire
Lion Brand Ice Cream
Patons Grace
Lion Brand Mandala
Caron COTTON Cakes (this is the new product, not the original Caron Cakes. Though marked a worsted, it is most definitely thinner)
The yarn shown is WOLLTRAUM, and oh my gosh is it stellar fiber. 50% cotton / 50 % acrylic, the perfect blend of drape and weight, mixed with durability so all your hard work lasts and lasts. Here are the links to each supplier for this yarn! It is available world wide!
USA: http://www.wolltraumusa.com/
Heather Mellon
Europe: www.wolltraum.eu
Katja Spooner
Canada: www.wolltraum.ca
Angela Dianne
Australia: www.blayneysewnmoreau.com
Tammy Lyne
Wolltraum worldwide: www.wolltraum.com
Swiss: www.wolltraum.ch
REGARDLESS OF Misses or Plus armhole placement, you will need:
– (2) 200g/7oz balls of 4 PLY (this is fingering weight) in the SAME colorway
You can choose which of the colors within the SAME ball will end up wrapped on the inside or outside. The yarn in the cake is the SAME, the only difference is wrapping direction. I chose to have each ball wrapped opposite the other. The color you see in my sample is called "ICE CREAM" and is an amazing mix of white, vanilla, strawberry, and steel gray. Just beautiful and I can't stop touching/smelling/taking pictures of/sleeping next to it…lol
LOOK HOW BEAUTIFUL, HOW CAN YOU NOT?!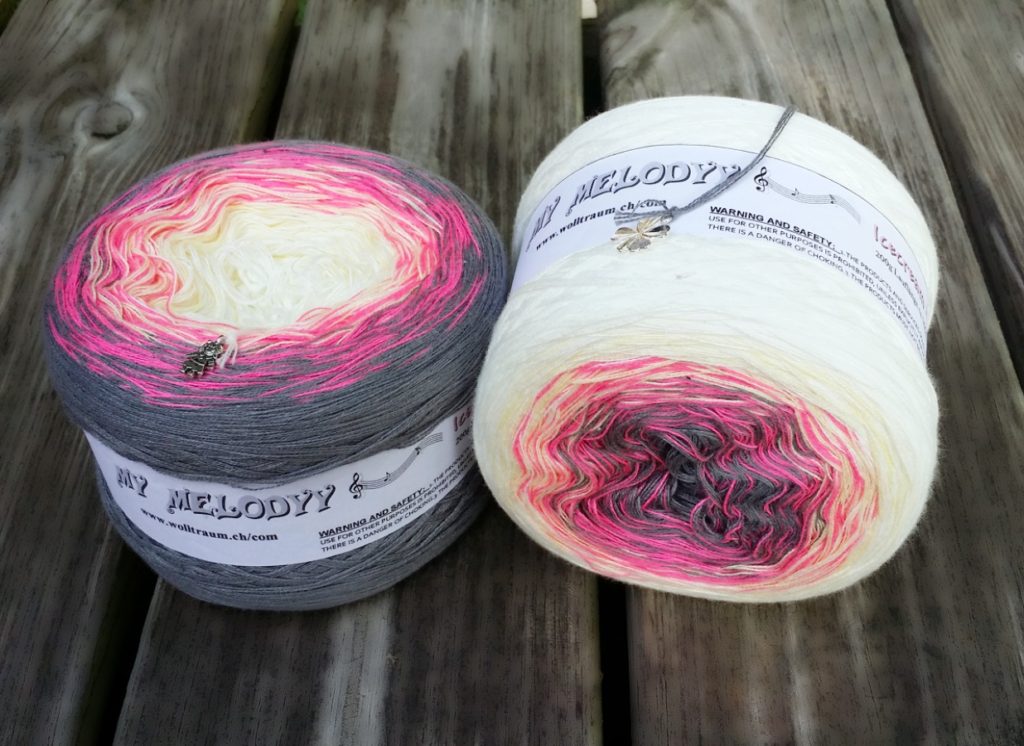 Some various sundries: Due to the nature of the yarn and stitch we WILL block, not IF, it's a MUST. For that you will need some non-rusting pins and a surface to which you can pin the shawl out onto. I use interlocking foam puzzle mats intended for children's play spaces. They break down and store in a small space, but give me a large surface area when I need it! Also your regular things like a measuring tape, scissors, and needle to weave in your ends.
Here is the blocking mats I have purchased and used for over a year now, they link up to a full 6 ft x 6 ft, and I blocked a full size Sophie's Universe on them with ease! So, I can definitely vouch this product will work for you!
That's all you'll need besides your amazing artistic crochet talent!
****CHALLENGE TIME!****: Head over to the Crochetverse and CAL Crochet A Long Facebook pages and post the yarn you chose and the charms you received!! I love love love seeing all the yarns and charms!
NOW LET'S DO GAUGE: (NO pouting! LOL)
Here's the deal with gauge. I TOTALLY understand that no one likes to do it. BUT trust me, even amongst my test group we generally vary 2-3 hook sizes. We are all different and that's great, but if you don't adjust to match my gauge, you ARE going to run out of yarn, and your color changes won't be similar to mine. This is gorgeous luxury yarn, if you are going to buy it and spend your precious time with me (THANK YOU FOR DOING SO!) please be sure your gauge is the same as mine so that your amazing hand work is exactly as you hope <3
Here is how much yarn I have left from the main shawl body, so if you are off on gauge, you will run out and be sad!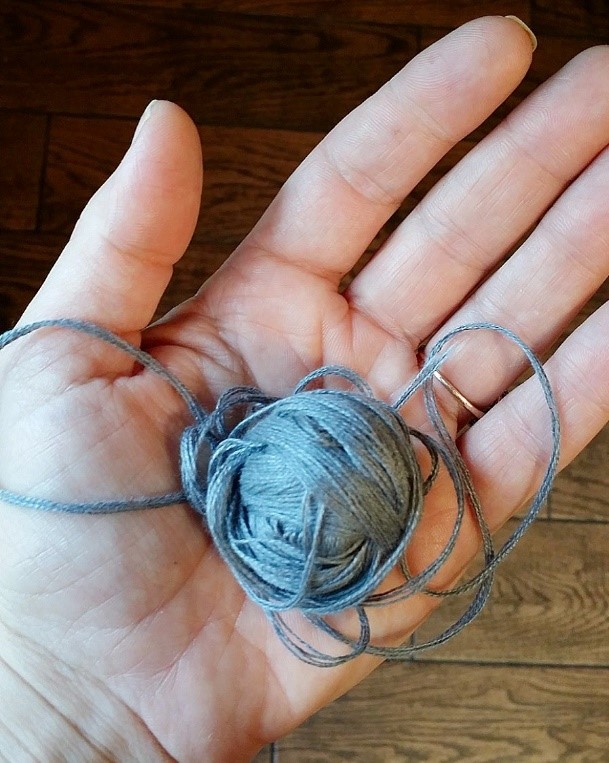 Swatch Pattern for Gauge Test: (Goal is 2.5" tall x 3.75" wide)
This is only for a test. Once you determine the hook size needed to match my gauge, you will frog (unravel) this swatch and begin your project with the yarn.
With G hook and the yarn you plan to use for the project, ch 20:
Row 1: dc in the 3rd ch from the hook (skipped chains count as dc) and each remaining chain across. (19)
Row 2-6: ch 2 (counts as the 1st dc), turn, dc in each rem dc across. (19)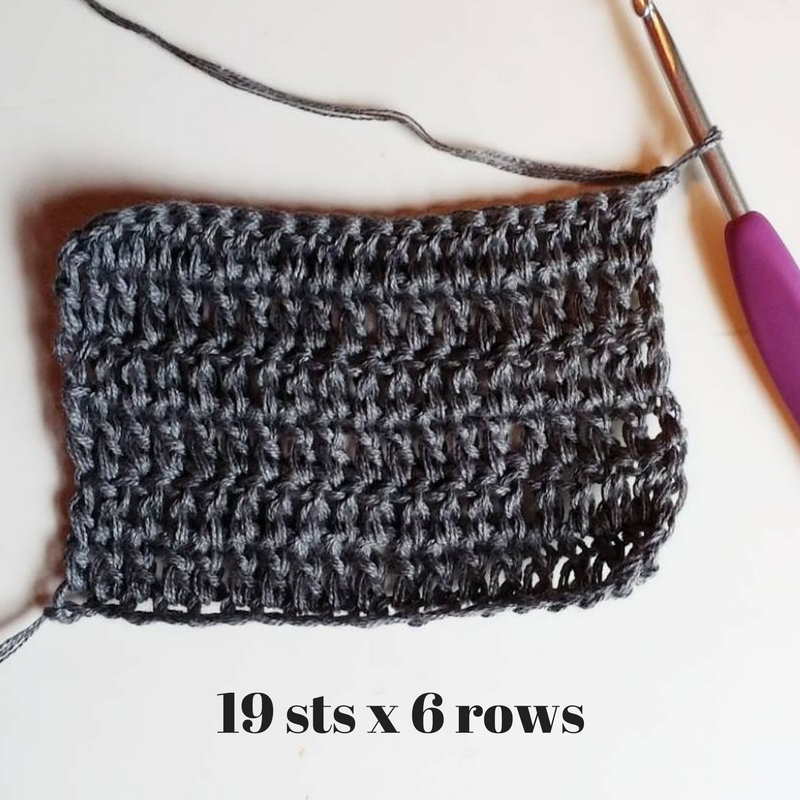 IF YOU HAVE LESS STITCHES in the measurement: Your gauge is LOOSER than mine, choose the next hook size SMALLER and try again.
IF YOU HAVE MORE STITCHES in the measurement: Your gauge is TIGHTER than mine, choose the next hook size LARGER and try again.
Once you have the correct hook size so our gauges match: frog the swatch, pat yourself on the back, and hang tight until October 3rd, 2016, when we begin the shawl!
So, that's a wrap for the "Info/Supply/Gauge" post. Be sure to check back here on October 3, 2016, when Week 1 is released!
Much Love & Yarn,
Stephanie
The information and photos in this posting are the sole copyrighted property of Crochetverse©2016. Please do not copy and paste any of the information contained within either electronically, verbally, or written in part or in whole. Instead, please share the DIRECT LINK to this posting only, and if you do, I thank you for sharing. You of course may sell anything you make from this pattern that you have made with your own two hands, no contract labor or mass productions are permitted. If you credit Crochetverse as the designer that is greatly appreciated!